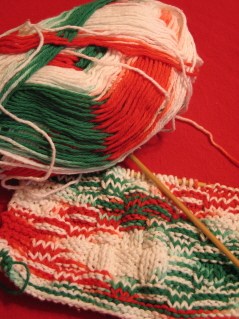 ……….but you can't always take the patrol car out of the cop.  Or something like that.  I went for a "quick" run to town with my husband mid-day today.  We wanted to have the hardware in Dani's laptop checked out and to pick up my husband's air compressor (which was in for warranted repair work).  Not only did my husband tell me about his training from last night, I think I experienced some of it!  Woooo hoooooooo!  I know he doesn't do it on purpose, so I mostly just held on, leaving my knitting lying in my lap.
He left around 2:30 for tonight's class.  Fortunately, the instructor let class out a couple of hours early last night.  Since he has his normal work shift tomorrow, I'm hoping that class ends early tonight, too.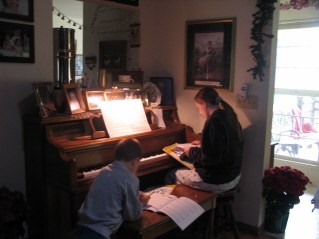 Dani's cold seems much better.  Her voice is still rather hoarse, but better than yesterday.  She took it easy this morning, and I'm glad..  I mean, honestly, how many piano instructors do you know that can give lessons in their jammies?  Considering that her only students are her younger brothers, I guess she won't get too many complaints!  I'm glad that she's been taking it easy and that she's feeling better.  She'll be off first thing in the morning to spend the day helping out at Lisa's.
The boys and I got going with school this morning, but I've fallen a bit behind in correcting some of Aaron's work.  That gave him a bit of a reprieve today, and he was able to just concentrate on doing some reading after his algebra lesson.  I spent some time this afternoon catching up on correcting his grammar work.  Looks like we need to spend some time tomorrow going over a couple of things.  Teaching concepts is important.  Follow through is important, too.  And even more, keeping track to be sure that things aren't forgotten.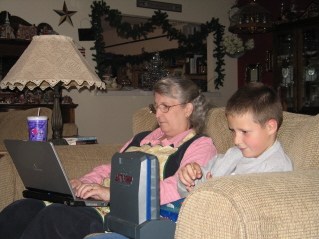 It's not written anywhere that we can teach our children something only once and they'll remember it.  That  used to bug me, until I realized how many times the Lord has taught me something only to have me "forget" it later on.  I try very hard to remember how gently the Lord deals with me in those circumstances when I find it necessary to re-teach something to one of my children.  And I'm not just talking about academic lessons either.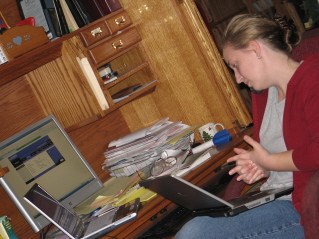 Dani had to spend over an hour today on the phone with tech support for our wireless router.  Long story short, my husband re-set our security codes for the wireless network and Dani's laptop couldn't handle the extra high level of security he had everything set at.  My poor girl!  An hour on the phone, to outsourced tech support……insisting that she needs to speak to someone a little higher up the food chain because she and her dad have already done everything that the regular tech support guys are telling her to do……she was polite, though there were tears of absolute frustration at one point in time….. she continued in her own sweet,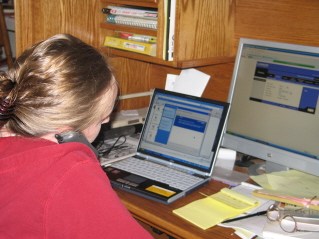 polite manner…..speaking clearly…..working through things step by step…..until at long last everything was back up and running.  Bless her heart!
What's a girl to do after an afternoon like that?  Why……blog it, of course!
I miss my husband when he is gone.  I miss cooking dinner for him, especially since even on a good week I'm only able to cook his evening meal a couple of times.  I miss sitting with him in the evenings.  I miss watching him read a book behind closed eyelids.  It's only right.  When the Lord created the first family, it consisted of just one man and one woman.  They were blessed with children after awhile, but they were, at first, just two.  Be so very careful ladies, that through your days of homeschooling and caring for your home that you don't forget your husband.
My days, much like yours, are very full of caring for children and my home.  However, I do have two children already grown, and I know just how quickly the years will pass until my boys are grown, too.  The family that started with just my husband and I, will be back to just two again.  Nurturing the marriage relationship now, while children are still at home, is vital to having a good relationship when they are gone.  Have you ever been put "on hold" for a really long time?  I have.  You know what I did?  I hung up!  You can't put your marriage "on hold" and expect to pick things up later.
On a similar note, if your nest is now empty, or if the Lord has not yet blessed you with children, you should still put the same effort into making and keeping your home.  If you do not yet have children, this is the opportune time to learn all you can about maintaining your home, decorating, cooking, sewing, gardening…..whatever.  Develop your skills now.  On the other hand, if your children have now all grown up and begun their own homes, do not give up on maintaining your skills.  In fact, now is your chance to once again try your hand at a new skill or two.  You can prepare wonderful meals for just the two of you.  Perhaps you can learn to make some really wonderful new dishes.  Refresh things around your home from time to time.  And definitely still take the time to make your home warm and inviting for your husband.  Flowers on the table.  Keeping the area around his favorite chair comfy and attractive.  Even remembering to decorate your home for the various seasons – Christmas, fall, etc.
Tuesday is my day to tend to the weekly chores in my school room.  Our big desk had become quite a mess, and as soon as Dani was off the phone with tech support, I worked on that a bit.  Most of the stacks here and there were papers, books, receipts, plans for our front porch.  That was easily handled by pulling out just one empty file folder, labeling it porch, putting everything in the folder and then filing it away in the drawer.  There were a few other odd things and those were either thrown away or put away.  There is quite a bit of paperwork in the wire basket that needs to be filed, but I did not have time to work on that today.  It's all there, though, in one place.  If anyone needs anything, they know where to look.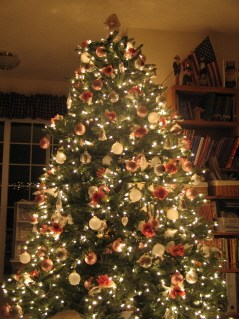 We moved some furniture in the schoolroom to set up our Christmas tree, and my coffee table was left in a sort of limbo….not really anywhere special, but totally in the way.  Aaron helped me put it next to the computer desk this afternoon, in a more or less out of the way spot, until we put the room back together after Christmas.  I had several stacks of books that I pulled out to do some future Library Builder posts on.  I quickly jotted down some notes and titles of the books on my computer and then asked Aaron to re-shelve them for me.  With those two things out of the way, it was relatively easy to straighten up what was left here and there. I got sidetracked with the laundry shortly thereafter
, and so I will have to dust and webster the schoolroom tomorrow when I dust and webster my parlor.
I spent some time late in the day pulling some more books for my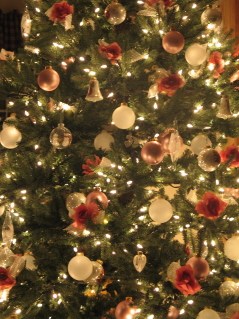 boys reading baskets for school.  I thought I'd calculated what they'd need to take them through the Christmas break, but I guessed wrong.  I'm totally thrilled, though, that I erred on the side of giving them too little!  In all honestly, they had plenty to read, they've both just read a lot!  I had to choose carefully now so as not to leave them in the middle of something over our upcoming ten day break.
Tuesday is also the day that we normally have our big breakfast.  I waited up for my husband last night, and he asked me to not set the alarm for this morning.  We got up too late to have a big breakfast, so I made Dani a deal.  If she'd make some muffins sometime during the morning, I'd cook our big breakfast for lunch.  Then my husband decided to make the run to town just before noon……so we had our big breakfast for dinner instead!  Maple sausage (on sale cheap at the store last week), scrambled eggs and poppy seed muffins.  Yum!  I'm sorry that my husband missed it!
I've done a bit of reading the past few evenings.  Delving just a bit further into Family Practice
, and reading several chapters in The Letter of Marque
.  Truth be told, I've just been too tired in the evening to read anything more substantial than a novel, so that's what I've read.  I've been pondering the categories I use for my personal reading basket, and I think I'd like to make some changes.  I'm still deciding what I might add, and what it might be time to do away with.  I'd like to finalize things sometime in the next couple of weeks so that my reading basket is revamped and ready to go at about the same time that we begin our homeschool break for Christmas.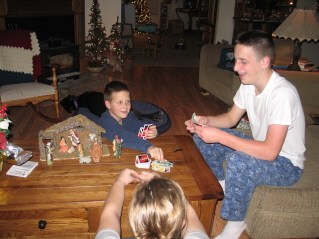 My kids enjoyed a rip-roarin' game of UNO this evening………why, oh why, Dani was singing, "We are the champions" over and over again is beyond me!  I'm off to put Will to bed and to get Aaron settled in to some quiet reading and then head him to bed after a bit.  I plan to stoke the wood stove and gather a couple of books into my chair and read until my husband gets in.
While my husband has a full, twelve-hour shift tomorrow, he will be home with us in the evening.  After the last two evenings of his being gone, and Dani's being gone all day tomorrow, he has picked up a movie for us all to watch together for some family time tomorrow night.  I think I might make some carmel corn tomorrow to make it an extra special evening.  Uh-oh, now I've gone and done it!  Once it's been written here, it's expected!
As always, your continued prayers for Eric & Heather, as well as for Lisa, are very much appreciated!
God bless you as you look well to the ways of your household!
Proverbs 31:27