(edited – My apologies!!!  Apparently the link to the past post about my beautiful lamps (see below) was broken.  The link is now fixed.  Again, my apologies. ~ Cheryl)
We woke up to a foggy, gray, drizzly, dreary day outside, but inside my home was warm, dry and cozy.  I pulled out the Christmas CD's we've been listening to out of the player, and popped in some of our favorite classical music to enjoy during the day.  It was a nice change of pace.  Towards evening, though, as we began switching on the the Christmas lights on the swags and trees, I put a few Christmas CDs back into the machine.  Cheerful!
My husband was able to go in to work an hour or so late today, due to his late night in class last night.  He pulled in around 11:00 or so.  Last night they worked on the skill of stopping a car that refuses to stop.  I think it was called "pit" training.  In any event, it's just like you see in the movies.  The police car has to very carefully bump the fleeing bad guy's car just right to cause it to spin out so that it can be brought to a stop.  My husband, MY HUSBAND, was told as course completion certificates were passed out last night that though he was the oldest officer in the class, he was also the BEST!  I coulda told 'em that!
Dani was out the door by 7:40 this morning, first making a quick stop in to feed a neighbor's cat, and then driving the hour or so to Lisa's for the day.  I watched her drive out the driveway into the fog, and then watched as the fog became thicker over the course of the morning.  There is always something for a mother to be praying about for her children! (I Thessalonians 5:17)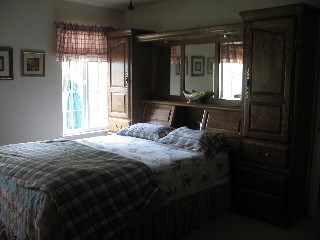 I chatted on line with Corin for awhile this morning (which is always a pleasure) while the boys took care of  their morning chores.  Since I spent some time visiting on line, I needed to put it into high gear to get caught up.  The whites were quickly gathered from the hampers and put into the washer.  I had left the covers on my bed pulled back to air, but I went back in and sprayed everything with a bit of lavender linen spray and left it for a bit longer to be sure they dried.  I worked through my morning kitchen routine, and left my kitchen clean and fresh smelling before starting school.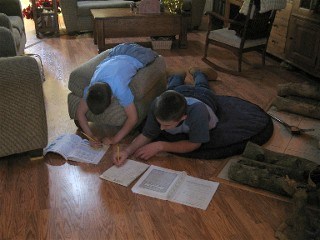 The boys and I settled in for our morning reading and memory work time in the schoolroom.  I so enjoy this part of my day!   Afterwards,  I got them both started on math lessons while I recycled the laundry, made my bed and brought in some chicken to thaw for dinner.
My day bounced back and forth between homeschool with my boys and caring for my home.  I bounce a lot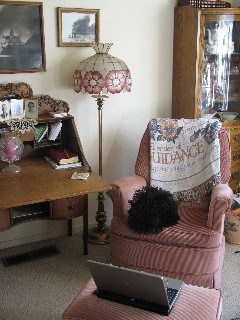 around here most days.
I always wait to do the more involved, time-consuming household tasks for the part of the day when my children's homeschooling will no longer require my help.  The latter part of their day is, generally, spent reading, so I can wait until then to start a time-consuming task.  It's quite easy, though, to find quick jobs to do to fill in the bits and pieces of time I have before then.  90% of my day's tasks can be broken into short chunks of time that take no more than a few minutes each.  Even things that take longer, like dusting my parlor and schoolroom today, or cleaning my bathroom, can be broken into shorter segments of time.  I simply left my feather duster lying where I'd left off when I was needed to help a boy, and then just picked up where I found my feather duster when I could get back to it.  Cleaning the bathroom?  It doesn't hurt to leave the cleanser sitting for a bit in the sink or in the toilet, in fact, it might even help!
I wish I could convey to you how easy it can be to seamlessly arrange your days so that homeschooling, keeping your home, and preparing food for your family can all happen throughout the day.  Your life does not need to be compartmentalized.  We women are natural multi-taskers!  God gifted us that way on purpose.  Fold the laundry while you dicate for copywork or give words for a spelling test.  Keep a basket with some mending, or your knitting or crochet work, close to the schoolroom so that you can keep your hands busy while remaining close by and available to help with math, grammar lessons, etc.  Bring a child into the kitchen with you as you begin the bread dough to listen to him read.  Looking for some time to read for yourself?  Keep a book of your own close by to read a few paragraphs while your children work quietly on an assignment.  Be flexible in how you do your house work.  Does it really all need to be done at once?  Or can it be done in bits and pieces throughout your day?
Establish your priorities.  Know them in advance.  Impress them upon your heart.  My priorities, in order, are my relationship with the Lord, my husband, my children, my home, my church/ministry, everything else.  Knowing these priorities, knowing in my heart that they are there, helps me make right decisions – every week, every day, sometimes moment by moment!  If I am in the middle of scouring my toilet and a child needs help with math, the toilet is left while I help the child.  If I am reading aloud to my children and a friend calls, I will call her back.  If I am reading aloud to my children and my husband calls, the kids wait while I talk to Dad.  If I'm in the middle of browning some meat for dinner and a squabble breaks out in another room, I turn off the stove and tend to the children.  I'm not talking about emergency situations, but rather the day to day things that come up.
In the comments, Tammy mentioned being a part of the "sandwich generation" – those that still have young children at home, and yet have aging loved ones to care for.  You know, my husband and I have dealt with this very thing in our own lives.  Three times, so far.  I've talked about it before if you'd care to read our story.  Again, having my priorities in order during those emergency situations (even though they were long-term emergencies) helped me with the day to day, hour by hour decisions.
While caring for our parents might have taken precedence for a time, my priorities still fell into line behind that.  I took care of my relationship with the Lord daily!  When my husband was home from work, we took some time for private conversations when we could, and little trips to the store or whatever when we could.  My children came before any housework.  The reality of it all was this – homeschooling was put on the back burner most days.  Housework was done in a hit and miss fashion, with only the basics being done on a regular basis.   And yet, we'd do it all again if we could!  How we miss them!
I am so pleased to have so many wonderful things that belonged to my parents, my mother-in-love and all of our grandparents.  Amishwoman49 noticed one of my lamps in a recent post.  They were my mother-in-love's, and the shades were crocheted by her own dear mother (who went home to be with the Lord last April).  Gentle, daily reminders of loved ones gone before.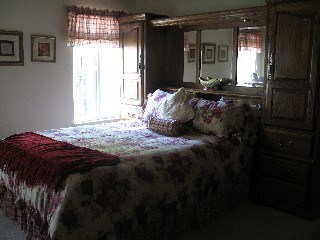 By lunch time, the day's laundry was finishing up.  The fog had, finally, burned off and we had some beautiful, bright sunshine.  I cannot hang clothes out on the line in the fog of course, but I was able to hang out a few pair of my tights and a few other personal items that would dry quickly in the afternoon sunshine.  My bed had been made, the living room straightened, and some personal business taken care of.  I was about ready to send an e-mail to my personal physician.  During the winter and again in late spring, I need a twice-daily asthma preventitive medication.  Taking it makes using Albuterol a rare occurrence, which is a good thing.  The last time I re-filled this prescription, though, I was told that there were no more refills remaining.  That was last spring, so I figured I'd contact my doctor before I needed the stuff again this winter.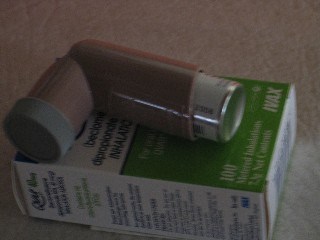 Of course, I forgot.  I've been using the medication again now for a couple of weeks or so, and it ran out this morning!  I thought, though, to check in our high-on-the-shelf prescription container and sure enough!  Though there are no more refills remaining for future use, they pharmacy had sent me two last spring!  Yee haw!  Now, I will definitely remember to e-mail the doctor before I run out again!  I am so thankful that there was still one more bottle here!
After lunch we settled back into our afternoon homeschool routine, and I tended to some things around my home.  My weekly chores were finished up in the parlor, as well as the things I missed doing in the schoolroom yesterday.
It's the first week of the month, so my longer term chores (monthly, quarterly, etc.) take place in the parlor,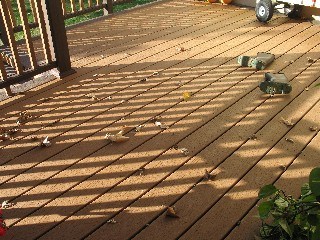 entry way, front hall and front porch.  With the new porch, I needed to tweak my list of long term chores to do out there.  Taking down the globes on the porch lights and cleaning them hasn't been on my list for a couple of years because the old globes were broken and no longer needed cleaning.  I needed to add that onto my list.  I like to do that job a couple of times a year.  Since the lights just went up, I've scheduled taking them down to clean for the months of June and December.  Keeping this sort of list on a spreadsheet makes making changes like that quick and easy.  The porch looked a bit rough from the recent winds, but I was able to clean it up fairly quickly.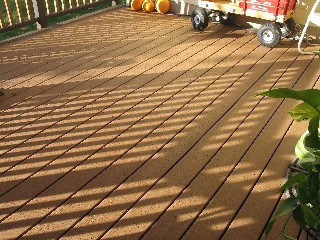 The plant that sits on my porch took quite a beating during construction.  Although I put it out of the way, it was still knocked over a few times and I admit that it was not always watered when it should have been.  We also had a couple of light frosts and it was not under the shelter of the porch roof where it would have otherwise been protected.
I took the scissors out today and trimmed off most of the dead or damaged leaves and branches.  These were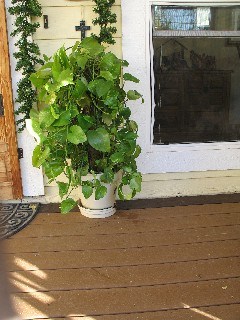 put into the compost pile.  I cut most of the loose trailers back as well, so that the plant would fill back out a bit.  I finished up by feeding and watering it.  When I came back in the house, I watered and fed all of my houseplants, too.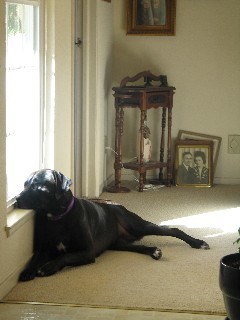 It was so pleasant and warm out that I opened up a few windows.  We kept the wood stove going, though, because once the sun begins to set it generally gets really cool, really fast.
As the boys finished up with their school work, I pulled the last of the laundry out of the dryer, folded it, and stacked it into their baskets for them to put away this evening.  I noticed that the hamper of bath towels was pretty full, so I threw all of those towels into the washer for a late, last load.  I quickly changed the towels in my bathroom and put the dirty ones in to wash, too.  I hate running a less than full load.
The carmel corn I had planned for our family night tonight takes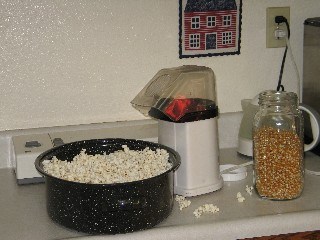 awhile to cook, so I popped the corn and started to work on that.  I was able to finish up with a few things during the four, 15 minute cooking cycles it takes – the day's ironing, organizing a few magazines in the schoolroom, doing a bit of prep work for tonight's dinner, that sort of thing.  I even chatted for few minutes on line with Corin again!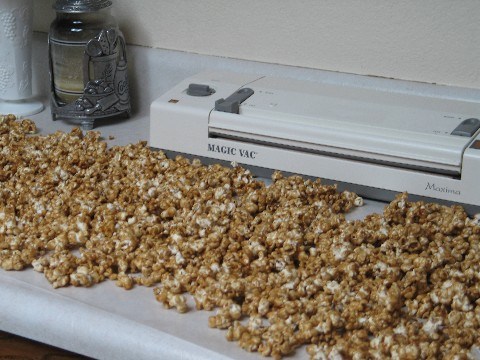 As the carmel corn was coming out of the oven, and being spread out on the counter to cool, the sun was dipping down below the trees, and it got cold again.  I quickly closed up all of our windows and put another log on the fire.  It's time for me to start dinner.  I generally post later in the evening, but we are hoping to have a wonderful, fun, quiet family night tonight.  Family nights together are the norm for us.  Not having my husband here with us the last couple of nights has been not-so-great, so we are looking forward to an extra-special evening tonight.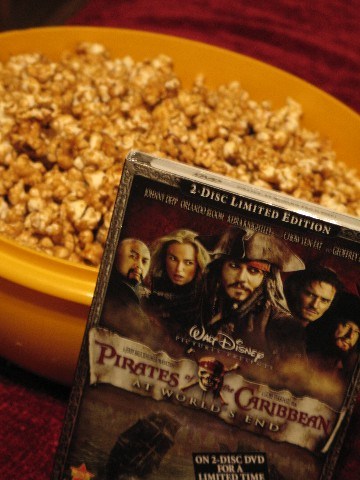 Dani should be home in time to eat with the boys and I.  The boys are already prepared to do their after- dinner chores in double time, including showers, so that they'll be ready for the movie when my husband comes in from work.  A cozy living room with a fire in the wood stove, a big bowl of carmel corn to share, the whole family gathered round, and Pirates 3
on the screen. Yee haw!
God bless you as you look well to the ways of your household!
Proverbs 31:27