Aaaahhhh, Monday!  After a lovely day of Sabbath rest, I woke up before the alarm sounded rested and ready for the week.  That's unusual for me!  It was nice having the quiet house to myself for awhile to do some planning for the day over that first cup of hot tea.  The sound of Will's bare feet, dragging a blanket and pillow along behind, was welcome an hour or so later, as was the voice of my sweet, sleepy boy,  "Hi, Mom".  "Hi, Bubby. Sleep good?"  "mmm-hmmm."
I've left a lot of my planning for the first part of 2008 in list format for too long.  Part of my early morning was occupied with getting those lists of things onto my planner.  I love being able to enter something as an appointment on my planner just once, and then have it repeat for me however often I need it to.  "Sewing/Craft Time", 2:00 p.m., duration 1 1/2 hours, repeat every Monday. 
Uh-huh.  We'll see.
A lot of the planning that needed to be transferred to the planner today was homeschool stuff.  I've done a bit of fine tuning.  We've drifted a bit from our homeschooling plan.  The plan that serves us well. The plan that my boys, Will especially, thrive on.  One of my planning lists had several items pertaining to this, and those are slowly but surely being brought back into the daily plan.  It's all been done on paper and/or computer screen now, but there is still some actual work to be done.  Choosing more books for the boys' school reading baskets being the most involved, time-consuming job.  That said, you must know that this is a "job" that I take great delight in!  I LOVE pulling books from our shelves to give to my sons to read.  I LOVE that the books on our shelves are the major part of their curriculum.  I DELIGHT in having them come to be throughout the day to tell me all about something they've just read.
I have such a clear picture of what our homeschool should look like, and yet I allow myself to be pulled a bit in different directions from time to time.  It's a struggle common to most homeschool moms, even those of us who are well-seasoned and should know better!  If you find yourself off course with your homeschooling, don't be afraid to just stop in your tracks and pull everything back to where it is supposed to be.  You'll hear some grumbling and complaining, but do it anyway.  You might grumble and complain – after all, this homeschooling is hard work – but do it anyway.  It is a high calling, and one with eternal rewards.  It's worth every single bit of the effort what you put into it now.  I know this and the living proof can be found here and here.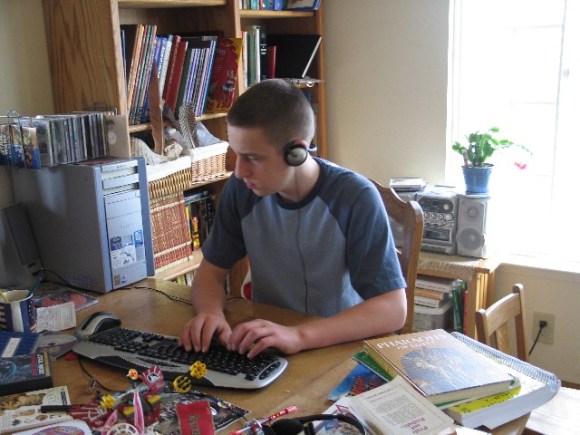 Aaron was frustrated a bit today, and that's my fault, not his.  Awhile back he hit a plateau with his typing, getting stuck at the same typing speed.  Though he'd practice day in and day out, he was just stuck.  I told him to take a break for a few days.  Which became a couple of weeks.  Then it was Christmas break.  Then I forgot to have him take it back up.  Needless to say, his skills had regressed.  Poor guy!  I'm praying that as his skills gradually work back to where they were, that they'll improve beyond that point as well.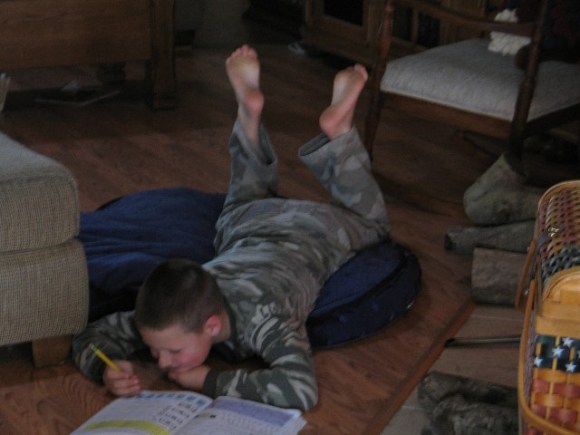 Will, on the other hand, was glad to have no one fighting him for the coveted spot on the dog bed in front of the fire.  Poor Dixie!  She was just sure that the cedar filled cushion was hers.  She's such a good dog, she shares without complaint.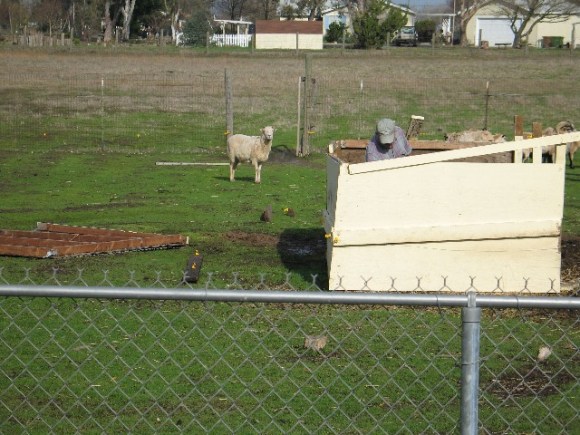 It turns out, the dog didn't know about the misappropriation of her bed.  Dixie spent most of her day outside watching my husband repair the sheep shelter.  Poor Copper, it took him the entire day!  That thing was busted up good!  The air was brisk outside, and he had to slosh around through the water that is still standing out there, which was only slightly worse than mucking through the mud everywhere else!  Late in the afternoon he finished it up and fresh, dry straw was put back down for the sheep to sleep on.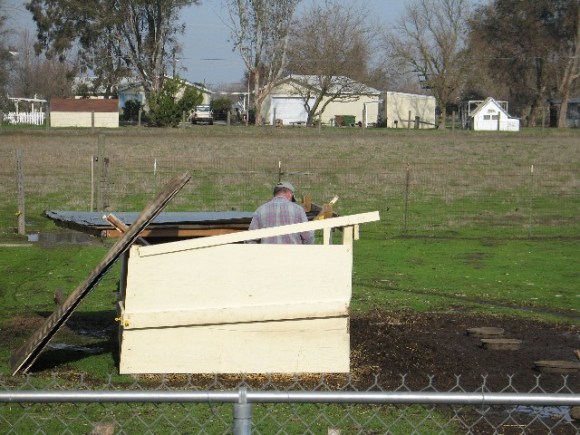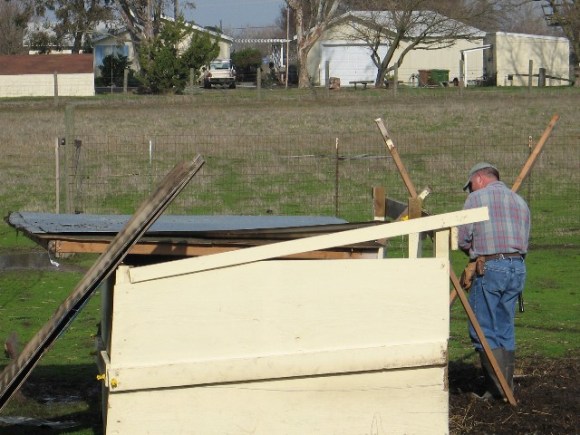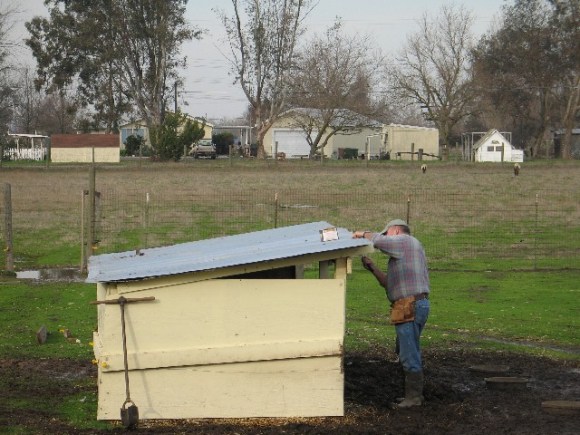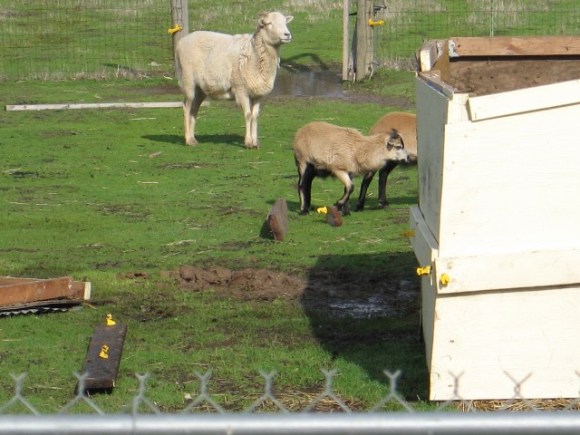 The little lambs were curious about all the bits and pieces that my husband had drug back into the pen from the various ends of our property that the wind had taken them.  The beautiful white guy in the background wasn't quite sure that they should be so close to the construction zone.  Though he's a cross-breed of Blackbelly Barbados and who-knows-what, he is far and away my favorite of the sheep.  He's gettin' old, though……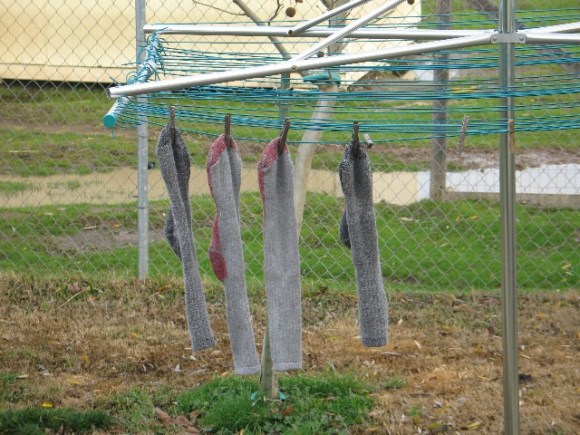 Our damp, foggy weather really isn't conducive to using the clothes line much.  We had sunshine for about half the day, though, so the men's wool boot socks were hung out to dry in the fresh air.
With that hoped for little bit of craft time coming my way this afternoon, I was motivated to work quickly this morning!  I know that my hoped for time to sew and/or craft on Mondays hangs on a very slender thread.  I won't be able to have that time if other work remains to be done, or if other things need my attention!  That said, the laundry was running before the sun was up, and kept humming along with the last load for the day going into the dryer right after lunch!  All of the dailies were done well before noon, and I did my best to keep up with things as they came along.  There are no weekly or longer term jobs scheduled for Mondays (on purpose), so things were looking good.
Immediately after lunch Dani gives the boys each a half hour (or so) piano lesson.  The hour after lunch is, normally, our afternoon quiet time.  This is when I do my Bible reading and study, and the boys read quietly.  With piano lessons happening, Mondays aren't so quiet, but it's still a good time for me to be alone in the parlor with my Bible and other materials.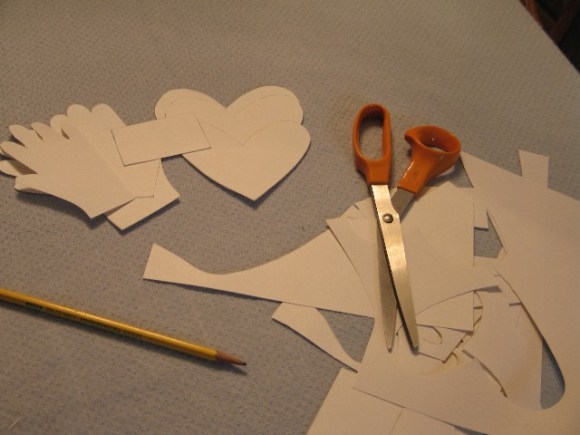 At the end of that hour, my planner said that it was time for "sewing/craft time".  They dryer had just finished up, so I folded the last load of laundry and started a second loaf of bread for toast for breakfast tomorrow.  I put one of my Valentine fabrics into the washer to pre-wash.  I traced the little hands and hearts from the pattern in the Gooseberry Patch book I'm using
.  I cut those out and then traced them onto cardstock.  The cardstock shapes will be the templates I use when I cut out my fabric.
Half way into this, I needed to sit down with my son to go over his grammar lesson with him.  Prepositional phrases, and subject/verb agreement.  We worked together for about fifteen minutes, but the fifteen minutes were well spent.  He gets it!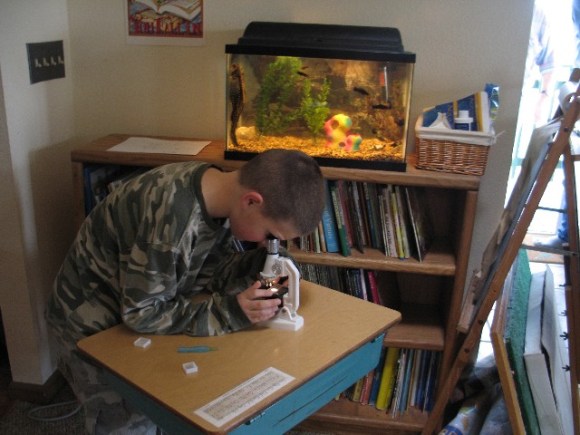 Just as we finished up, William came in from outside.  His Dad had helped him to set up Aaron's lighted microscope and he had collected some drops from one of our many, many areas of standing water.  He was amazed and thrilled at seeing those little critters swimming around under the lens.  Of course, I had to see, too, and share his delight.
I switched the first piece of fabric from washer to dryer, and put in the second of the three pieces I bought.  I finished cutting out my templates and thought I'd spend the rest of my time working on one of the aprons I already have started.  It was then that Dani reminded me that I had a project with she and Corin.  My part of the project was not yet done.  That involved finding, cropping and re-sizing photographs.  By the time I was done there (which means there are new photos up at becausetheyarequiet) my time set aside for sewing/crafting was done.
I do my very best to keep my priorities in order.  They are listed in my side bar as a reminder to myself.  God, husband, children, home, church/ministry, everything else.  It's quite reasonable for me to pencil in a bit of time to work on projects of my own, but I still need to keep my priorities in focus.  If I had told Aaron to wait until I was done with what I was doing before he could have help with his lesson, what sort of message would I have been sending him?  Had I ignored Will's delighted cries and non-stop chatter about what all he was seeing under the microscope, he would not know that what delighted him, delights me.  My girls would, of course, have understood if I had been late in getting my pictures up on our shared photoblog, because they are both adults.  However, just because they are now adults, does not make them any less of a priority.  They need to know that.
I love to sew.  I love making things for my home through different sorts of crafts.  There's nothing wrong with that, nothing at all.  In fact, as Martha Stewart would say, it's a good thing.  I just try hard to be sure that I'm not sacrificing the best things in my life, for the good things.  So, a bit of work was done today towards the Valentine's Day garland, and the prewashing of the fabrics for that and some possible Valentine aprons has been done.  It's more than I would have had done otherwise, and my children and home were not put on the back burner in the process.  I'll have little snippets of time now and again to do more.  I have another time slot pencilled in for sewing and crafting this coming Friday, too.  Uh-huh, we'll see.
Coffee IV asked what we did to prep our muffin tins so that muffins and cupcakes don't stick when we don't use the paper liners.  I've had tremendous success with spraying the cups of the tins rather generously with Pam or a similar canned cooking spray
.  I also take the muffins out of the tins immediately after taking them out of the oven.  I know that there are recipes out there to make your own cooking spray.  However, I'd guess that we use less than two cans in a year, and certainly not more than three, so I do not mind the expense of keeping a can of Pam on my shelves.
Now, you guys!!!  (That's left-coast talk for all y'all)  We are gonna have our grits SWEET this first time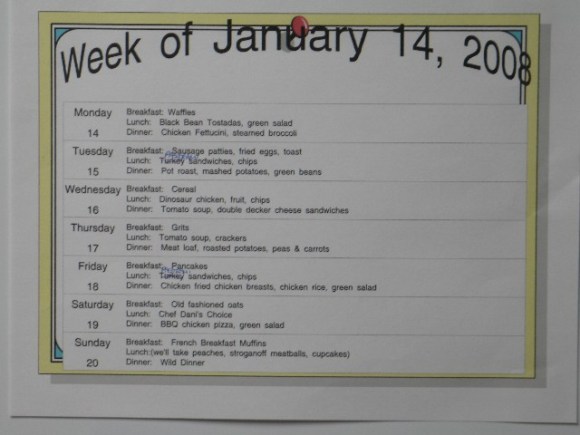 around!  I have got my boys jazzed about trying the grits by telling them how much their nephews and niece love the stuff.  I'm thinkin' if I make 'em taste a bit like sweet cornbread, then maybe they'll be willing to try them prepared differently in the future.  Oh, my will you just look at that!  I've gone and mixed up my sweets and my savories and thrown corn bread into the mix.  We're sort of a multi-cultural mess here….We like our tea sweet, but we like our corn bread sweet, too!  There's probably not much hope for us!
I think that, perhaps, what we're planning to have is more like cornmeal mush than traditional grits.  I can tell you right now, though, that if I'd put "Cornmeal Mush" on the menu on the fridge, it would not be pretty here at breakfast that morning!  Some of your descriptions of "savory" and "cheese" grits, have got my mouth watering!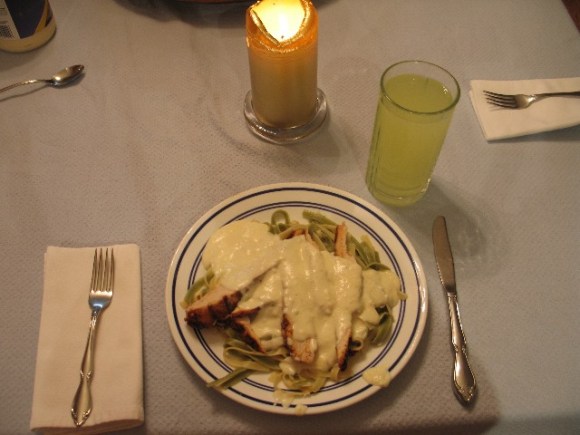 I'll tell you what, to make up for eating sweet grits this week, I'll let you in on a secret.  Our personal chef, Francois, has posted the most AMAZING Chicken Fettucini recipe.  You can find it here.  Oh, my word, this is some kind of good stuff.  This is what I asked Francois to make for my birthday dinner last week; and yes, I put it on the menu again this week!  Man, it's good stuff!
God bless you as you look well to the ways of your household!
Proverbs 31:27