Though our skies are gray and dreary, our home is warm, cozy and bright.  These overcast, gray, damp days are a normal part of winter here.  We can go for weeks on end without seeing the sun!  Keeping the wood stove burning and the house warm, lighting candles here and there, and even turning on a few lights during the day, keep my home feeling warm and cheery and help us avoid the winter doldrums.  No use whining about the glum weather, it's what the Lord has intended for Januarys in my part of the world.  I can, however, adjust the atmosphere inside my home, and that's what I choose to do.
Dani and I accomplished the mega-shop yesterday, with quite a few stops on our schedule.  First stop, dropping off my husband's suit!  In fact, a brand new cleaners opened up on the very outside of the city closest to us, making it the closest dry cleaner to our home, so I decided to give them a try.  They will be convenient to us as they are on our route to the local feed store.
Next stop, JoAnn's!  We had a nice time browsing through the store.  Somehow Dani and I got separated fairly early on.  I searched and searched for her, but didn't find her.  She thought that I meant for us to divide and conquer the store, so she didn't know I was looking for her, nor was she looking for me.  Drats!  We both found what we wanted, and most everything we needed was on sale.  In fact, I ended up using my precious 40% off coupon on a package of buttons because everything else was on sale.
Remember my plan to decide now on Christmas crafts for next Christmas?  Last weekend, while it was so stormy and while we were without power and/or water, I spent some time flipping through my Gooseberry Patch and other Christmas books.  I wrote down several projects in a notebook, but something surprised me.  I found probably a dozen projects that are very easily adaptable to other holidays or purposes other than Christmas.  Fourth of July.  Birthdays.  No holiday or occasion in particular.
One idea, found in the Gooseberry Patch Christmas Book 5
for a Christmas garland, struck me as being
perfect for Valentine's Day.  Pictures from the book are, of course, copyright protected, so I'll have to show you my own pictures as I work on my Valentine garland.  (If you have this book, you can see my inspiration on pages 30 – 33.)  My Valentine's Day version will be made up of pairs of hands, each holding a heart.  The hands and hearts will each be made with three different colors and sizes of felt stacked for depth, and then embellished.  I'll be making mine with red, pink, white and black felt, embellished with cuffs from two different, yet similar, heart fabrics that incorporate my color scheme.  I'll embellish with red buttons, red and white sequins, and ribbon, and possibly some edges cut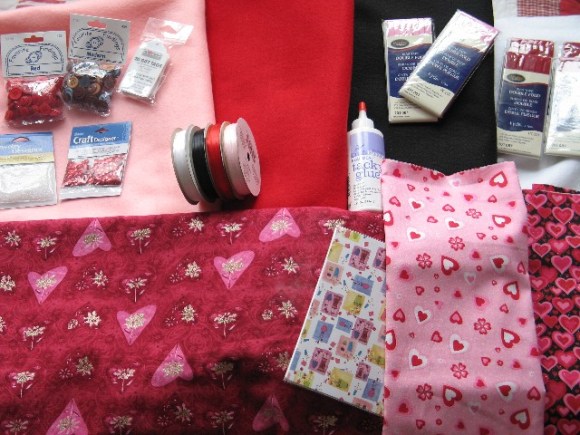 with craft scissors.
A Christmas crafting idea that Dani and I both wanted to do over the course of this year, was to make our own gift tags.  I'm not sure what all Dani has planned, but we will be making some from an idea inspired by Clarice at Storybook Woods.  Her embellished mittens seemed like just the thing for gift tags.  I've already made a mitten shaped template out of cardstock.  I will make all of my mittens from white felt.  I plan on stitching two layers of felt together for stablility, and then I'll embellish with decorative edgings, buttons, beads, etc.  To each of these I'll attach a cardstock gift tag for the actual "to" and "from" information.  The tag can be removed by the recipient and the mitten can be re-used as an ornament, or whatever, if they choose.  The inexpensive, 72″ wide acrylic felt was on sale for $2.99/yard, so I picked up plenty for the Valentine garland and the mitten gift tags.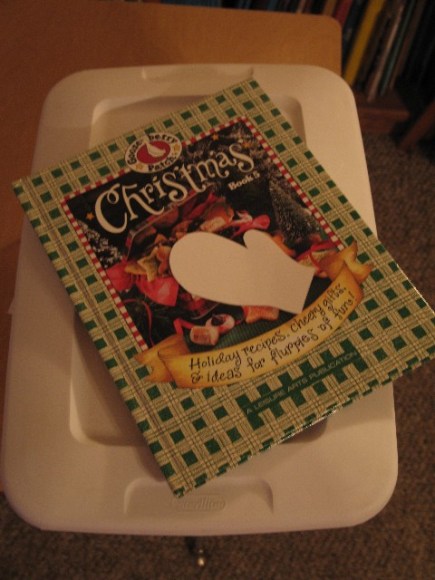 The gift tags will be my first Christmas project.  I plan to cut out as many as I think I'll need, add a few for good measure, and then stitch them together.  I've pulled out a covered container to hold them, along with the trims and such I want to embellish them with, and then I can work on them from time to time throughout the coming months.  Having everything in one place will make it easy to pick these up and work on when time and the inclination conincide.  I'll toss in little bits of left over trims and things as I run across them in my other crafts supplies so there will be lots of variety.
I jotted down several other Christmas projects, and I need to make some decisions soon about which I really want to do for next year.  Once that decision has been made, I intend to plunk the ideas into my planner.  I'll spread them out over the course of the next few months, allowing time to watch for sales for supplies (though many will require no purchases), and allowing time for completion before Thanksgiving.  Right now, the "work on mitten gift tags" message pops up as a daily recurring appointment at the top of each day's planner page.  As soon as I have the tags done, I'll delete the appointment.  In fact, I have a recurring appointment at the top of each day that also says "Current Projects" and then lists those.  That daily reminder, though I don't find the time to work on projects every day, keeps them ever before me and doesn't allow me to lose track of any one particular project.
Aprons are also on my mind.  I have three unfinished aprons, one for each of my daughters and one for my oldest granddaughter that I really MUST finish.  They've been promised for forever now. 
My girls are so forgiving.  I have a piece of Valentine fabric bought on clearance last year for aprons, and I bought a new piece yesterday.  Must have aprons!!!  After putting away our pretty Christmas aprons, our old stand bys seem a little cheerless.  I thought some fun new aprons, just for February, might be fun!  I picked up the bias tape I will need to make the fabrics up into our tried and true "Nora" apron.  I saw a presser foot for a Janome sewing machine the other day that looks like it would make applying bias tape to fabric a breeze.  I need to call the shop to see if one of these feet is available for my old Memory Craft machine.  I still have a wee bit of Christmas/birthday gift money left over and I would dearly love to have one of those binder feet!
Okay, I've got plenty of sewing and crafting projects to keep me busy for quite a stretch now!
I've learned a couple of things this week!  Both were really things I should have already known, or realized, but sometimes I get so set in my ways and not wanting to spend money on something, that I don't think it through.  I'll share both things with you just in case you've fallen into the same trap.
New muffin tins.  I bought two new regular size muffin pans, and one new mini muffin pan yesterday.  My old muffin tins were in horrible shape.  They were "non-stick" but the non-stick coating has been gone for some time.  Of course, we've used paper liners in the cups since then, but the tins looked really awful.  We also do not really like having those silly papers to peel off.  So much muffin comes off with the papers, and they give my grandchildren grief.  Some of Dani's best recipes call for dipping the muffins after they are baked, and the papers need to come off to do that.
Non-stick tins are pricey, and some are outrageously expensive.  Even so, we really didn't want to buy any more non stick tins.  The coating always peels off, and I am concerned about that stuff getting into our food.  Instead, I bought inexpensive steel muffin tins.  Yes, of course, they will eventually rust.  Yes, we will have to be diligent about wiping them dry when they come out of the dishwasher to prevent the rust as long as we can.  Here's the deal.  The silly things were less than $3.00 each.  Muffin papers are around $.70 a package, not on sale.  We make a LOT of muffins.   The pans were inexpensive enough that, even if we replace them once a year, the cost of not buying muffin papers will offset the cost of new tins.
My second lesson came the day Dani and I were at the sewing machine store buying her machine.  Remember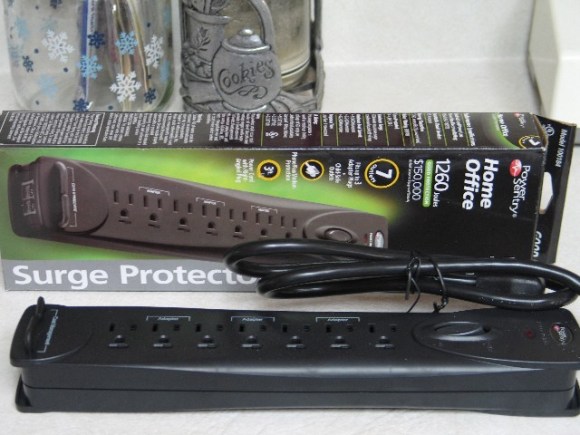 those horrid storms we had last week?  While we were in the store a woman called.  Her brand, spanking new, very expensive Bernina sewing machine got fried by a power surge when the electricity came back on in her home after an outage during those storms.  The sales staff were talking after that call and mentioned the fact that everyone "knew" they were supposed to use surge protectors on their sewing machines with computer chips in them.  Huh?  I didn't even think about that before!!  Yesterday, much as it hurt to do so, I spent $30 out of my food money to buy two surge protectors,  with adequate joules to protect our sewing machines!  A power strip is not the same thing as a surge protector.  Do be sure that you have surge protectors on anything valuable that has any sort of computer chip in it.
The Lord has really blessed our mega-shop days these last couple of months.  Our system of keeping the pantry and freezer stocked, and planning our menus around that, but also watching for great in-store sales on things while we're shopping, has worked out well.  We've even been able to carry over some cash from one pay period to the next, even after having to spend part of the food money for the surge protectors this time around.  Not much, in fact we've had the same $40 left over almost every time!  As wonderful as that is, I am still discovering times that I am not buying wisely.  Yesterday, for example, I drove all the way downtown to the natural foods store for two items, and to check prices on a few more.  One item I bought was $1.79/lb., but when I went to my normal, deep discount grocery, the same product was less than a dollar a pound!  The products were identical!  I was sure that I had checked for that product at my grocer's in the past, but I guess I had not.  Wise shopping is hard work, and I'm praying for wisdom each and every time we venture out to re-supply our household.
It being Saturday, there was quite a bit of laundry to be done.  All of the sheets, all of the bath towels, and three wash loads of clothing.  It was so wonderful, after no water last week, to be able to do all my laundry today!  I fussed a little, at one point in time, when the machines were beeping at me and I was doing something else and didn't want to go empty the machines and re-start them, but then I realized – last week I couldn't do any laundry.  Truth be told, I'm very happy to have my running water restored.  I read something just this last week, of course I can't remember where now, that said something along the lines of "having laundry to do means that the family is at home".  I LIKE that!
Even with so much in the wash today, there wasn't a great deal of ironing.  I had about two dozen napkins to iron and that was it.  Oh, it feels so wonderful to be caught up on the ironing!  After dinner, though, I did have two pair of my husband's slacks to iron.  They were Christmas gifts and have never been laundered, or ironed.  They took just a bit of extra work, to get those set in from-the-store wrinkles out with a moderately hot iron, but I got 'em!
My weekly cleaning on Saturday is done in the master bedroom and bathroom.  I like having our bedroom cleaned and with fresh sheets on Saturday night!  The bathroom got a good cleaning, though I worked on it off and on all day.  I keep it clean throughout the week by working on it a bit every day, so there is just a bit of extra scrubbing to be done on Saturdays, along with mopping the floor in there.  I switched the candle warmer
on under my Fresh Cut Roses candle early this afternoon so that the bedroom will smell wonderful by bedtime.  (These candle warmers can be found for about $5 at WalMart – hat tip to Mrs. C. for turning me on to these last winter!)  I also lit one of Bren's yummy soy candles in my bathroom.  I love the pachouli fragrance, and I will enjoy having my bathroom so wonderfully scented when I go in to take my shower later this evening.
Mrs. Diana asked if I ever watched "ANY" tv.  The simple answer is yes, but very little.  My boys are allowed to watch a bit of PBS if there is some time early in the morning, and then again later in the day.  I sometimes say, "yes", when they ask, and I sometimes say, "no".  They do watch some Saturday kid shows, but we try to be careful.  We don't watch the news anymore, unless there is something major happening.  We kicked on the local weather channel frequently during last week's storms.  My husband will sometimes turn on PBS on a Saturday evening for a concert or documentary, but that's also pretty rare.  As frustrated as we became several years ago with the content of most tv programming, we were more put off by the provocative and sometimes borderline p*rn*gr*ph*c content of the commercials.  That's when we stopped watching.  There are a few shows we've watched on dvd that we've enjoyed very much.  Monk
comes to mind off hand.  We go through spurts of watching movies for several nights a week, and through spurts of reading almost every evening.  I'd say the majority of evenings, though, we read.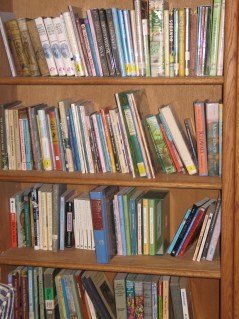 Melissa had a question about how I organize our Heritage Library.  The answer is toward the end of my Heritage Library article on my web site.  Scroll down, almost to the end, and the section is titled "Organizing the Heritage Library".   (Speaking of Melissa, please lift she and her unborn child up in prayer as they cross your mind in the coming weeks.)
Tomorrow morning's breakfast, Poppy Seed Muffins, is baked, placed in an airtight container, and is on the table.  Plates are set, ready for breakfast.  The smoked sausages and baked beans I'm taking for tomorrow's fellowship lunch, will be put into the crockpots in the morning, and Dani's tray of four and half dozen, huge, chocolate chip cookies is ready to go.  Everyone's clothes are ironed and hung up ready for morning.  Will's play clothes for after church are packed and ready to go.  Our church basket is also by the back door, with Bibles, notebooks, pens, etc., ready to load into the car.  Dani vacuumed the whole house after dinner.  We, and our home, are ready for the Lord's Day tomorrow.
It's been a full Saturday.  The daily and weekly tasks for Saturday, and the week for that matter, are behind us.  Work well done, including the boys' work of homeschooling, chores and playtime.  Work that makes a difference.  Our family is ready to attend worship tomorrow, and we are ready for family time together as my husband has the next few days off from work.  The week has flown by as we've caught up and recovered from last week's storms.  A day of rest, and we'll have a fresh, new week before us.  Have a blessed Lord's Day tomorrow.
God bless you as you look well to the ways of your household!
Proverbs 31:27