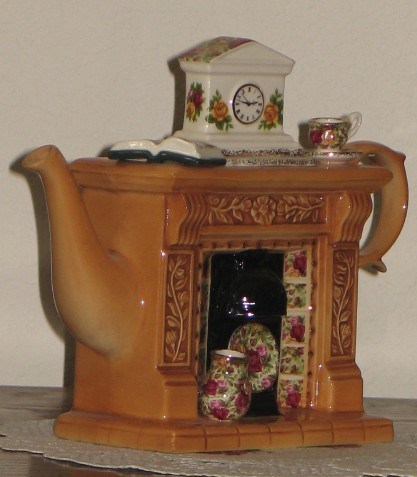 There are days that I wish that we could just get together for a cup of tea.  I could ask you what was on your mind, and we could chat, one on one.  Wouldn't that be nice?  That thought occurred to me more than once today as I worked a bit in my parlor.  It was pleasant for me to work, thinking of you all that way.  I know that many of you have your tea, or coffee, as you read here, and I like knowing that!
My husband was home with us today.  He'd put his name on the list for overtime, but they didn't need him.  I was glad, but I know that he would have liked the overtime.  His paycheck took a bit of a hit the first of the year.  Not only did our medical insurance premium rise, but the portion that his employer will pay dropped at the same time.  We're not sure yet just how much that will mean in dollars and cents.  It will be another paycheck or two before we see the outcome.  Yet, the Lord meets our needs daily……weekly……eternally!  We'll meet this challenge without being anxious, knowing that He will provide for us in one way or another.  He always does.  He always will.
Wednesday is the day that I tend to the weekly chores in my parlor.  However, I worked on the web site yesterday and neglected my weekly chores in the school room.  This afternoon, then, I took care of the weekly chores in both the schoolroom as well as the parlor.  Brushing down cob webs.  Dusting furniture, light fixtures, and knick knacks.  Straightening up a bit as I worked.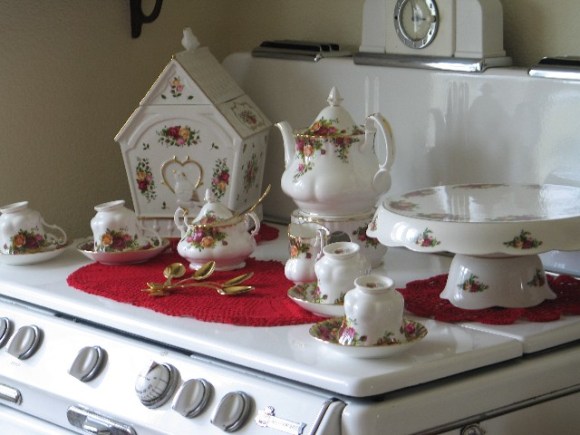 Last week, after taking down the Christmas decorations in the parlor, I wasn't quite sure how I wanted to arrange things.  Today, though, I spent some time arranging things as I'd like them for at least the next little bit.  I pulled out some bright red doilies that I found at a thrift store a few months ago.  They are a matched set, one oval and two rounds.  I put those on the stove top, with the oval in the center and the two rounds to each side.  I set out my Old Country Roses tea set, and I flanked it with the convertible cake stand (a Mother's Day gift from Corin and her family) and the bird house cookie jar (a birthday gift from just a few days ago).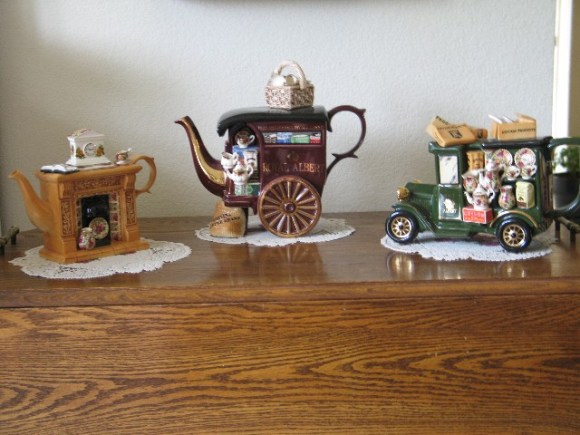 My little tea cart sits just to the right of my mom's old stove, and it was a mess!  During the Christmas season, I had put a red cloth over the whole tea cart.  I kept the things displayed on top dusted, of course, but I figured "out of sight, out of mind" was good enough for the tea cups under the cloth on the bottom shelf.  That philosophy worked just fine, but now the table cloth is off!  I pulled everything off the bottom shelf and then dusted the shelf really well, shaking out the crocheted doily that covers it.  One by one, I dusted the cups and saucers, and then I wiped them down with a damp cloth before arranging them back on the shelf.  With my tea things set up on the stove top, I decided to just arrange my three collector's tea pots on top.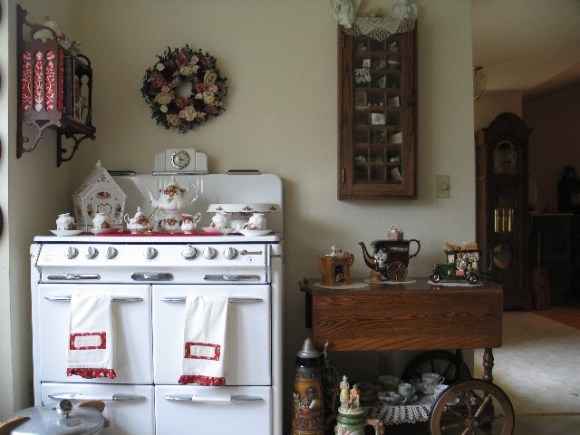 There are a couple of upholstered rockers and an ottoman, as well as my mom's little writing desk, directly across from the stove and tea cart.  It is here that I sit in the afternoon to read my Bible, study His Word, and read from my other two devotional books (My Utmost for His Highest
and Valley of Vision
).  I love having my time with the Lord in the parlor.  The room is small and intimate.  In the early afternoon, when I meet with the Lord, the room is bright, and I only need to turn on a light on the stormiest of days.  I kept my daily time here in mind as I set up things across from the rockers.  It's nice to have a pleasant view when I occasionally look up from my reading.  In fact, after working in here for part of the day, I brought a book from my reading basket
in to read later in the afternoon as I rested a bit before fixing dinner.
Several of you wrote, or commented, to tell me that you were going to be filling your own reading baskets with a variety of books this year.  How's it going?  I am used to reading a book from one category, and then replacing it right away with another book from the same category.  This year I am choosing to read everything in my basket before replacing any of the books.  Oh, it's hard; but it's good!  I am now, for the first time, breaking up my reading a bit and not feeding my desire for lighter reading so much.  I've been reading quite a bit from  Volume I of Beacon Lights of History
the last few days.  Volume One deals with ancient civilizations and, specifically, their religious beliefs and practices.  The author was a Christian, so the telling is from a Christian perspective.  I find it fascinating!  However, I need to keep my dictionary close at hand.  Just this afternoon, I found it necessary to look up half a dozen words!  I've finished two books so far this year (see my side bar), and I'm well into a few others.
The second week of the month is the week that I take care of the monthly and longer term chores in my kitchen, dining room, back hall and laundry room.  As I surveyed these areas today, my back hall caught my eye.  This area has been an on going problem for me.  The door straight ahead is the door to our garage, and this is the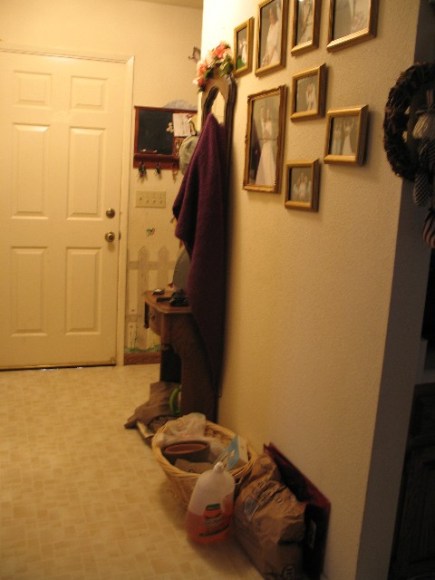 door that we all use to enter and exit our home.  The hall tree by the back door is where my husband hangs his coat and hat.  My wool shawl is hung there, too.  We keep our cell phones there as well.  There is a shelf underneath where other things are put that need to go out the door.  My husband's big water jug for work, for example.
However, my husband's light tan suit has been on that bottom shelf for weeks now.  It needs to go to the cleaners, but we always walk right past it when we are headed to town.  There is also a wicker basket on the floor of that hall.  The basket is where we put things that need to be taken out to our outdoor storage area, or things that need to be delivered to someone else.  Again, things tend to just linger in and around that basket.   As I thought about it today, though, the light bulb finally came on and I realized what was needed to keep this area in order.  The job of emptying the basket and taking the suit to the cleaners needed to be assigned.
The first thing I did was to clean up the area.  I took several items to our outdoor storage area.  A couple of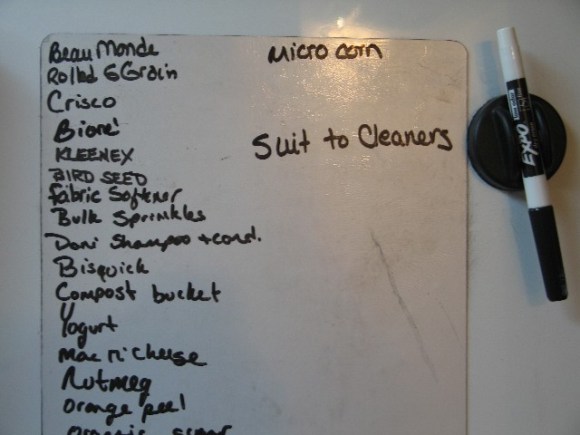 things, originally meant for the Goodwill, were just thrown away this time around.  Next, I put "suit to cleaners" on the grocery list on the front of my fridge.  That seems like a little thing, but here's the deal.  The day I do my "mega shop", I take the list off my fridge and write up a master list, sorting the things on my list out and placing them on my master list under the name of the store where I will buy them.  Having "suit to cleaners" on the fridge list will prompt me on Friday morning to pick up my husband's suit and put it with my coupons and other things that need to go with us when we leave.  I will also be sure to put "Drop suit at cleaners" on the master list.  It was a simple thing, but one that I should have thought to do weeks ago.  From now on, I'll be sure to put things of this nature on the fridge list right away.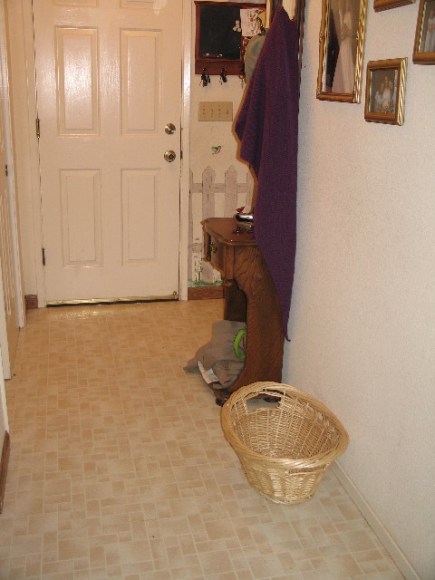 I also made a note in my planner for Tuesday, Thursday and Saturday to run the things from the back hall to the outdoor storage.  Again, a simple solution!  The back hall is cleaned up now, save for that suit still down on the bottom shelf of the hall tree.  I know, though, that it will make it out the door with us on Friday when we head to town for the mega shop.
William takes care of the weekly cleaning of this area.  However, he is only eight, so today I took everything off the hall tree and dusted it really well.  Including up high where I'm sure he cannot reach.  I dusted the pictures on the wall, too.  I'll have him come back through to clean the baseboards and to spray and wipe the fingerprints and smudges off the doors and woodwork one day this week.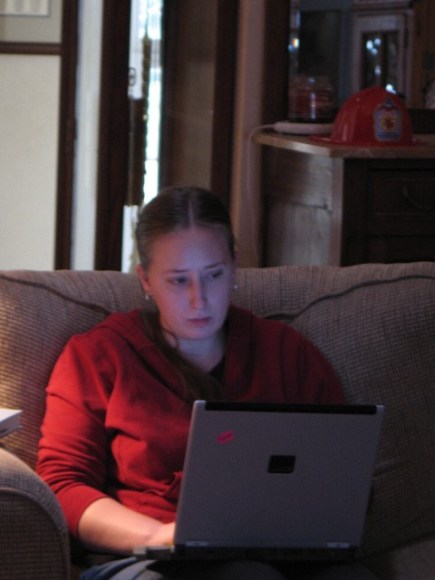 Dani's been doing some pattern shopping on line.  We are very much looking forward to our stop at the JoAnn Superstore on Friday.  I like that pattern shopping can be done ahead of time by looking  at and comparing the various patterns on line.  It will save us some precious time on Friday.  Dani will be able to pull the patterns she needs from the drawers and then enjoy the rest of our time looking at fun stuff, rather than spending all of her time browsing through the pattern books at the store.  Don't get me wrong!  I love looking through the pattern books!  We just do not have enough time on our mega shop Fridays to do that sort of thing, so I appreciate the time she took today to choose her patterns.  (That's my grandson's fire hat on the sideboard in the background!)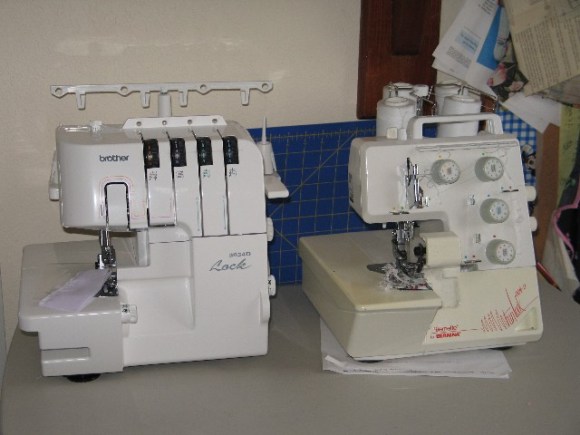 Dani's serger was delivered today!  The same folks that blessed me with their old serger, blessed Dani with a brand new one they'd received as a premium on a purchase they recently made.  Thank you, thank you, thank you…….You all are the best, and you're spoiling us rotten!  We love you both!  That's my Bernina on the right and Dani's Brother on the left.  Aren't they beauties!  We'll be sure to let you know as soon as we've done anything with either of them.  I'm hoping to play around with mine within the next week.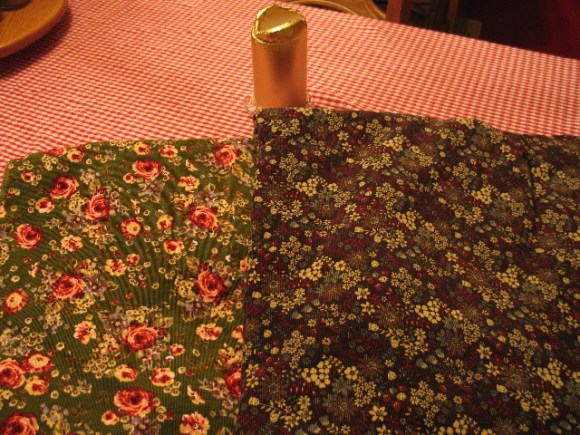 Yesterday I mentioned the beautiful corduroy that I found on clearance a couple of weeks ago.  I finished up pre-washing the second piece just this evening so I snapped a shot of the two.  It's a bit busy on my red & white checked tablecloth!
I have so much sewing to do.  I have so much sewing that I LONG to do.  I actually carved out some times dedicated to sewing, or crafting, when I re did my weekly schedule the first of the year.  I have a bit of time set aside on Monday afternoons, and another bit set aside on the every other Friday that I am home.   So far, though, I've been thwarted at every opportunity.  Last Friday, during the storm, we were without power.  Monday I had the wonderful treat of taking Dani out to buy her new sewing machine.  That counts, though.  I looked forward to that outing for quite awhile!  Working something new into a weekly schedule sometimes takes awhile.  I just need to be more resourceful in finding other little snippets of time in my days and weeks to make up for it.
I love to cook for my family.  I love the nights that don't require a recipe.  Why are those always the nights that my husband seems to especially enjoy my cooking????  Tonight I simply pounded a round steak, over and over and over again, with my metal meat tenderizing hammer.  You know, that was fun!  I cooked up some onions and garlic in oil in my electric skillet and then seasoned and breaded the steaks and cooked them in the seasoned oil.  When the steaks were done, I made some gravy from the pan drippings.  I served the steaks with the carmelized onions, mashed potatoes, the pan gravy and a green salad.  My husband loved it!
Nourishing my heart with God's Word.  Enjoying time with my family.  Homeschooling,  Homemaking.  Cooking.  Sewing.  Planning projects.  This is what I choose to do, and I love doing it.  My life is full to overflowing!
Tonight, as I close, I'd like to ask you to please pray for our nephew.  This young man is having a very tough time right now.  I don't know how much I'm at liberty to disclose, but the Lord knows his need.  If you feel led, we would appreciate your lifting him up in prayer.
God bless you as you look well to the ways of your household!
Proverbs 31:27