I might be tempted to say that not much got done today.  I might be tempted to say that.  However, Corin and my grandchildren came for a visit; so who cares if not much else got done today?  Not me!
Dark, stormy skies allowed me to fall fast asleep this morning after turning off the alarm.  I thought I was getting up, only to wake from a sound sleep MUCH later.  After breakfast everyone got busy on their chores.  I tied on my apron, pulled back my hair, and got to work.  I did all of my dailies, and hung clean towels in my bathroom as well, after doing my daily cleaning in there.  My weekly chores for Thursday are all in the living room, so I quickly dusted in there.  No straightening beforehand was required, because that was done as part of my "dailies" just a bit earlier.  Cobwebs?  What cobwebs?  I don't see any cobwebs.  Like I said, I dusted quickly.
I'll add "webster the living room" to Aaron's list to be done tomorrow while I'm in town doing the mega shop.  Dani damp mopped the laminate flooring, so everything was looking good before lunch time.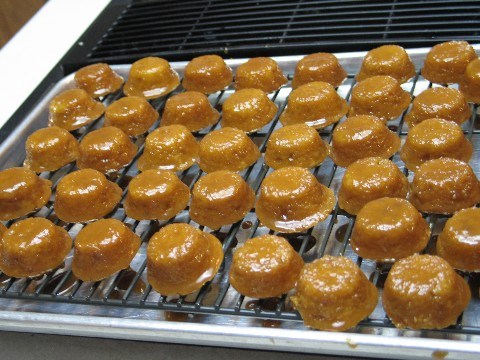 Dani asked yesterday if she could make our treat for today.  She chose the recipe for these wonderful looking, caramel coated tea cakes from a book we bought her
for Christmas.  The tiny, yellow cupcakes are baked from scratch, and then dipped into the homemade caramel coating.  Oh, my word!  Sticky, caramel-ly goodness like this is not to be missed.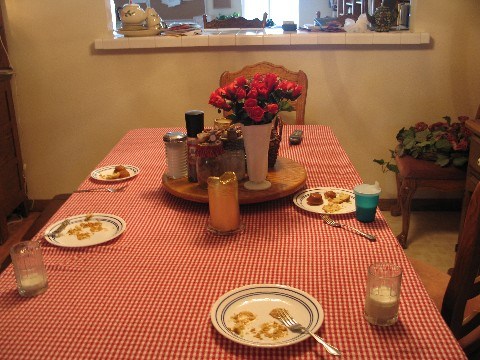 They were a mixed hit with the kids, but we gals enjoyed them.  Lots!  We went back for seconds.  ummm….and thirds.  This cookbook
has tons of wonderful recipes that we are itching to try.
The three oldest grands and my youngest son joined me for our reading time.  I read three fun books, all Caldecott medalists, about snow.  White Snow Bright Snow
The Big Snow.
Snow.
I've a Library Builders post coming very soon that will include these and a couple of others, too.  When our read aloud time was over, the grands all chose three books each from our Heritage Library to take home for the week to enjoy there.  I didn't realize, until today, that the little ones had enjoyed our crafts that we'd done over the Christmas season.  I didn't have a craft for them today, but I will be sure to have one from here on out.
I spent some time making a list to take with me to JoAnn's tomorrow.  I have a couple of things needed for a couple of sewing projects, and then there are a few other projects I want to pick up supplies for, too.  I'm quite good at finding what I need in the superstore when it comes to sewing and knitting, but I'll be checking out some of the other areas this time around.  I think I need supplies from the scrapbooking, jewelry making and general crafting sections; and I'm not at all familiar with any of these sections of the store.  It should be fun, though!  Two or three of the crafts projects I have planned call for felt, and the nicer felts sold by the yard are on sale right now.  I plan on checking out the sales flyer one last time tonight to see if any of the other supplies I put on my list might also be on sale.  I'm hoping to stretch my gift card just as far as I can.  Wish me well!   I'll let you know how I did.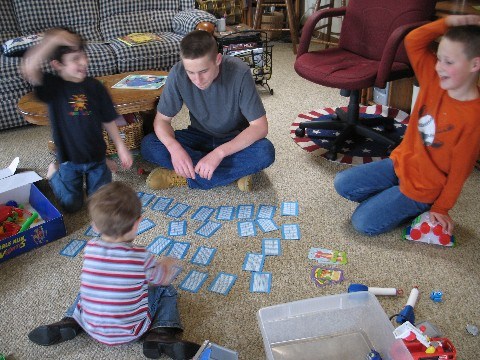 My girls and I spent the afternoon chatting about this and that.  I did a bit of knitting, wanting to finish up a set of cotton cloths to give as part of a gift later this month.  Corin researched a project she's wanting to start.  Dani worked on a crocheted hat she's making for a dear aunt.  The children played together well.  My William just delights in having his nephews here!  Aaron was a champ and helped the little ones find the toys they wanted to play with, and even helped the three little boys play a card matching game.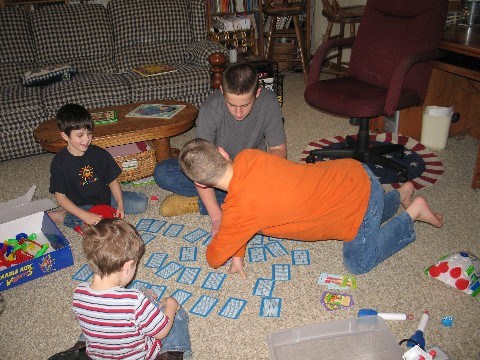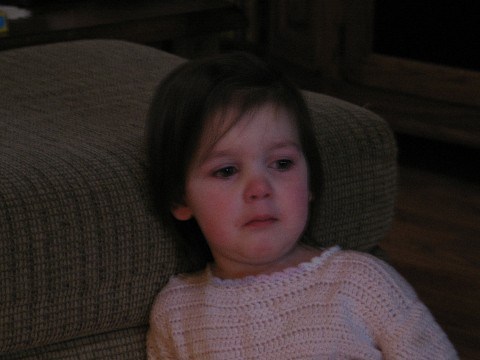 My sweet oldest granddaughter was not happy at being taken away from the middle of the boys' games today.  Nope, she wasn't happy about it one little bit.  But, after a brief episode of pouting (which I thought was way too cute, though I didn't let on that I thought it), she sat in my lap for a spell and told me about many, many things.  When I mentioned how soft and silky her hair was, for example, she told me, "Momma put it on my head.".  Well, now, I guess she did!  (That little pixie of a baby girl, my youngest granddaughter, slept the afternoon away, tucked into the porta-crib in my bedroom.)
I love that Corin knows what sorts of things are to be found in my homeschool closet and that she was able to find something to keep my two year old granddaughter happily occupied and out of the boys' game.  You know, my Heritage Library consists of more than books.  I have, over the years, accumulated a large number of wonderful hands-on educational resources – games, felt books, puzzles of all sorts, manipulatives, flash cards……all sorts of good quality stuff.  These things are also part of my Heritage Library, and are available for my daughter to use with my grandchildren.  Yes, of course, she is building her own Heritage Library; and she has an awesome collection already.  However, I'm happy to have other books and other resources available for her to use, too, to help her stretch her homeschooling dollars further.  Our commitment to private home education has prompted us to purchase high quality materials that will last to have available for our grandchildren's benefit.  This is one way for us to "put our money where our mouth is" on the issue of homeschooling!
I might be tempted to say that not much got done today, but it was a wonderful day just the same!  Any day that involves all of my children and grandchildren here with me, even if it is just for a few short hours, is a wonderful, joy-filled, incredibly good day!
Aaron and I met my husband at the freeway this evening, and the guys are off to their book study at church.  I'm hoping to settle in for a good, long time of reading quietly tonight while they're away.  Sounds good to me!
God bless you as you look well to the ways of your household!
Proverbs 31:27