It's been a whirlwind!  We've been on the move and on the go all day.  My header claims that I share bits and pieces of my days, but today is heavy on the "bits" and there are only tiny "pieces".  I understand that the comments feature here has not been working right today.  I do apologize!  I do have comments "open", so apparently xanga was having some problems.  Hopefully that has all been taken care of now.
I don't have a recording to share with you, but I do want to share a sound just the same.  Our bedroom is located just off the kitchen.  As I was making up the bed this morning, I heard the most beautiful whistling.  My husband rarely whistles, so I stopped to listen.  The strains of a whistled "Leaning on the Everlasting Arms" were ringing clear and true.  It was then that I realized that it wasn't my husband whistling.  It was William!  I had no clue that my young son could whistle so beautifully!  He whistled away, "What a fellowship, what a joy is mine…" as he bent to take the clean dishes out of the dishwasher; and then he whistled beautifully through the chorus, "Leaning, leaning, safe and secure from all alarms…." as he put the clean dishes into the cabinets.  Oh!  My!  My heart was singing right along with his sweet whistle.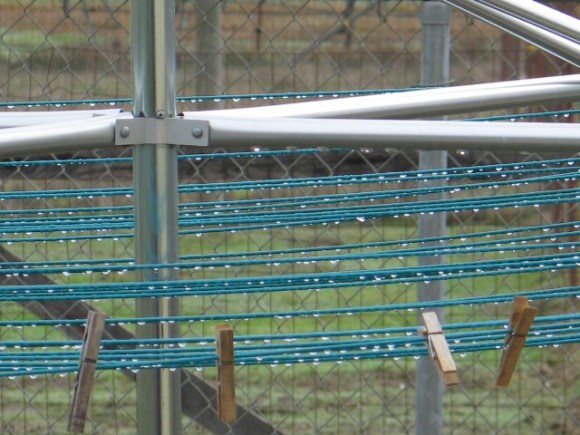 The fog was back with us today, and we saw only the faintest hint of sunshine while we were in town.  We never saw the sun, but we did see some very vague shadows from time to time, giving evidence that it was still up there.  This was what my clothesline looked at 11:00 this morning.  There was to be no hanging of anything on the line today!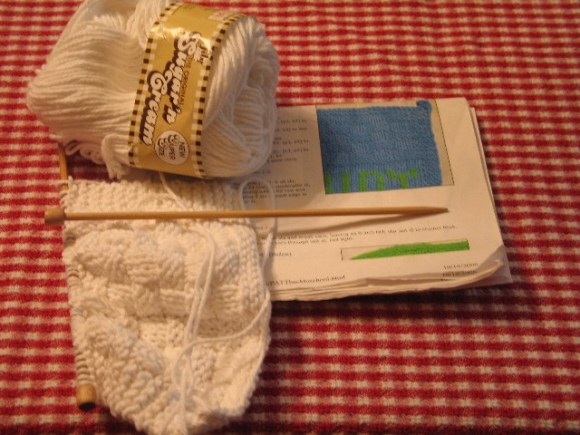 Though I've been embroidering Dani's dish towels in the van as we drive to church, knitting is a better project for short jaunts about town.  We did a lot of "jaunting" today, and I worked up about a third of a basket weave dish cloth while we did so.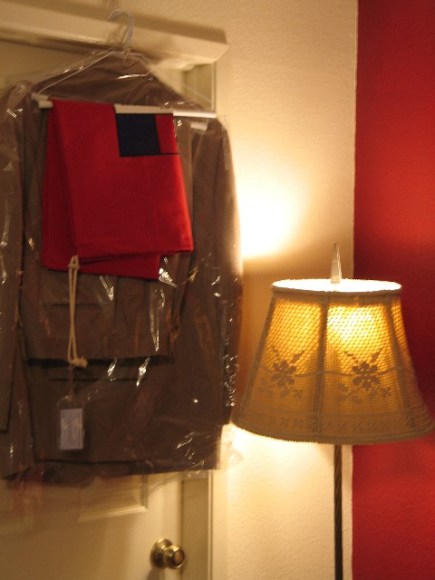 We stopped by the new dry cleaners to pick up my husband's suit.  They are brand new and are on the very, tippy edge of the city we live near.  I'm telling you that because they are trying to keep a small town feeling in their shop.  Not only did they give us a nifty bag, with all of our information already hanging on the tag to use for our next dry cleaning order, they also put the price of cleaning the suit on our "tab".  Apparently they were ready to open for business ahead of their approval for ATM/Credit card transactions.  I'd forgotten to grab some cash out of the "clothing" envelope before we left to pay for it.  We will definitely be return customers to this shop!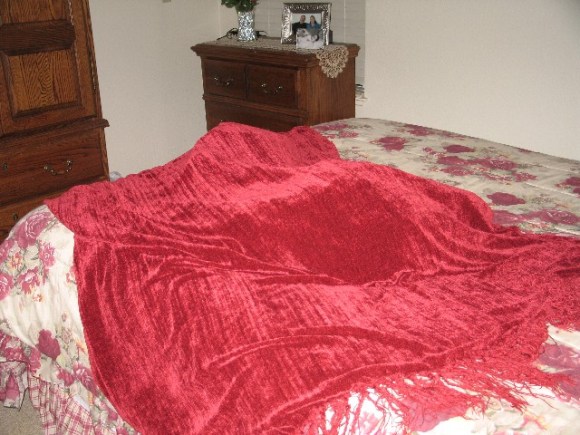 Most of our running around today had to do with the procurring of merchandise for a certain young man's upcoming 9th birthday.  Instead of hiding everything away, I piled it on our bed and just pulled the throw over everything until later this evening.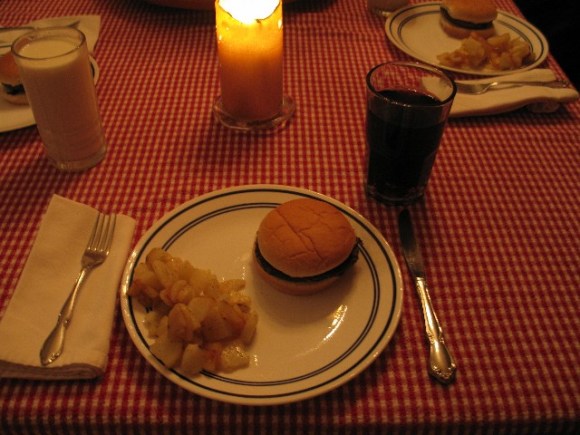 The day was so busy that the pot roast on the menu was put back into the freezer this morning (still frozen, of course), and we had hamburgers and fried potatoes instead.  By candlelight, of course.
I picked up a copy of Math Blaster
today, too.  The boys were smitten!  This game is right up Will's alley, with the variable difficulty settings.  It's obviously not meant for Aaron, but the lure of a new game to conquer may have him reviewing some basic math facts as well.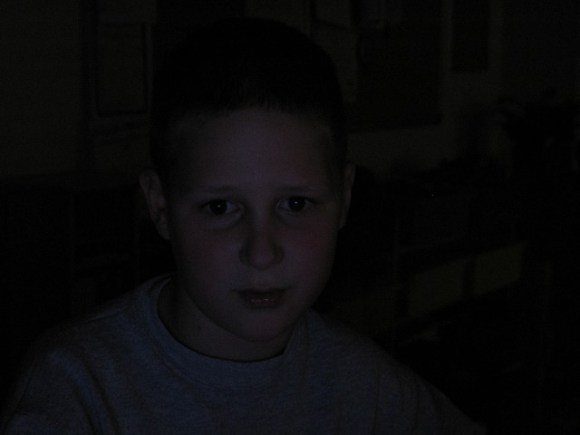 Who knew math could be so much fun?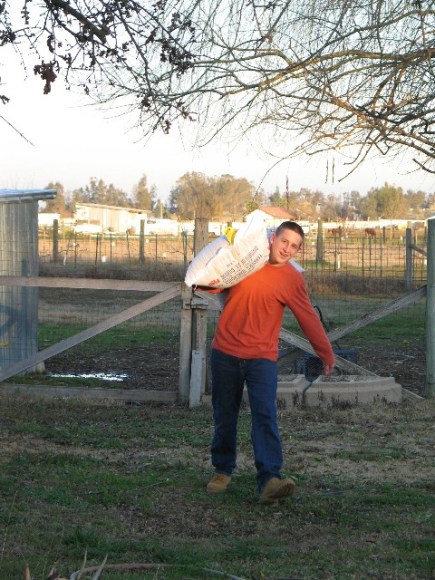 Yep, that's my strapping 14 year old, with a 60 pound sack of feed for the goats and sheep slung over his shoulder.  He ended up carrying the thing back and forth and back again.  Here he is, returning from the goat yard with the feed……oooops, no rubber boots!  (Notice the sheepish grin!)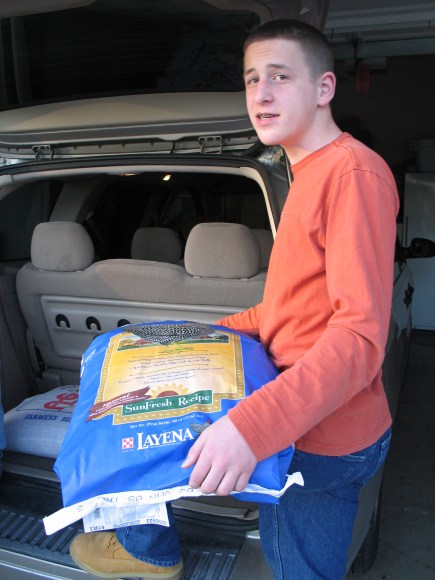 The hens were out of feed, too.  I'm not sure what Aaron was telling me here.  We'd been gone all day and he had a lot to say.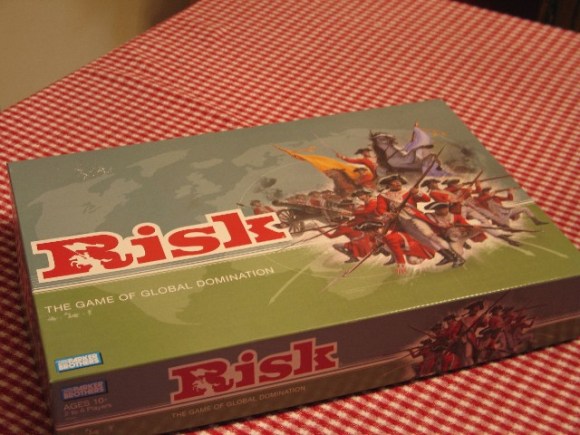 After they finished their school stuff today, the guys played a game of Risk
.  In fact, they were hard at it when we came in the door.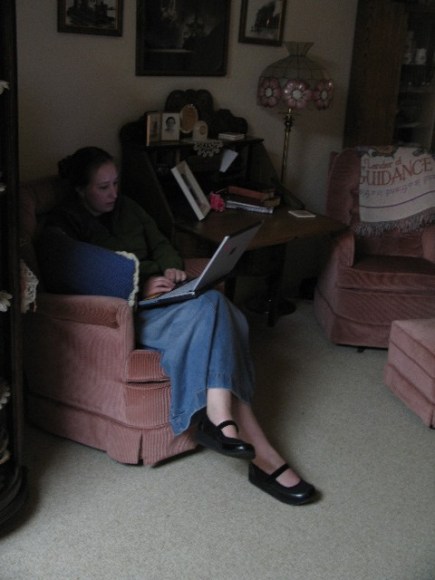 Dani sat in the parlor and chatted a bit with me while I was cooking dinner.  She was trying to find some fabric for me on line.  While she was at it, she found some other fun stuff!  It seems the fabric that she absolutely fell in love with at JoAnn's the other day is a designer label fabric.  The JoAnn's price doesn't look so bad now!  In fact, she has a 50% off a cut of fabric coupon.  I gave her cash from the clothing envelope, and she'll be off first thing in the morning with the hope that there is still four yards of the stuff left.  Oh, I do hope so!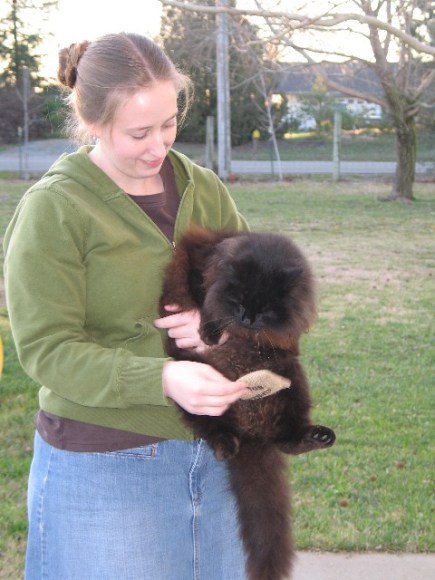 We're not cat people.  I'm sure I've mentioned that before.  We have nothing against cats, of course; and we've all grown rather fond of our own Miss Meow.  She's a great little mouser; but her nickname is psycho kitty.  She earned that nickname!  She's mellowed a bit with age, and we've mellowed with her.  In fact, her advanced years have earned her a warm perch on a stack of barn towels in the garage at night.  My husband is even looking into building her a wee bit of a house to keep on the porch.  And somehow today we made it home with a catnip filled toy for her.  A toy for the cat!  We're not cat people.  Repeat after me….we're NOT cat people.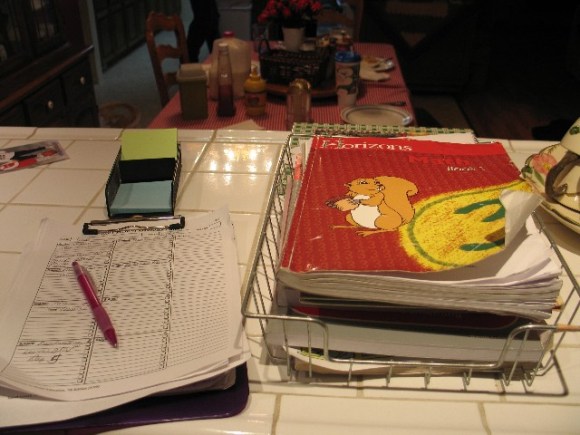 The boys did well while the three of us were gone today.  I like that they are able to keep themselves, more or less, on task in our absence.  Aaron made their lunch, and all of their completed school work was in the basket at command central when I got home.  Well done, boys!
It was a busy day.  Not my style, of course; but full of needful things.  I had to re-structure my ideas for the day two or three times this morning.  I will admit that I was trying very hard to hold onto MY plans.  I know, I know….I tell you, often, to hold your plans loosely.  It's sometimes hard, even for me, and I KNOW that the Lord's plans for my day are always going to be better than my own.  Lunch out with just Dani and Copper was a rare treat, and I very much enjoyed our leisurely chat over Mexican food (Dani's fish taco notwithstanding
).   The three of us had a wonderful time out together, shopping for William, and picking up a few odds and ends of other things while we were out (like toys for the CAT!).   My husband will be back to work tomorrow, and we will all miss him.  Lord willing, we will enjoy a full day of normal Wednesday stuff.  I'm looking forward to it!
God bless you as you look well to the ways of your household!
Proverbs 31:27