It rained, buckets and buckets and buckets.  The wind blew.  Hard.  The weather man reported gusts up to 80 mph, and I'm fairly certain we had a couple of those pass through because of the damage done.  The animal pens were flooded, with no dry ground for the animals to stand on for hours at a time.  Power was out for several hours.  Our internet was out for several days.  And with all of that water coming down and standing in lakes, we had no water to drink.  The power was out to our well for more than two days.
Our very good neighbors, however, allowed us to run a hose from a spigot on their property to the outflow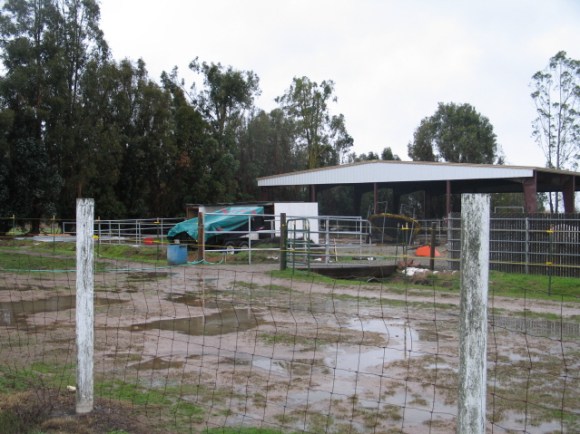 spigot on our well.  We weren't able to use the pressure tank for our well, for various reasons, so we were limited to the water pressure from a single garden hose.  We were grateful!  It was enough for sanitation purposes, and enough to cook with.  We ran our drinking water through our Big Berkey since our supply was coming through a hose; and I am so grateful that the Lord reminded me that we had the Berkey a few weeks ago and that it was already up and running in my home ahead of our actual need for it.  Tender mercies.  Good neighbors.  The best neighbors!    (The large structure in the background is the arena the neighbors recently built.  Remember all those concrete trucks?!?!?!  Please disregard the trampoline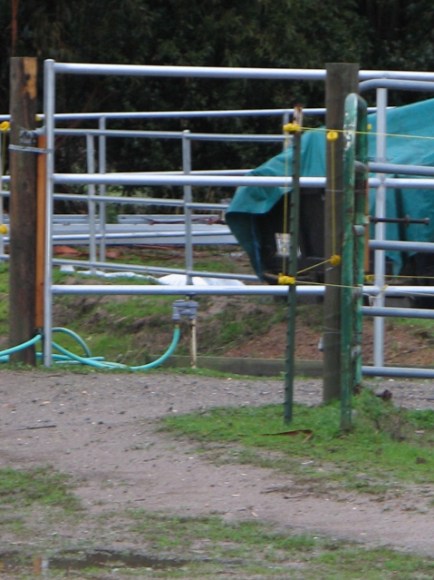 and trailer that have been blown about in the wind.  Our water came from the post near that blue watering tub mid-frame.)
The spigot on their property, and the hose………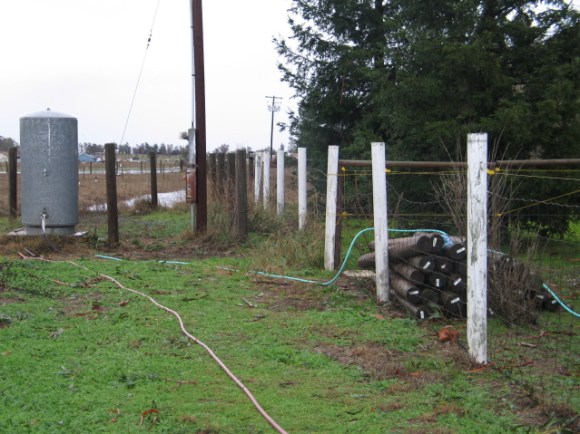 ……..stretching across their side pasture, through the fence, and onto the spigot at our well.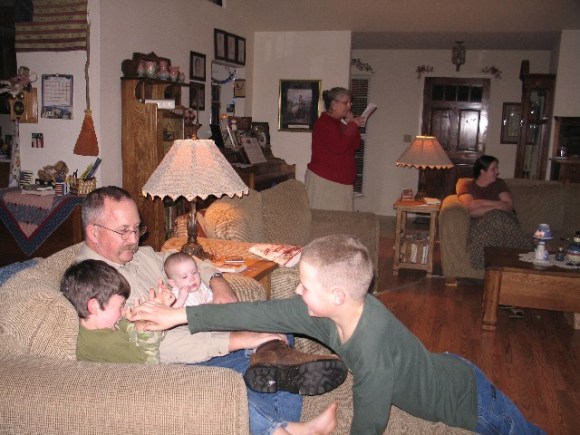 Thank you, all of you, for your warm birthday wishes and prayers for us.  My husband called me from work and told me that Corin had highjacked my blog, and read what she had written there.  I am so touched by all of your sweet comments!  Thank you, again and again.  I did have a good birthday celebration.  Corin, Rob and my beautiful grandchildren joined us late in the evening, after my husband came home from work, for cake.
Dani Our personal chef, Francois, baked me a beautiful angel food cake (from scratch) and topped it with chocolate whipped cream.  Oh, yum!   (Yes, that's me with a flower in my hair.  The flower had been the adornment to one of my gifts…the lovely, absolutely stunning Old Country Roses birdhouse cookie jar on the table, which was given to me by my father-in-law and his sweet wife, Meg.  Oh, my!  I love it!)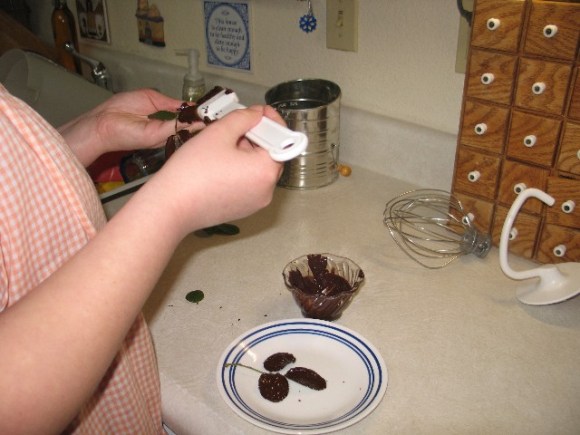 Francois, our aforementioned personal chef,  decorated the cake beautifully by painting rose leaves with a rich, dark chocolate,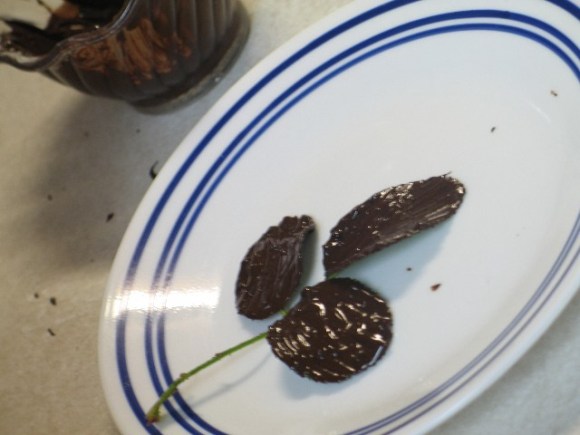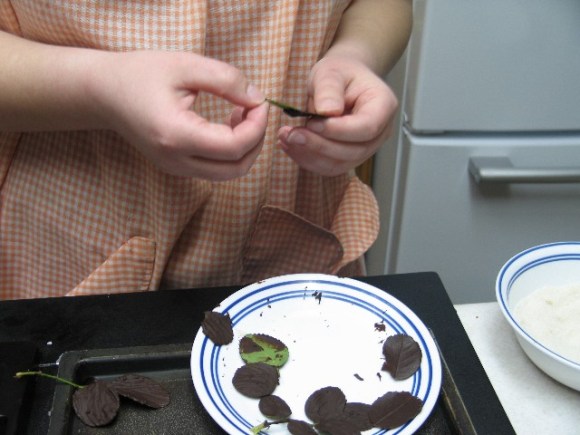 and then peeling the chocolate from the leaves, once it had set,  to adorn the cake.  I love Francois!
I even let him wear Dani's favorite apron while he worked.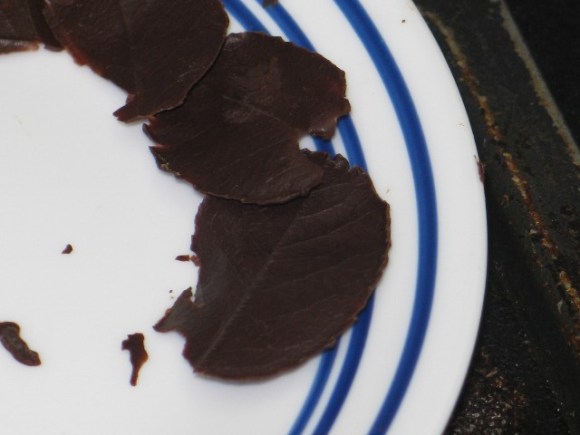 Of course, the boys were totally grossed out by the whole process and were sure, just sure, that their sister our new personal chef was trying to poison them.  Guess what?  They ate the chocolate anyway!
Just before my husband came home and Corin and her family arrived, we watched as the long expected truck from the utility company arrived to fix my well.  The utility had called an hour before to be sure we still needed help so we knew they were on their way.  When we saw the truck slowing in the road, I put on my boots and flew out the door, yelling, "over here, over here", while my children stood on the front porch yelling, "over here, over here".  What would prompt us to do such a thing?
Well…………the truck went to the house across the road from us instead of to our house.  When he found out that they he wasn't needed there, he shot out of their driveway, floored it, and I watched from the road in despair as his tail lights vanished over the hill!  Any thought of trying to jump into my van and chase him down were quickly cast aside when I realized how FAST he was driving!  I don't know when I've ever been so disgusted!  We had been waiting for 36 hours for our well to be restored, and now he was gone!  I spent quite a bit of time on the phone, trying to reach a real person.  After talking to three people, I was finally told that someone would be out later that night. We waited until after midnight, but no one came.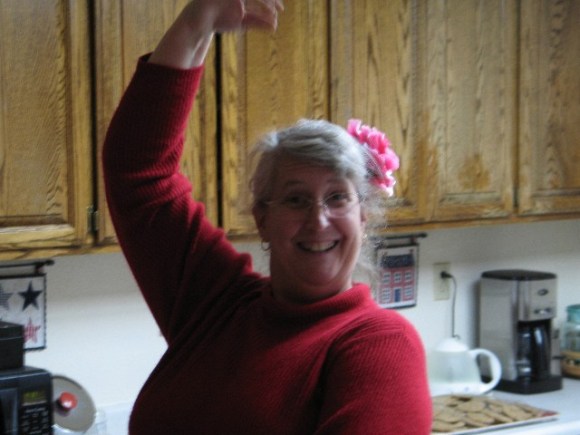 What you may not know about me is that I do a mean, I tell you MEAN, flamenco dance.  Wiring that flower into my hair was all it took to set my feet to dancin'….that and the stress of living with no water for 36 hours and having watched the utility truck drive off into the sunset an hour or so before.  My girls thought I'd never post this picture in a million years.  Ha!
After almost three days of Navy showers (or no showers), no laundry being done, and only one person at a time being able to turn on a faucet, we finally had our well up and running around noon on Sunday.  We hated misisng worship, but someone needed to be here to watch for the utility truck.  Fortunately we were home and doing just that because he went to the neighbor across the road again!  aye yai yai yai  A blown fuse at the top of the pole our well's power pole is supplied from was the culprit.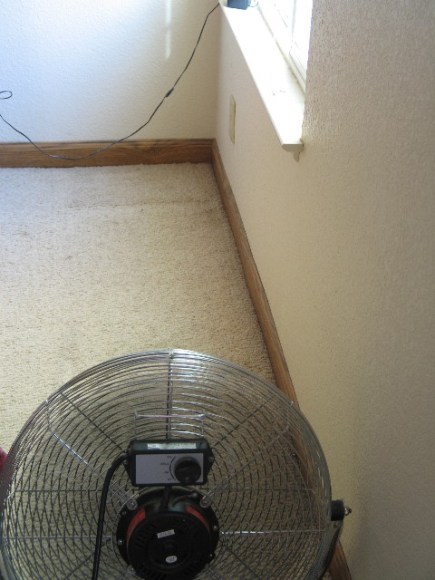 Overall, our damage is fairly minimal.  Some wind driven rain somehow worked its way under the lapped siding on the back of our house.  Dani discovered the damp carpeting in my bedroom when she was vacuuming (in her socks) this morning.  The dresser was moved and a fan blowing across the carpet is all the "fix" that is needed.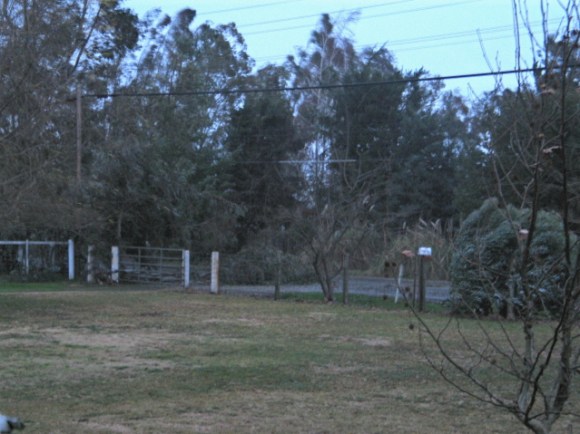 We do have the better part of a large eucalyptus tree in our front yard.  The tree went down early Friday morning as the storm's power grew.  It fell across the road.  We thought it was one of ours, so we (Dani, Aaron and I) suited up and went out to clear the road way.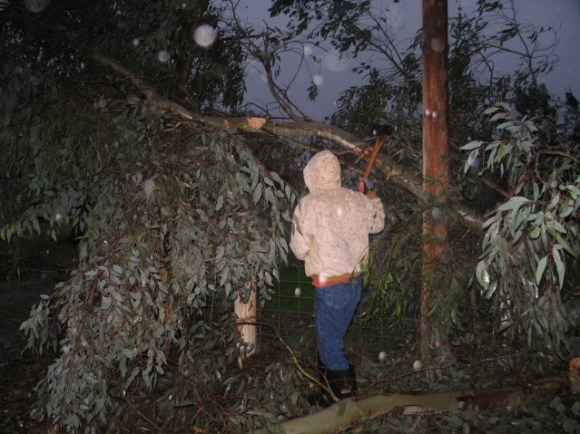 When we got out there we realized that it was really one of our good neighbors' trees.  Oh, well.  We were already out in the wind and rain, and we were already wet, so Aaron chopped big branches loose and Dani and I drug them in off the road.  As we worked, more of it fell into the drainage ditch, so that had to be pulled out, too.
Aaron made a few more trips out over the course of the storm.  Parts of the tree were hung up in adjacent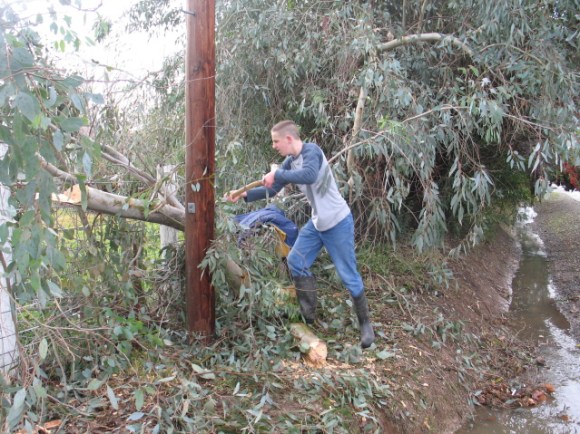 trees or the fence, but as the storm intensified, these were blown either into the road or fell into the ditch.  Aaron kept the road clear and the water flowing.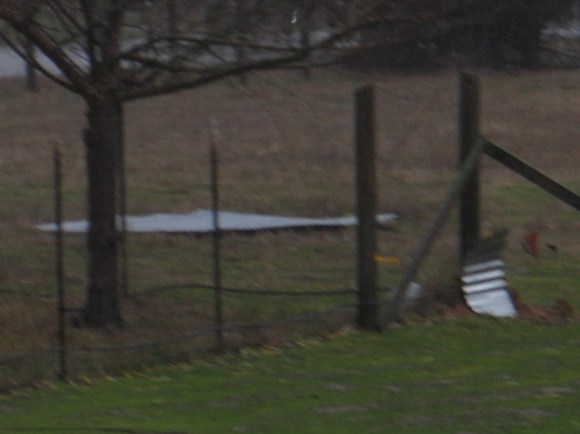 Our most significant damage is the loss of our little sheep shelter.  Poor things!  The wind blew strong enough to pull  a section of 5/8″ plywood, about 4 feet by 4 feet, covered with corrugated metal, completely off of the shelter, carrying it over a four foot fence, and depositing it in our pasture a good 50 feet or so away!  It was incredible!  We didn't see it happen, but William heard it.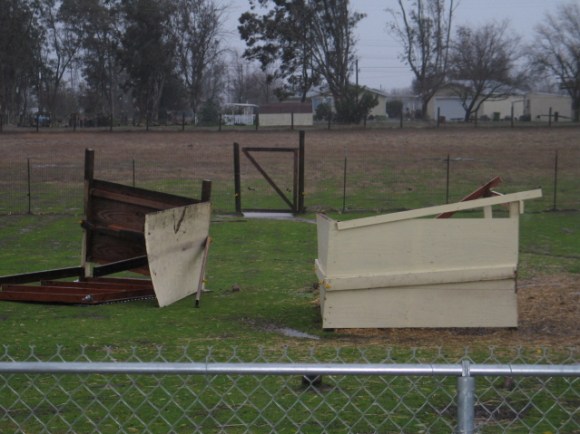 As the storm progressed, the already damaged shelter fell further apart.
Saturday morning, between storms, Aaron nailed a tarp over the top of their little shelter so that they could get out of the rain; but they would have none of it.  Having been in the shelter when the roof was lost, they were very untrusting of the flimsy tarp that flapped in even a very low breeze.
Rather than opening up the gate into the big pasture, where debris and torn pieces of corrugated metal were blown, we opened up the smaller barnyard area for the sheep to graze.  The small feed barn gave them some protection from the storm when it was at its worst,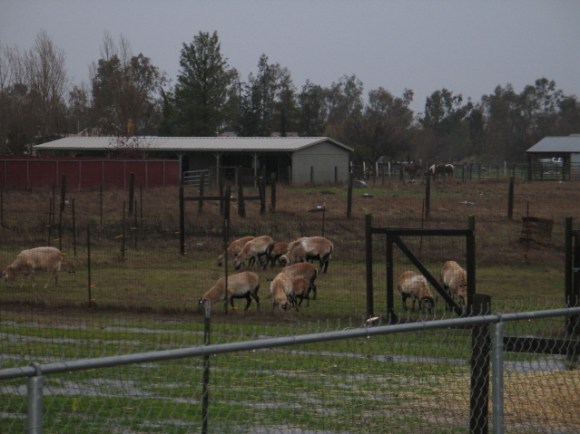 yet they were able to graze in a protected area the rest of the time.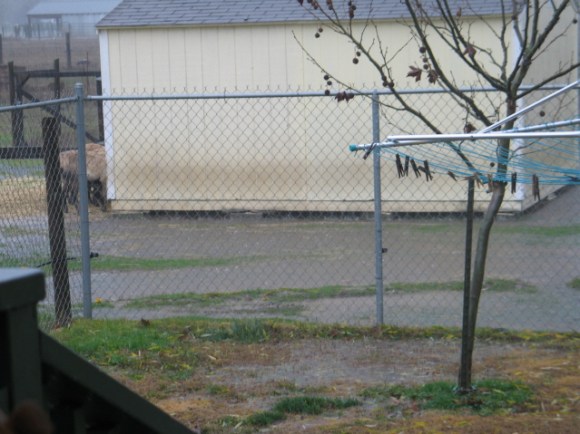 Though their pen and the barnyard were both flooded by the torrents of rain, our ground was so dry that the majority of the standing water soaked in to the ground between storms.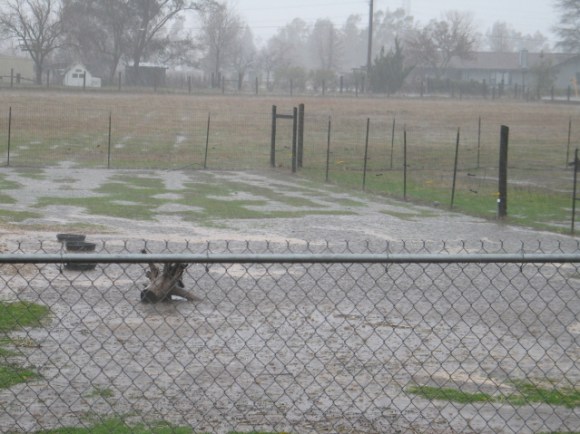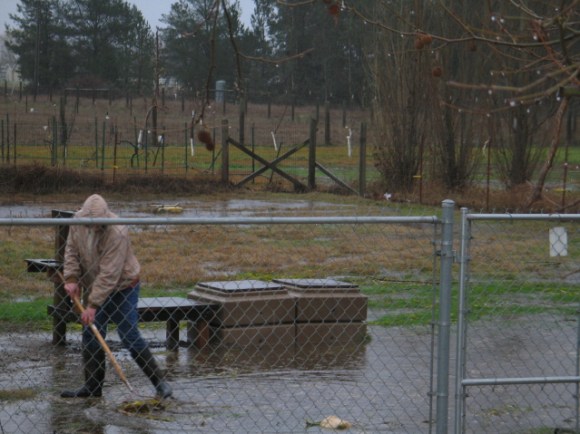 Aaron also went out late in the day Friday to pull debris out of the drainage ditches in our animal pens to help the water move along more quickly.
In retrospect, of course, I can see God's mighty hand in all of this.  My family, including Corin's family, are all safe and well.  Our damage is minimal.  We were able to handle what was needful outside in the midst of the storm without injury.  My husband was able to make it home from work safely over the flooded roads on Friday night.  We are blessed with wonderful neighbors who allowed us to use water from their well to keep us in our home until power to our own well could be restored.  Our animals are all safe, and none of the sheep were injured when the shelter blew apart.  We played games and we read.  I read a lot, finishing one book, reading several chapters in a couple of others, and beginning one more.  It was lovely, really.  Tender mercies.  Good neighbors.  We are blessed.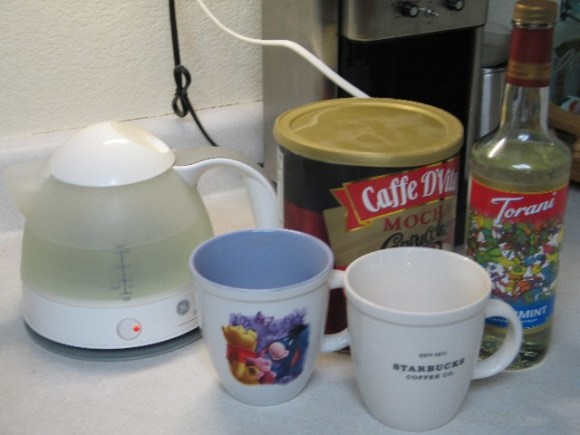 The storm prompted a bit of kitchen experimentation on Saturday, and Dani (or was it Francois?) came up with the most amazing peppermint mochas!  Starbucks, my friends, has nothing on these!  They were so yummy – hot, and chocolatey, and minty – that we had two each!  Oh, my my my my!  She made us each another Sunday afternoon.  We ran across the Torani syrup on clearance near the check out at our normal grocery store on our last mega shop, though we've never seen Peppermint (or Raspberry, which we also bought) on the shelf there.
This morning dawned bright and sunny.  The air was so clean and fresh.  We are expecting a bit more rain tonight, and more throughout the week, but it will just be rain.  A good soaking rain, they say, with winds at about 25 mph, but nothing like what we just had.  Just a good old-fashioned winter rain.  We are trying to find our way back to normal, and that began with breakfast.   Over waffles this morning the word "passion" was used in conversation, which necessitated bringing a dictionary to the kitchen table!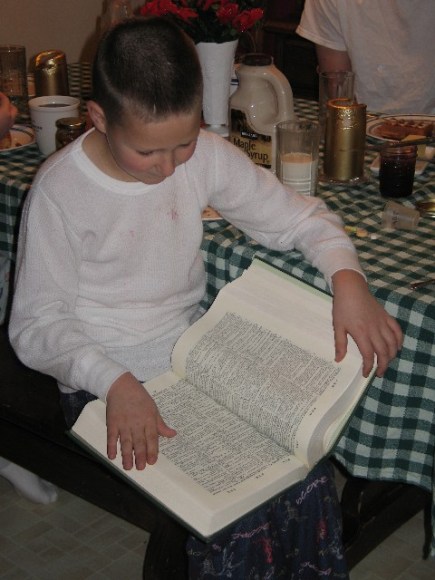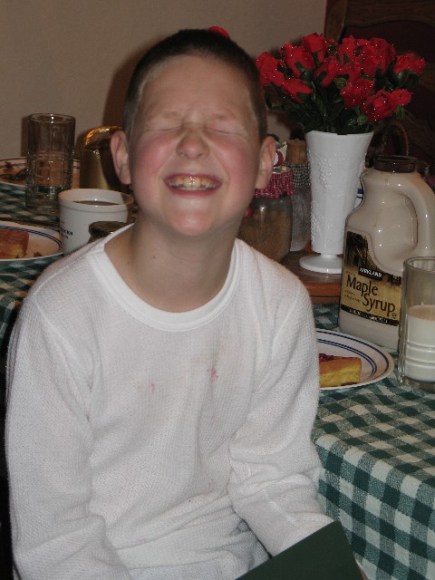 After reading the definitions of passion and passionate, it was decided that passionate is definitely a word that fits William!  We've giggled and laughed all day as we've enjoyed using the words passion and passionate as often as possible.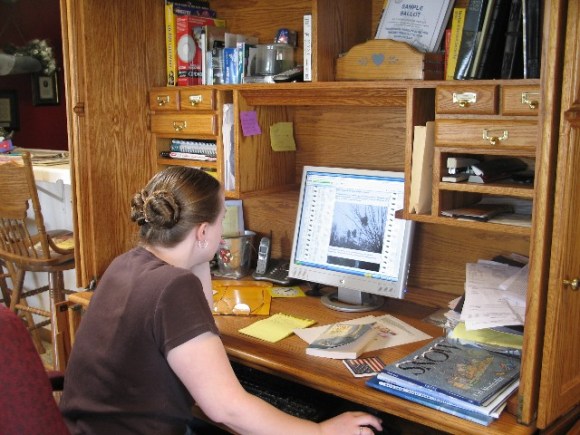 Our internet service returned this morning, but it was painfully slow.  Then it was down again.  When it returned, our high speed wireless connection was back up and running great!  Dani spent a wee bit of time catching up on some of her favorite blogs.  It will take us days to catch up with all of you again!
The boys were back to homeschooling this morning…..not in our bright, sunny schoolroom; but enjoying the warmth of the wood stove, which is just as it should be.  (Sorry, Amy, will remaind in fairly normal positions for most of the day!)  While they were working here, I worked on my daily household tasks.  It was nice to be able to run water when I needed to, but I continue to be thankful for that.  It'll be awhile before we take running water, at normal household pressure, for granted.
I spent most of Sunday catching up on our laundry.  Dani does hers on Thursday and I was not able to do any on Friday or Saturday.  A lot of clothes were dirtied with our trips out into the storm to care for things.  I did six loads yesterday, so I only had one load to to today! Yee haw!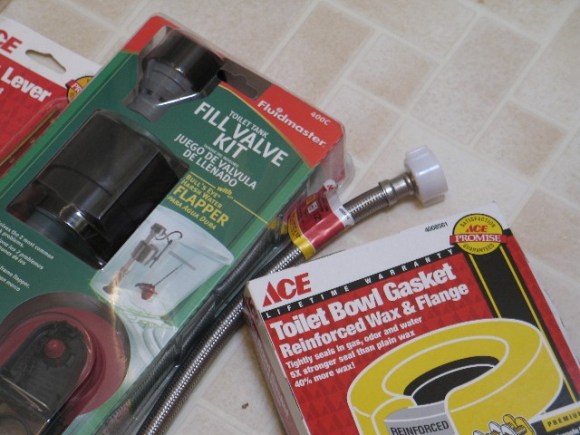 My husband decided that today was the day to re-seat the toilet in Aaron's bathroom.  It's had a small leak that was just discovered.  It tends to "run" too, needing frequent handle jiggles to turn it off, so my husband bought new inside workings, and a new water supply line, too.  He'll work on repairing the sheep shelter tomorrow, I think.  It was so nice to see him back to routine household maintenance!
Dani gave the boys their weekly piano lessons right after lunch, and then the two of us were off to town on a special errand.  You see, Dani was blessed with a very generous, and very large, gift certificate to the largest sewing machine store in town with the instructions to use the gift card to buy a sewing machine.  The story behind this is one we choose to keep to ourselves, but she was shocked, thrilled, and very moved to receive such a generous gift.  We chose a branch of the store in a city just to our east, and we enjoyed the 45 minute drive through the countryside to get there.  The rest is Dani's story to tell, and she tells it, very excitedly, here.  Oh, my goodness!
My husband took us all out for dinner tonight, in honor of my recent birthday.  We enjoyed a yummy meal at one of our family's favorite restaurants. I had a small steak, Dani had chicken, the big guys had burgers (what else?!?!?), and my little guy had grilled cheese.  We made a quick stop at the book store and then headed home.  I enjoy being out with my family, but I enjoy being home with them even more.
It's great to have our lives getting back to normal!  Please forgive me, I know this post has been way too long, and filled with too many pictures;  but there was just so much to tell.  After a very full day, I think I was probably too tired to tell it as it seems very disjointed to me.  Tomorrow, Lord willing, will be a very normal Tuesday, and I couldn't be happier!  Oh!  One more thing!  Time permitting, I'll have another installment for the homemaking pages of the web site tomorrow, too.
God bless you as you look well to the ways of your household!
Proverbs 31:27