The dailies.  The things we do every day.  The stuff of which are lives are made up.  Boring?  Nah, never boring.  Besides, as my mother-in-love always said, "Only boring people get bored", and she was right.  She usually was.  I, for one, very much enjoy the "dailies" in my life, and never tire of them.  They bring satisfaction.  They make me happy.  They are reassuring.  In fact, I am rather passionate about my life., and find it one of daily blessing.
I have a fairly long list of "dailies" on my homemaking list.  There are even more "dailies" associated with our homeschooling, personal care of myself and my family, not to mention the "dailies" that make up my time spent reading His Word and praying.
I find that performing the dailies in my life brings contentment.  They also have a way of making emergency situations, illnesses, and other such unhappy surprises more bearable.  For example, the recent storms made it impossible for most of my household dailies to be taken care of for almost three days.  However, because they are a part of my daily routine, they had all been done on Thursday.  Even in the worst scenarios things can't get too far out of hand in just three days!  Then, yesterday, when things were back to normal, doing the tasks from my list of "dailies" got things back into good order just during the normal course of my day.  Some of them took just a bit longer to do, of course, but not much.  The dailies are important.  My list of daily tasks seems more like a good friend, rather than a task master.  My list serves me by keeping me on track, and keeping my home running smoothly with very little thought on my part.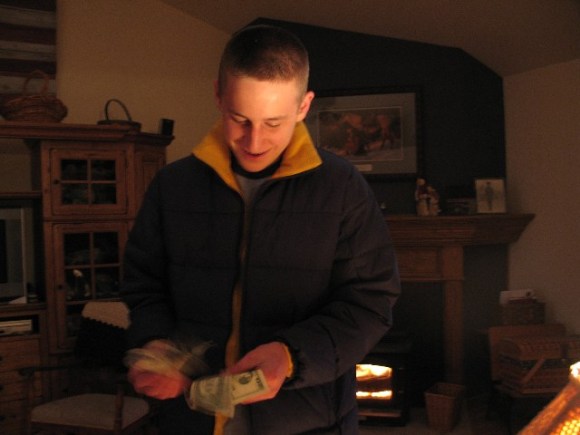 The rain returned today, quite heavy at times, and the air was cold.  Dani and I stayed home all day (which was fine by us!), while the guys went out for the afternoon to orthodontist appointments, the recyclers and to pick up a few odds and ends in town.  They got pretty wet working on emptying the many, many bags of cans and bottles at the recyclers, but Aaron enjoys having this as a way to make a bit of money for himself.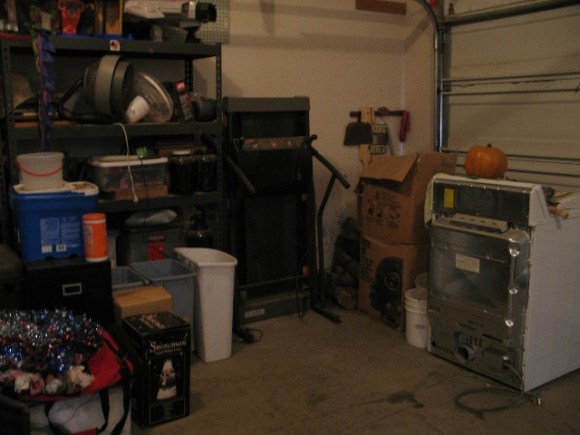 I enjoy the extra space in my garage with all of those bags gone for awhile.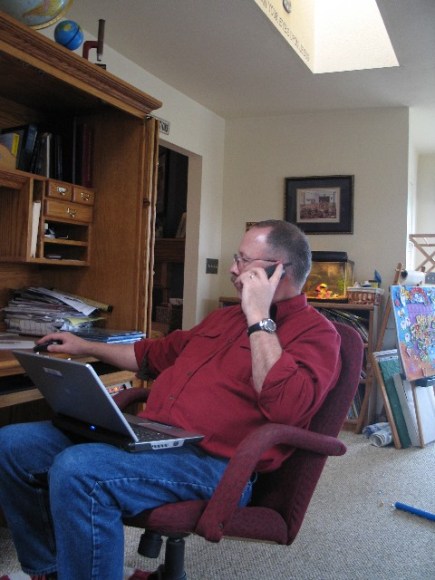 My husband, bless his heart, spent some time on the phone with our internet service's customer service to restore my personal e-mail account.  All of my information was lost when the virus sturck a few weeks ago, and I am just now getting it back up and running.  He's such a peach to do things like that for me.
Dani and I stayed home for the day, but as the storm system moved in the house got cold.  I stirred up the coals in the wood stove and piled in as many logs as could possibly fit.  Final count, four.  Before long the dog, who takes up daily residence on her throne cedar filled dog bed directly in front of the fire, was sitting up and panting.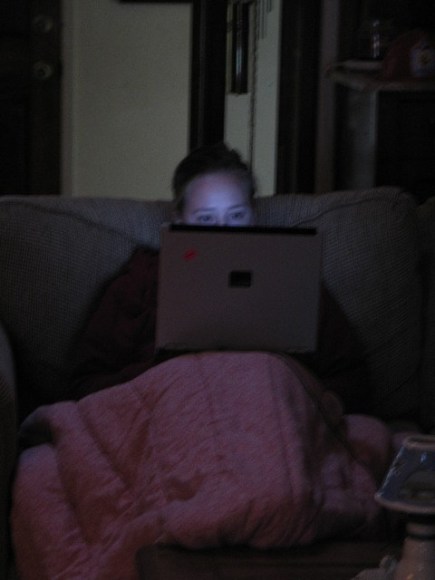 Dani, however, remained bundled up in a sweatshirt, with her late Memom's (my mother-in-love's) comforter over her legs for the better part of the day!  Here was my view of her for most of the afternoon.  That rather eerie glow on her forehead loomed over the screen of her laptop as she spent quite a bit of time on line today researching.  Specialty presser feet for her new sewing machine.  Patterns for herself.  Patterns for her nieces.  Specialty presser feet for MY machine.  Patterns for aprons.  Patterns for crowns.  Crowns?  Don't ask, I dunno.  Have you seen her new machine?  Oh, it's just beautiful and so very Dani!  She has a picture of it up on her blog,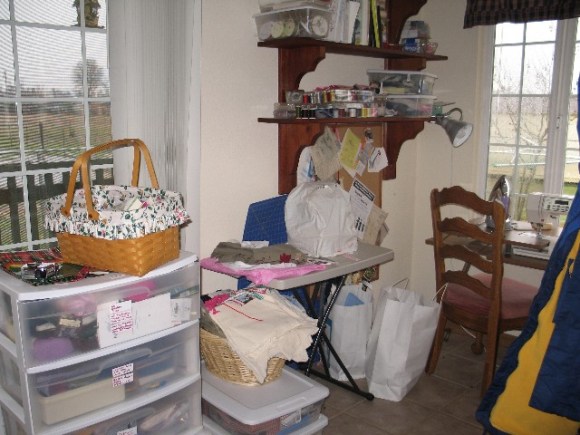 Dani had a great idea about our little sewing nook, too.  You know I set the nook up in our mud room about 18 months ago so that I'd have a permanent place to sew.  It's not much, and I do have to share the area with the barn coats and the dog's food.  It's gotten messy again, too, as you can see.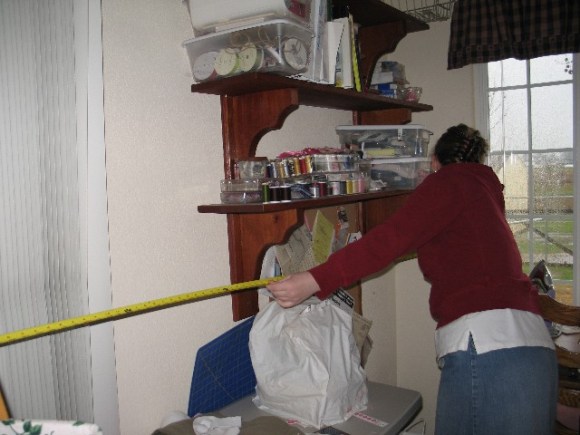 Dani measured and thought, and thought and measured and came up with a brilliant idea of how we might both be able to have not only both of our sewing machines set up out there at the same time, but both of our sergers as well.  We have both been recently blessed with sergers….from the same family members, and we are so thankful and just almost giddy with joy!  In fact, I think that she and I might take a basic serger class together as soon as her machine arrives in a few weeks.
Anyway, the idea is to have my husband build us a sturdy work station, 19 1/2″ deep and about 100″ long.  The table will fit along the wall where the sliding glass door is, and will scoot in just to the side of my sewing machine table, forming an "L".  I will stay with my machine and table at my spot in front of the window, and Dani will set up her machine in front of the stationary panel on the door.  We will both have plenty of natural light, and a view (which is important for those moments of needing to look up from your work and to relieve your back and neck muscles).  Her view will be of the sheep and mine of the goats, and believe it or not, that is a pleasant view for the both of us!  We can set up the sergers on the table space along the wall between the sewing machines.  I'm just so proud of Dani for seeing that there is more room in that little mudroom nook than I saw.  It will be much more fun for both of us to be out there, rather than to have her sewing away in her room alone.   We've filled my husband in on our plan and we'll just have to wait until he has time, and a few extra bucks, to bring it to fruition for us.  A similar work station, though not as long as what we need, was available at the sewing machine store, a floor model at that, for $250.  Yeeeeouch!  I think that my husband can put together something just as functional for far less money!  Stay tuned!
In the meantime, we do have a trip to JoAnn penned onto the schedule for the mega shop on Friday.  We were both blessed with gift cards, for Christmas or birthday; and we both have projects in mind.  My husband had me buy enough fabric to make myself a couple of jumpers to see me through the rest of the winter last shopping day, and I found two beautiful, floral corduroy prints on clearance to make the jumpers from.  I also have a skirt length of navy corduroy to make up as well.  I hope to start the garments in the next few days.  I have a couple of crafts projects in mind, too; and I will be doing my shopping at JoAnn on Friday with those in mind.
Dinner tonight is a wonderful Taste of Home recipe that we discovered last winter.  I brought in one of the bags of cubed ham from the freezer, left over from our Christmas ham, to make up Ham-it-Up Spaghetti.  This is a dish sure to please the entire family!  A tossed green salad, or a hot green vegetable (or both for hungry appetites) make this a quick and easy family-night meal.
The rest of my day was spent on those dailies I talked about earlier.  Laundry.  Meals.  Cleaning and straightening.  Homeschooling, of course.  The Lord also provided the time, and the quiet, that enabled me to put up The Dailies page on the web site!
God bless you as you look well to the ways of your household!
Proverbs 31:27