When I opened the blinds in the schoolroom this morning, I was greeted with such a beautiful site.  The ground was white with frost.  My beautiful black goats, striking by contrast to the frosty ground, were out calling for breakfast.  The sky was just beautiful as the sun was working its way up to the top of the mountains just to our east.  It was breathtaking, so I stepped out onto the back porch, tea cup in hand,  for a better look.  That was breathtaking, too – it was cold!  I pulled my robe just a bit tighter around me, shuffled back inside and took a few more sips of tea!  The fire I'd just started in the wood stove was beginning to blaze nicely so I lingered in front, watching the flames, for just a moment or two.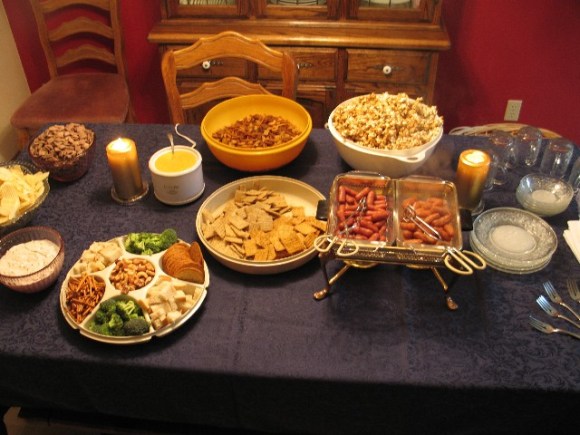 We enjoyed a quiet New Year's Eve, with a sumptious buffet of yummy good treats!  Oh, my word!  We vegged out on the couches, enjoying one last night of our Christmas lights and decorations, and watched movies until midnight.  New Year's Day, after sleeping in until a ridiculously late hour, we had a big breakfast of sausage patties, fried eggs and sourdough toast with butter.  Our New Year's Day supper, a hearty ham & bean soup/stew, was started in the crock pot late New Year's Eve and cooked all night.  New Year's morning I simply removed the big old ham bone, cut the ham into bits (carefully pulling out pieces of fat), added another cup or so of water and let the pot cook on low for the rest of the day.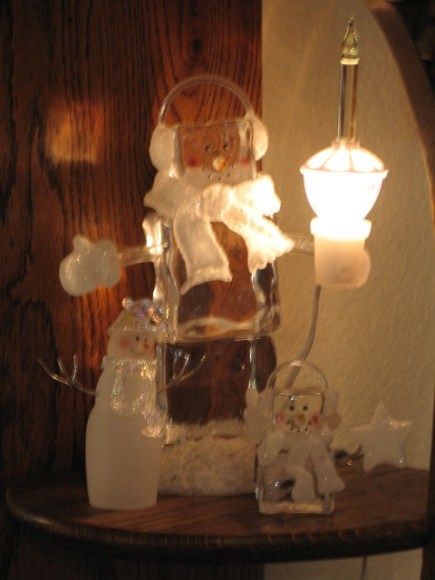 We spent the day yesterday taking down all of our lights and Christmas decorations.  As things were packed away, I used a cloth, sprayed with Orange Glo, to dust down my wood furniture, tables and mantle.  Dani did a thorough job of vacuuming, paying particular attention to getting underneath all of the living room furniture.  Late in the afternoon, Aaron helped me bring in my small snowman collection.  I set these out in a few spots in my living room, entry way and kitchen window.  It's nice having a few pretties out, especially ones that light up, to ease us back into normalcy following Christmas.  We'll enjoy the snowmen through January.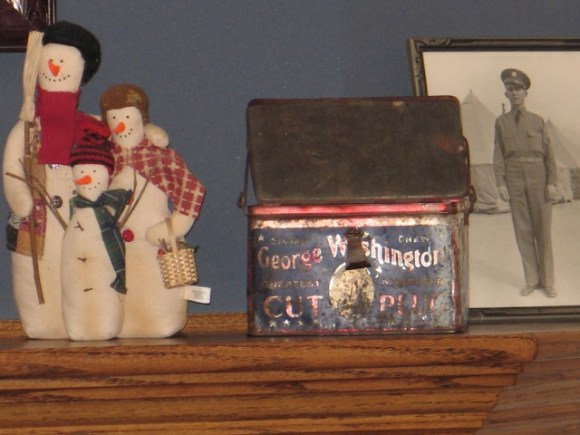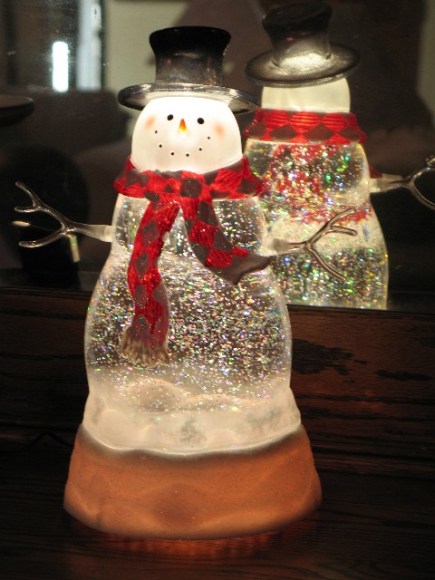 It was so nice, after a busy day, to have a hot, hearty supper prepared and ready to go.  I set out a tray with an assortment of crackers (left over from New Year's Eve), we lit the candles, and we enjoyed our simple supper.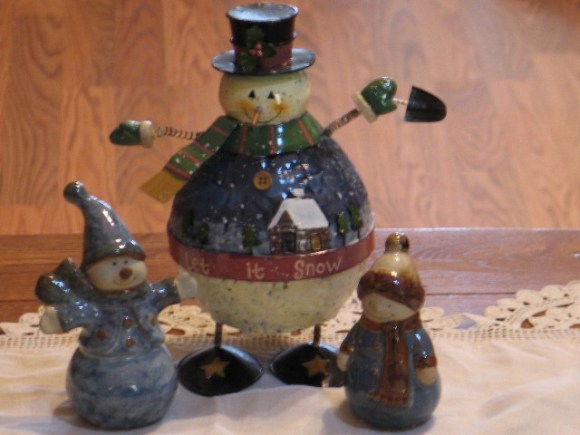 My husband returned to work today, and the kids and I began reclaiming our normal routine.  I'm ready after our almost three week break!  It feels, in many ways, like a fresh start; but in reality we're really just getting back into the routine of life that suits us so well.  The boys had a rough go of it, off and on.  I understand the temptation to want to continue to enjoy vacation life.  However, even through the rough spots today, I could see that my boys were settling back into their routine.  It's comfortable.  It's reassuring.  It's good for us!
With our morning chores behind us, we settled into our morning time together with memory work and reading aloud.  A bit of extra patience with memory work that has grown rusty, and a bit of extra read aloud time to help us ease back into school.  Math.  Spelling.  Reading.  Lots of reading.  I picked out several new books for each of my boys this morning, and I have a few more to choose for them to put into their baskets for the next few weeks.
The household routine is also coming back together.   Aaahhh, that's more like it!  I was a bit behind with my laundry after the New Year's holiday, so I did several loads today to be completely caught up.  I think back on the years that I spent taking the clothes from the dryer and then putting it into baskets, piling it onto the bed or couch, or some combination of the two.  What a waste!  It's so simple and quick to fold the clothes as they come out of the dryer.  This also results in far less ironing because clothes get wrinkled when they are piled up to be folded later.  I put everything away as soon as it is folded, save for the boys' clothes which are folded and then put into baskets for them to put away at the end of the day.  I usually set my ironing board up when I reach the first article of clothing that needs to be ironed, and then leave it up until the laundry is done.  That way I can iron an item or two, or more, in those little snippets of time that we all have during the day.  I can iron a couple of shirts in five minutes.  I can iron 8 – 10 napkins in that same time, pressing and folding as I go.  At the end of the day I can put the ironing board away and all of our laundry is folded, hung, or ironed and hung and put away.  No baskets or piles of unfolded laundry haunting me throughout the evening.  No family members searching through piles looking for underwear.
I splurged on a new ironing board last week.  I cannot tell you the difference having a good quality ironing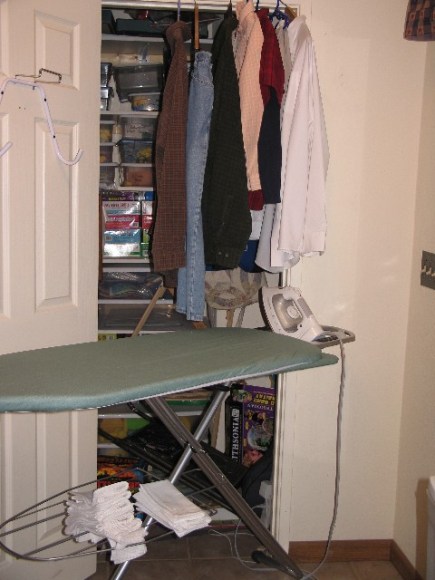 board has made.  I had a wonderful board that we received as a wedding gift almost 30 years ago.  It served us well for 25 years or so, and then it bit the dust.  In the last four years, we've had three ironing boards.  I kept replacing with the $15 – $20 models at WalMart and Target.  They all had several things in common.  The legs were wobbly.  The top was flimsy.  The design made it next to impossible to keep a pad and cover on tightly.  I am so pleased with my new board
!  It's sturdy.  It has several height adjustments.  It is wider than my old board.  There's a rest for the iron that really holds the iron steady, and wonder of wonders, there is a small wire shelf under the board which is the perfect place for me to place my ironed napkins.  There's a small, fold out sleeve board, too; but I'm not sure how often that will be used.  Perhaps when we sew.  I cannot tell you the difference having good tools makes in getting a job done quickly and enjoyably.  Did I just use "enjoyably" in a paragraph about ironing????  Amazing!  I used a 20% off coupon at Linen's & Things, which helped quite a bit with the price.  The thing is, had I bought this board when my good one broke a few years ago, I would have actually spent less money in the long run.  The three ironing boards that we've gone through in that time cost, essentially, the same as this one.  Sometimes I can be penny wise and pound foolish.
Wednesday is the day that I tend to the weekly tasks in my parlor.  All of the dusting was done yesterday as  the Christmas decorations were taken down in there, but I didn't take the time yesterday to put things back where they belonged in there.   Things just got set here and there and everywhere. This is my favorite room!  So many, many precious family heirlooms here.  Sunny windows.  Small and cozy.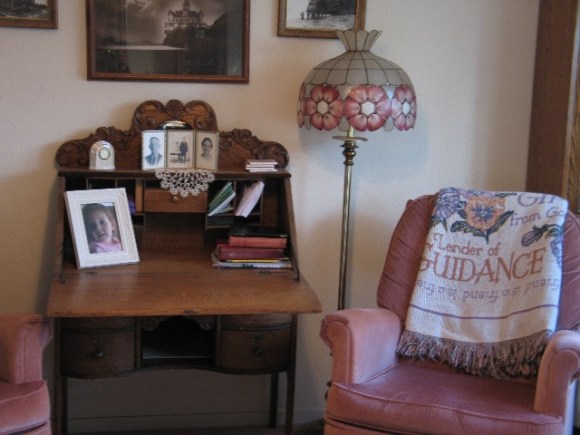 This is where I sit in the afternoon, settled into the cushioned rocker with my feet on the ottoman, to read my Bible and other devotional materials.  (The list of tools that I'm using this year can be found in the side bar.)  I spent some time this afternoon, following my Bible study time, arranging the items back onto my tea cart and arranging things on my little desk again.  I closed the top on my mom's stove to display one of my Christmas trees, and I've decided to leave it closed for the time being.  I'm still playing around with what all I want to keep out on the closed top.
The longer term tasks for the first week of the month occur in my parlor, front porch, front hall and entry way.  Since I was already working in the parlor this afternoon, I took care of some of the monthly tasks I had scheduled for that room, as well as the entry way and front hall.  The first thing I noticed on the list was washing the parlor windows.  Since I had the glass cleaner in my hand, I took care of all the rest of the jobs in the parlor, entry and front hall that could be done with the glass cleaner and a clean cloth – windows in the parlor and entry way, the glass on the china cabinet and the grandfather clock, the entry way mirror, the small glass panes on my front door.   The wet cloth was then used to wipe down the front door sill and all of the baseboards in those three areas.  Sounds like a lot, huh?  It took just eight minutes, working easily, to accomplish it all!  Those things are all crossed off my list for another month!
Monique asked a question yesterday, echoed by Melissa, and it's one that I've been asked too many times to count.  How do you raise godly children?  I certainly do not have all the answers, and, remember, we're still in the midst of raising our two boys.  My daughters have grown into wonderful young women, but my husband and I can take no credit for that.  They are who they are because of the Lord's leading in our, and their, lives.  My best piece of advice – stay on your knees and in the Word.  God put your children in your family for a purpose.  He didn't give your children to me, nor did he send my kids to your family.  He has given us all of the tools we need to nurture and train up our children for His glory.  Yes, read books on child training if you like; but remember this.  There is no formula that fits all families, save the instructions found in the Bible.  If you are already feeling the Lord impressing upon you the need to do more, or to change an area of your life, then you are already on the right track.  Being aware of the Holy Spirit's leading in your life is a grand first step!  Pray for wisdom in what He would have you do.  Seek out His counsel in the Word.  Be obedient in carrying out His principles in your family.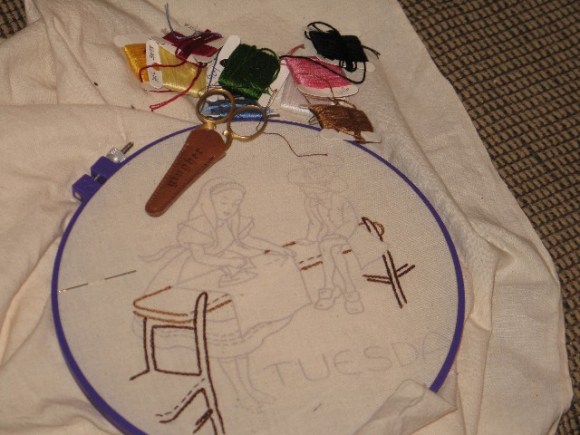 I finally started the embroidery work on Dani's dish towels.  You know me, there's always a story, but I've posted the story behind the dish towels in the past.  Dani chose a cute, Alice in Wonderland, motif for her tea towels.  I ordered these from Pattern Bee.  Her vintage reproduction transfers are great!  Dani wanted the towels done up in a color scheme more reminiscent of the Lewis Carroll book, rather than the Disney version.  Our copy of Alice in Wonderland
was illustrated by John Tenniel, and I believe his were the original illustrations.  I'm working with his colors as much as possible.  I've not gotten too far, but I just started the towel Sunday.  This is the work that I will keep in the handwork basket that I take with me everywhere, and that I work out of in the evenings if I'm not reading.  Of course, there's always a small knitting project in the basket, too.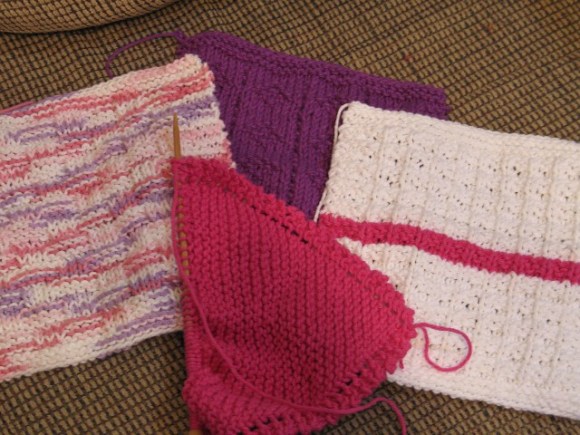 After weeks of knitting dish cloths in Christmas colors, its' fun to work with something new.  These are probably going to be part of a birthday gift, and will be given as face wash cloths.  The bright pink I'm working on now is a new-to-me pattern, and I like it a lot.  It's fast, and I like the picot edging and working with all of the increases and decreases.
I wanted to thank all of you who prayed so faithfully for my friend, Lisa.  I thought you might like an update.  She is now off of bedrest and all anti-labor medications.  It's still a few weeks before Grace's due date, but baby Grace should be fine if she were to be born now.  I'm still praying that she'll stay safe inside her mama's womb for just a bit longer.
I've had quite a few requests for recipes to use with the homemade Buttermilk Baking Mix.  I thought I'd start posting some for you to enjoy beginning tonight.  Be sure to scroll down to the next post for that.
By day's end, we were all tired.  It's been a full day, a busy day, and a wonderful day!  We all accomplished a great deal, and were ready for a restful evening.  A good day's work makes for a good night's rest!
God bless you as you look well to the ways of your household!
Proverbs 31:27