It occurred to me, as I was making this bread today, that I have not made it for quite awhile. When Corin was still at home, she made this for us. A lot! A lot as in all the time. Not that I'm complaining, mind you, it's delicious. I'm not sure how it fell out of regular rotation here, but I'm glad to have it back!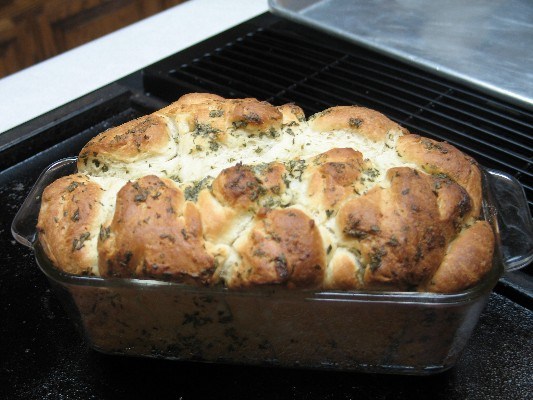 For those of you who are not bread bakers, a loaf of thawed, white bread dough from the grocery is great. If you make your own bread, that's great, too. I like this best with all white bread flour, but feel free to experiment with some or all whole wheat. If you do, let me know how it turned out. This smells absolutely wonderful, both as you're rolling the balls in the garlic butter mix, and especially as it's baking.
Garlic Bubble Loaf
1/4 cup butter, melted
1 Tablespoon dried parsley flakes
1 teaspoon garlic powder
1/4 teaspoon garlic salt
1 – 1 lb. loaf frozen white bread dough, thawed -OR- 1 recipe of plain old white bread, processed through the first rising only (I make mine in the bread machine on the dough cycle)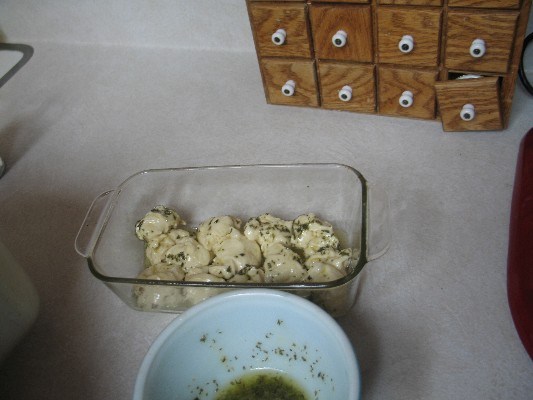 In a small bowl, combine melted butter, parsley flakes, garlic powder and garlic salt.  Cut dough into 1″ pieces and dip each piece into the butter mixture.  (I just pinch off a piece of dough with my fingers that's roughly 1″.)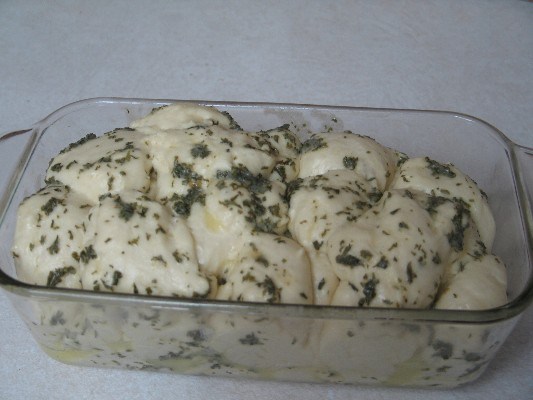 Layer pieces in a greased 9x5x3″ loaf pan. Drizzle any remaining butter mixture over the top. Be sure to scrape the bowl to get all of those yummy bits of parsley and garlic. Cover and let rise until doubled, about one hour. Bake at 350° for 30 minutes, or until golden brown.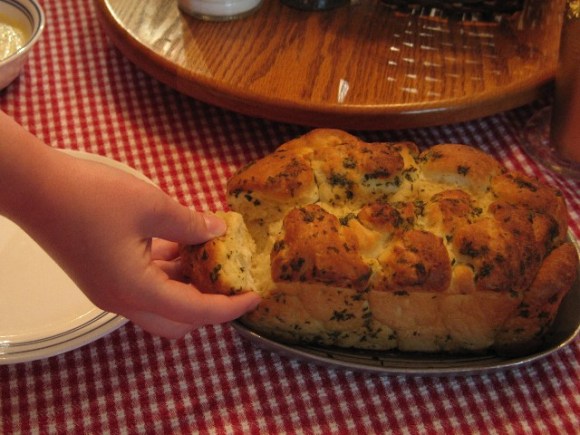 We serve ourselves at the table by just pulling off pieces of the loaf.