My boys are both under the weather. Dani's sniffling a bit, too. Chicken Soup, they say, is good for what ails you.  I'm not sure that this semi-spicy, south-of-the-border version is quite what they had in mind, but it's a recipe that we love. I hope it's one that your family will enjoy, too. As you can tell from the ingredients list, you can adjust the "heat" of this dish by adjusting the cumin and hot pepper sauce.  We make ours on the mild side.
Mexican Chicken Corn Chowder
1 1/2 lbs. boneless, skinless chicken breasts
1/2 cup (or so) chopped onion
1 – 2 garlic cloves, minced (I use more. We like garlic)
3 Tablespoons butter
2 chicken bouillon cubes, OR two teaspoons Better Than Bouillon Chicken flavor
1 cup very hot water
1/2 – 1 teaspoon ground cumin
2 cups half and half (whole milk works fine, too, it's just not as rich)
2 cups shredded Monterey Jack cheese (You can use Mozzarella in a pinch. I was pinched tonight.)
1 – 16 oz. can cream style corn
1 – 4 oz can diced green chilies, do not drain
1/4 – 1 teaspoon hot pepper sauce
1 medium tomato chopped (these are pricey in the off season, so I leave them out when they're expensive)
fresh cilantro or parsley, optional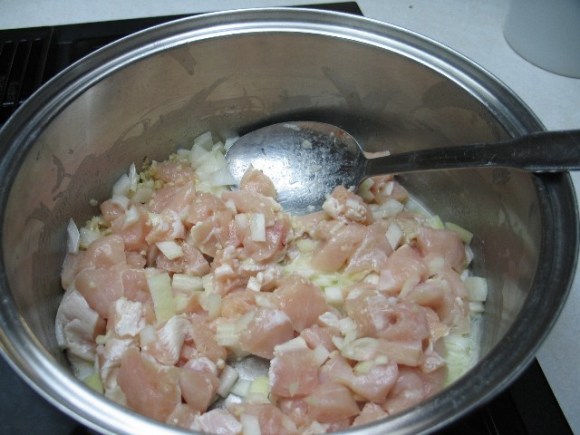 Cut raw chicken into bite-size pieces. In a dutch oven, cook chicken, onion and garlic in butter until chicken is no longer pink. Dissolve bouillon cube in hot water. Add to pan along with the cumin. Bring to a boil. Reduce heat, cover and simmer for 5 minutes.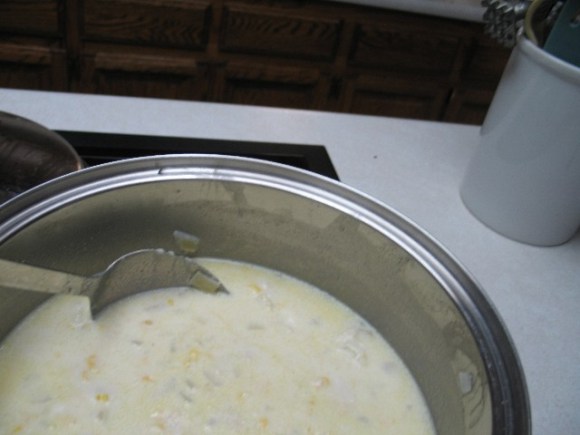 Add half & half, corn, chilies and hot pepper sauce.  Cook and stir over low heat until cheese is melted.  Stir in tomato.  Serve immediately, garnishing bowls with cilantro or parsley, if desired.