I know that's not a very pleasant sounding title, but it's the truth in and out of my home today.  We have the windows open and are letting in lots of good, cool air; but the skies outside are not blue.  They are quite hazy and brown and the air looks very dirty.  I am thankful, though, that the air pouring in through the open windows still smells fresh and clean.  It is certainly making a difference in here!
I am determined to beat this virus, and I do believe that I am feeling better.  I need to be careful, though, because when I get up and try to do very much my asthma becomes aggravated.  It's frustrating, to say the least, because I am feeling better and wanting to do some things around my home.  Dani's been working double-triple overtime taking care of our family and our home.  As I'm typing, she's damp mopping the kitchen and back hall.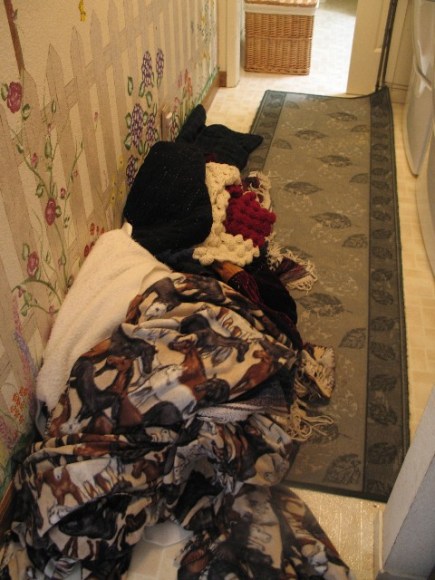 This was the lovely pile of assorted afghans, blankets and throws that were in the laundry room earlier today.  These are the wonderful things that have kept all of us feeling snuggly and warm as we've, each of us, progressed through this virus.  They have all been through the washer today, and each load had some Hydrogen Peroxide in the bleach dispenser to assist in freeing them of germs.  They are all once again clean, folded and ready for use.
I also gave my bathroom a good cleaning today.  I have a few drops of Tea Tree Oil and essential lemon added to my homemade all-purpose spray cleaner, and I let the cleaner set for just a bit on the various bathroom surfaces to allow the oils' natural disinfectant properties to do their work before wiping everything clean.  I knew that cleaning our small, stall shower was out of my range of what I could do today, so my sweet Dani-girl took care of that for me.  I changed the towels in our bathroom today, too, rather than waiting until tomorrow.  An extra load of towels or two in the laundry is worth the effort to keep this virus in control!  I'll be adding hydrogen peroxide to the towels when they are washed, too.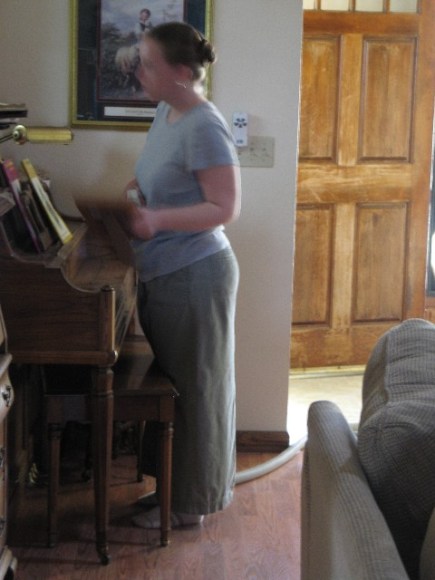 I did a bit of dusting yesterday and enjoyed setting out some of my normal things.  The January snowmen were put away one day last week.  I didn't dust everything, but I used a bit of orange oil on a cloth and dusted the side board and mantle as I was putting things back out.  Dani used the vacuum today and did a thorough job of dusting the living room.  I appreciate that she used the vaccum because it totally does away with the dust rather than letting some of it back into the air.  Having the house clean sure does make me feel better!
Will skipped the job of cleaning his aquarium on Saturday.  I'm not sure what he was thinking….it becomes obvious fairly quickly when that job has been missed.  A weekly cleaning is just about right.  A day or two beyond that and the water gets murky.  Yuck!  Poor fish!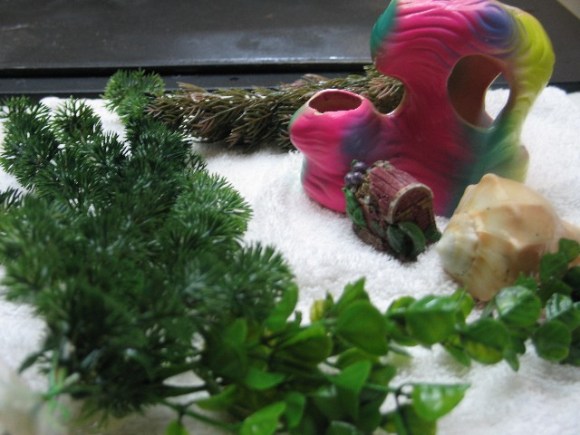 He went to work cleaning it today, and did a nice job.  He even pulled all of the plastic plants and other decorations out and gave them a good cleaning, too.  He's learned to do a good job with the aquarium!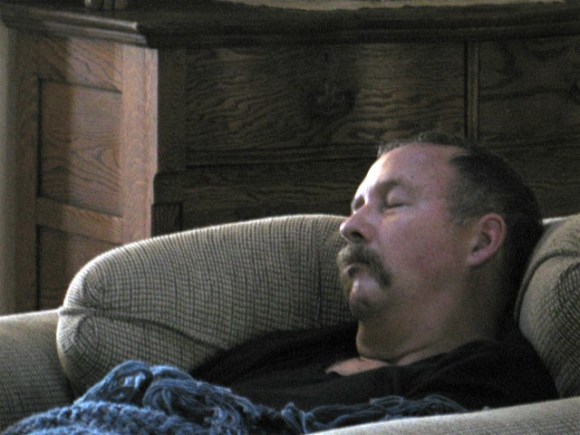 My poor husband finally succumbed to the bug late Sunday.  He called me Sunday afternoon as he was driving home from church to say that he was pretty sure that he was coming down with something.   He's been running a fever today and feels just crummy.
However, we were out of hay and straw.  Completely out.  My husband had been planning, of course, to take care of making a hay run today.  He didn't count on doing it sick, but he and the boys headed to the hay broker to pick up some good grass hay, as well as some fresh straw for bedding.  They didn't buy much, just a few bales of each to tide us over for a couple of weeks or so.  Even so, by the time they were done hauling the hay to the feed barn and storing it, he was beat.  He's back in his chair, in front of the wood stove (which is still warm even though the fire has been allowed to die out), with his feet up snoring resting comfortably.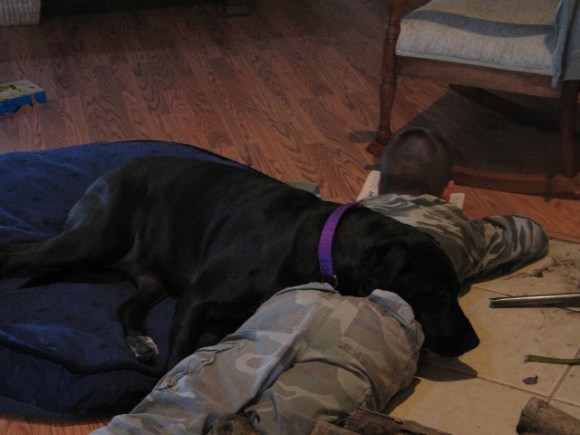 The boys, with Dad and Dani keeping them on track, kept up with their school work last week.  Well, one of them did and one of them didn't, but that's a whole 'nother story.  They were back on track this morning, too; and I'll tell you what – I would have loved to have been able to read like this in school when I was a kid.
And I certainly don't remember World History class looking anything like this when I was in high school!  I love homeschooling!  I love that my boys are here, with us, throughout the day.  I love that they can skip out of class to run to the hay broker's with Dad, or show up late in the morning because they've been cleaning horse stalls for the neighbors.  Academics are important.  Yes, they are; but there's more to life than book learnin' !
I made some good headway through my reading basket this last weekend.  I finished up two of the books in my reading basket and started a couple more.  You can check the side bar if you're interested to see what has been finished.  I'm continuing to work my way through Home Comforts
and read, just yesterday, her chapters on "The Air in Your Castle" and "Living Peaceably with Microbes".
How timely!!!   By the way, keep your eyes open for nice, used copies of this book!  Hard cover copies, used, but in great condition, are cropping up now for about $4.00, which is less than half the cost of a new paperback copy.  This really is a great home making reference, and I think everyone should have a copy on their shelf!
The weather has been delightful, with lots of sunshine and temperatures in the mid to upper 60's.  I sat on the front porch for awhile yesterday while I was reading, and I had to move out of the sun because it was too hot!  I spent some time in the fornt yard this afternoon, sitting with my back to the sun at one of our picnic tables, and it was very pleasant.  The birds were chattering noisily as they argued at our bird feeder and I very much enjoyed being outdoors.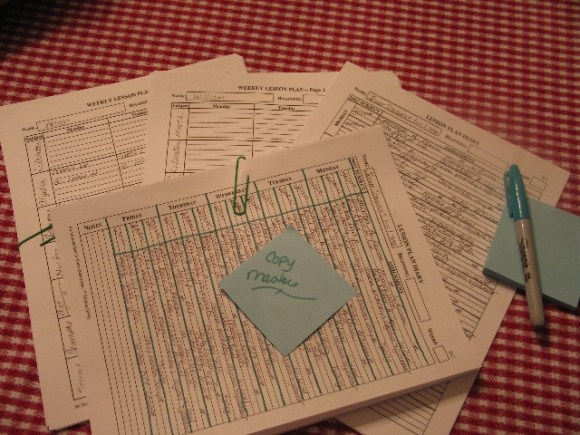 While I was outside I took the opportunity to make some "masters" for copying.  Now that we've had a few weeks to see how our new homeschool routine is working out (it's working out nicely!), it was time to simplify my lesson planning by having some master sheets with the weekly schedule already printed.  Nothing fancy, just a pre-printed weekly form with some handwritten additions.  Printing one of these each week will cut my lesson planning time in half (from about an hour, to about half an hour).  I love finding ways to simplify things!
I am missing being able to care for my family and my home the way I'd like.  I'm anxious to be back to full speed, but I'll be patient a bit longer.  Until then, I'll just keep holding my plans loosely.
God bless you as you look well to the ways of your household!
Proverbs 31:27