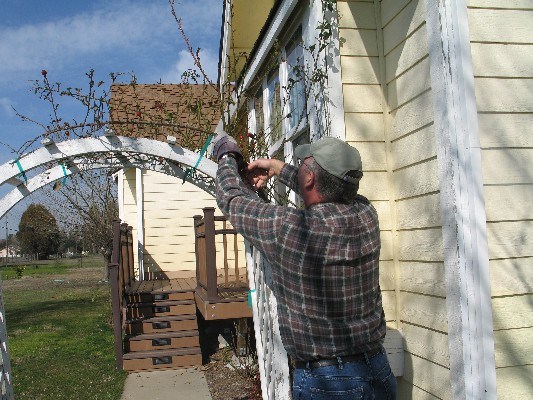 I have my apron on for the first time in days.  I've been humming about today, just a bit, tending to things around my home.  The chorus of coughing and sneezing continues here, but I think that all of us, save Dani, are well on the mend today.  My husband has been outside today taking care of some needed things around our homestead.  A gate has been repaired.  Roses have been pruned.  Still, he is taking it easy and trying not to overdo.
I cleaned up my kitchen this morning, taking care to thoroughly clean all the countertops well.  I have some ground beef thawing for Stroganoff Meatballs for dinner tonight.  Comfort food that the whole family will readily eat.  No one has had much of an appetite for quite some time, so I'm hoping to tempt them this evening with a family favorite.  I'll serve the meatballs with some hearty noodles and steamed broccoli.
Laundry today centered around getting all of the bath towels washed in hot water, and then rewashing all of the afghans and throws that we've been using in the living room to snuggle up with.  It felt good washing these up again for my family.  Some are beginning to show a bit of wear, but they are all still hanging in there!  And they are all clean!
I hooked up the vacuum this afternoon (we have a central vacuum system) and started vacuuming the whole house.  Whew!  After just one bedroom and a short hallway my arms were tired!  I just didn't realize how sick I'd been, I guess.  I slowed down a bit and got the job done.  That's been my pace today….work a little, rest a little, work a little, rest a little.  My heart is yearning to keep going, but my ailing body is still on the mend.  I do not want any relapses, so I really am taking it slow.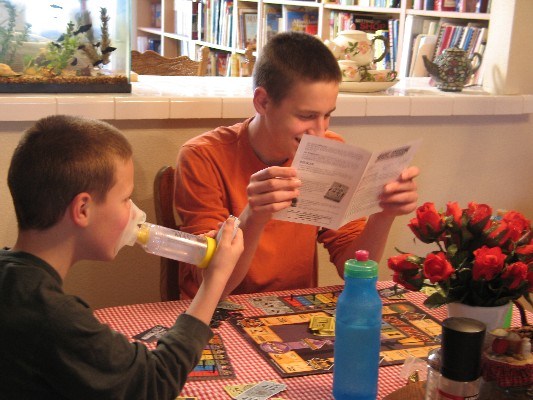 My boys felt much better today.  They played a game this morning, but the laughter and the competition got to Will and he needed to use his inhaler.  He's been kept to more quiet play today – the board game, working on an Erector set project, and enjoying his favorite computer game.  Aaron. on the other hand, was raring to go.  He has a job for a neighbor planting 30 redwood trees along the side of her property.  He managed to plant 12 last week before he got sick.  He headed over there for about an hour this afternoon to plant a few more.  After that, though, I made sure that he took it easy for the rest of the day.
The rest of my day was spent us picking up a little and straightening a little.  Nothing much, just little bits here and there.  I opened up my house a bit and the fresh, cool air coming in all day felt wonderful.   Towards evening, as the sun set and the temperature dropped, a fire was started again in the woodstove and a few candles were lit to make the atmosphere a bit more cheery.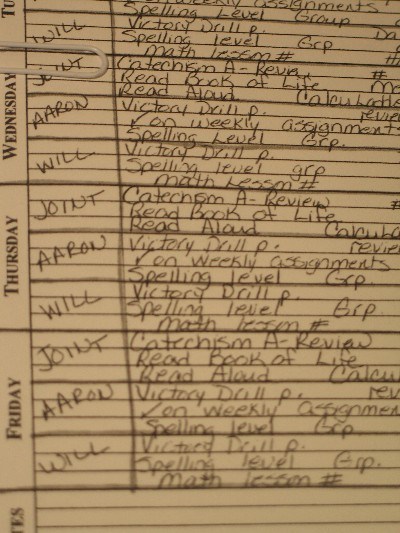 I didn't get my lesson plans written up over the weekend, so I worked on those late this afternoon to that we'd be ready for school again tomorrow morning.  I've had several questions about the forms I use for lesson planning.  I use two different forms from this book
.  One is intended to be used to keep a lesson diary for a week, and the other is a two page weekly assignment sheet spread.  I have customized the diary form to help me keep track of our morning joint study time as well as my one on one times with each of my boys.  By taking the time to fill in the basics, neatly, just once, I can photocopy one of these each and week.  Since the framework is already there, it only takes me a few minutes to jot down specifics such as page and lesson numbers, etc..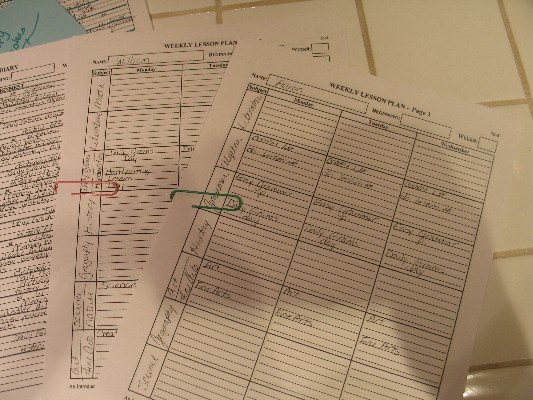 The weekly assignment sheets are where I jot down what I want the boys working on in each subject area for the week.  Again, I took some time to write down each of the boys' various subjects down the side bar of the forms, as well as some other recurring information.  I can photocopy a set of these for each boy at the beginning of the week and just fill in the details.  Quick and easy.
It's good to be getting back into the swing of things.  I've missed it!  I'm sure we'll be most of the week getting back to full speed, but at least we're getting there!
God bless you as you look well to the ways of your household!
Proverbs 31:27