Our princess, Dani, is by no means as picky about her bed as the fabled princess and the pea.  However, she has been sleeping on a very bad mattress for about a year too long, and her bed?  Let's just say it has served her well for 15 years, but it was time to be retired.  Her old daybed was bought when she was 9 or 10.  It moved with us.  It bunked both girls, with Corin in a trundle underneath, for a few years.  My mother-in-love slept in that bed for several months before a hospital bed was required.  It really did last quite well for a cheaply made, inexpensive bed.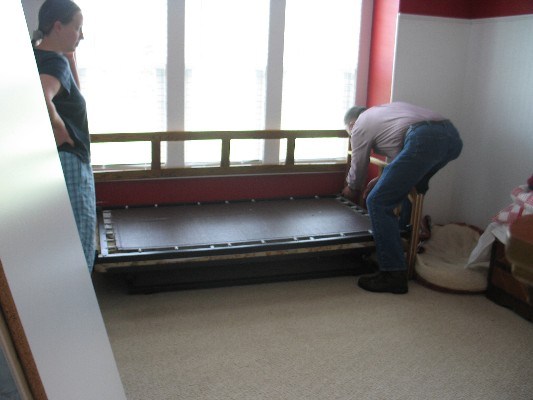 This morning that tired, rickety old bed was dismantled and hauled out of the house.  Buying a new bed was the order of business for the day.
My husband told Dani a few weeks ago to decide on what she wanted because he wanted to buy her a new bed.  She had seen a lovely, dark bed at IKEA awhile back that she instantly loved, so her only decision was whether to stick with a twin size or move up to a full.  She made the wise choice, I think, in choosing a full size bed.  We loaded up and headed to IKEA around noon, enjoyed lunch in their restaurant, and we then toured about through the store.  We didn't waste a lot of time browsing, but we did browse some.  New sheets, quilt and quilt covers were selected, and then we headed to the warehouse to load up the bed.
Dani tried out several mattresses in the store.  So did William.  IKEA is having a wonderful mattress sale.  That's the good news.  The bad news is that the sale is so wonderful that they were sold out of full size mattresses.  We ended up stopping on the way home to purchase a mattress elsewhere.  Dani will have to sleep on the couch tonight, but her new mattress will be delivered tomorrow.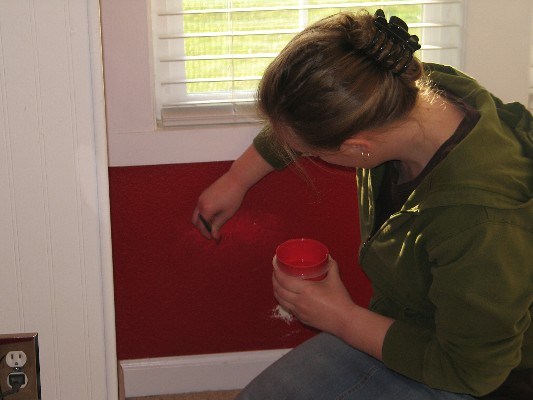 Dani's old bed, being so rickety, had damaged the wall behind her bed.  My husband patched the gouges this morning before we left, and Dani put the first coat of touch up paint on this afternoon.  A couple more coats, feathered in to the existing paint, should do the trick.  It's always a good idea to hang onto those last little bits of paint so that you can handle touch ups easily.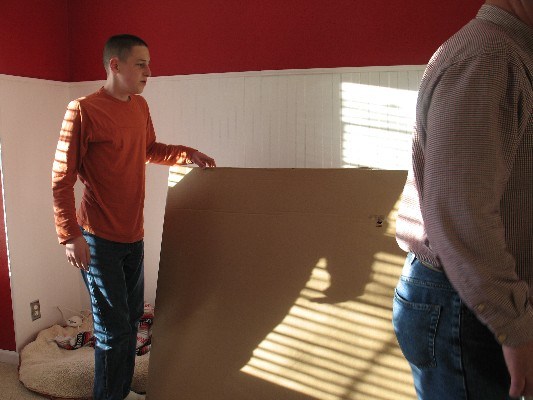 As soon as we got home, the guys hauled the boxes in from the trailer.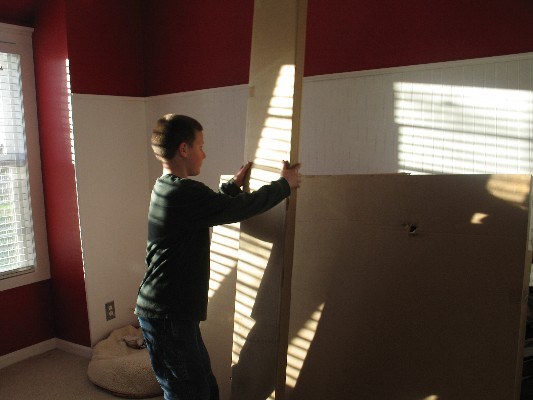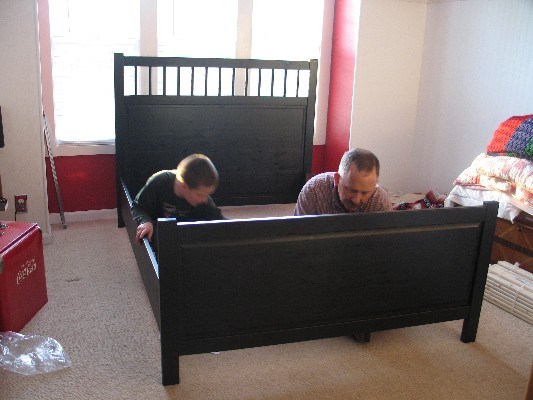 Copper and Will got the new bed put together fairly quickly.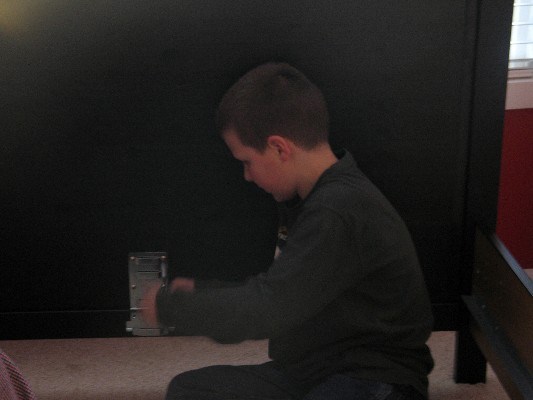 Will enjoys assembling things!!!  It's really a shame that IKEA was sold out of mattresses, or Dani would have had all of her pretty new bedding on by now.  I'm anxious to see how her new things look all put together and whether she leaves the bed with the head in the window or moves it to a different spot.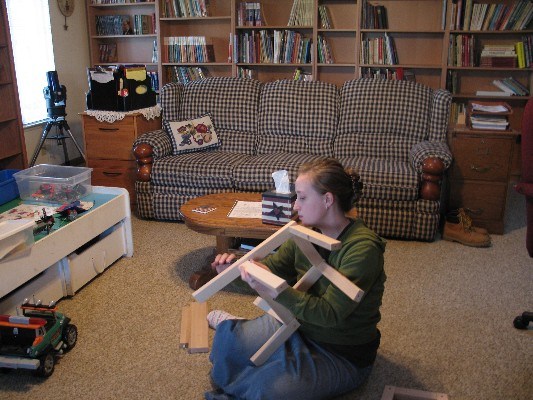 Dani blessed me greatly by sitting down in the school room and putting together our great new step stool, also from IKEA.  The new bookcases in the schoolroom are TALL, and I cannot reach the top shelves unassisted.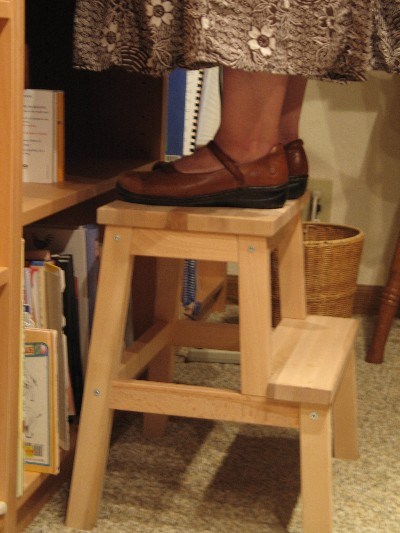 This great little stool is just the thing to keep out and handy to use in the schoolroom.  It's light enough that it can be easily moved from place to place, yet it's sturdy enough that I feel comfortable climbing and using it.  This was $14.99 well spent!
Monday is one of Dani's nights to cook dinner, but she put everything in the crock pot this morning for our Slow Cooked Chili Supper.  The corn muffins were brought in from the freezer this morning, as well.  It's nice to come home after a day away and have dinner already prepared!!  To serve dinner the only thing Dani needed to do was to warm the muffins, ladle up the chili into bowls and top each with a sprinkling of shredded cheese and dollop of sour cream.  Oh, it was good.
I'm glad so many of you have been enjoying some of the recipes I've posted (see the bottom of the side bar on the left for the drop down menu boxes containing recipes).  I do plan on setting up a separate drop down box for Freezer Stash recipes, and I will be sure to let you know when other recipes I post are appropriate for the freezer and instructions on how to make them that way.  (The Slow Cooked Chili, for example, can be frozen immediately after assembling the ingredients.  You can then put the frozen chili into your crockpot on low and let it cook 8 – 10 hours.)
I've been really excited about this project in my own home and about sharing it with you, and guess what has happened?  It's so fun!  A girlfriend at church is, in all honesty, the freezer cooking queen.  She hostesses get-togethers for friends and they spend a day putting freezer meals together.  How fun is that?  Here's the best part…..she has just begun a blog where she will be sharing her tips, techniques and yummy recipes for freezer meals.  I can't wait!!  Howiesgal is a bubbly, fun gal in real life, and all that fun spills over into her writing.  Her blog is called Filling My Freezer.  Head on over and read her introductory post, leave her some encouragement to get things rolling, and then either bookmark the site or subscribe with a blog service (like bloglines) so that you don't miss any of her future "how to" posts.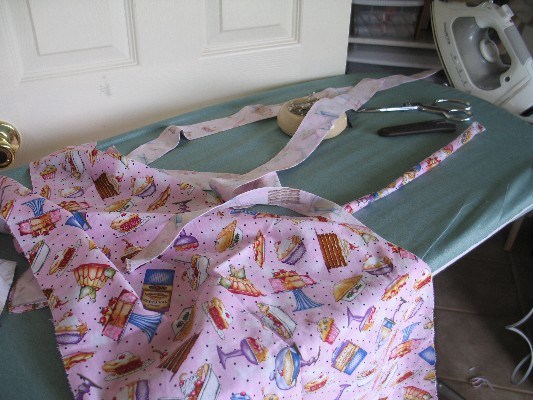 Late last week I finally felt up to doing a bit of sewing.  I've had a pair of aprons cut out for Corin and my two year old granddaughter, and promised to them, for way too long.  In one afternoon, I had them about 2/3 completed.  I plan to do my best to finish them up in the next day or two.  Corin called William today just to tell him that as far as she knew now, they would be here this Thursday!  It's been way too long!  I would love to have the aprons finished to give them when they come.
Thank you all so very much for all of your kind comments, messages and e-mail these last few weeks.  Your kind words were sweet to read while we were so sick.  I am very thankful that we are now all relatively healthy and life is returning to normal.  Those of us with lingering coughs are better every day.  I have much to be thankful for!
God bless you as you look well to the ways of your household!
Proverbs 31:27