Many of you, okay, most of you, are probably too young to remember the old tv show Dragnet.  I can still hear Jack Webb's voice, "Just the facts, M'am" when the crime victim wanted to go on and on about all of the little details that seemed important to her.  That's how I feel now, in thinking about what all I have to share.  So many little details, all of which were important to me for their relevance at the time; but which would make this an epic post were I to try to relay them all to you.  So, I will try to convey "just the facts", but I am who I am and, well…….I'll do my best.
Our homeschool room, and our homeschool, have been reorganized and restructured a bit.  I have handled each and every book we own at least once, and most two or three times.  Some, as my aching upper arms and lower back will attest, many, MANY times!  Dani chronicled a lot of the process for me, and I took some shots, too.  We did not get rid of any bookcases, but merely moved some, repurposed a couple of others and then added several more.  Here's a brief photo recap of the process.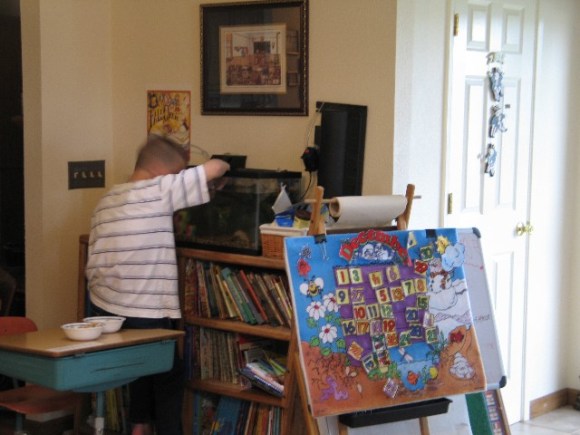 Believe it or not, the first step was to clean the aquarium.  Not one of Will's favorite jobs, of course, but a necessary one.  The aquarium needed to be moved so that this bookcase could be moved, and since the majority of the water needed to be out of the tank before it was moved, it was the perfect time to clean as well.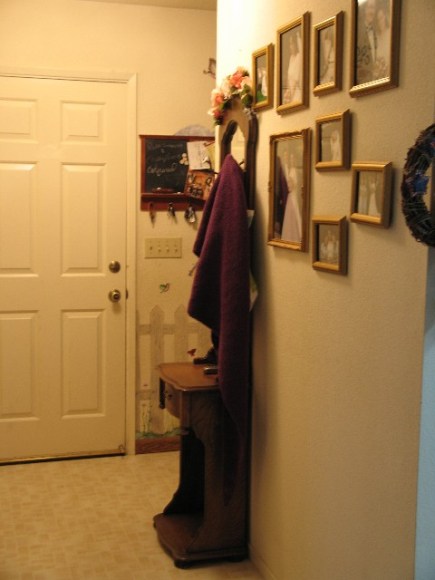 My back hallway.  Why?  Scroll down!
My back hallway with the non-aquarium laden book case in it!  Filled with all of the cookbooks that have been lingering unused (out of sight, out of mind) in my bedroom closet for too long!  It is wonderful to have them out again!  I've already discovered a couple of new recipes from these, and I'm thrilled to have them right at my fingertips again.  (I know the picture frames are all out of whack.  I was so enamored of the cookbooks being out again, that I didn't even notice it at the time I took the picture!)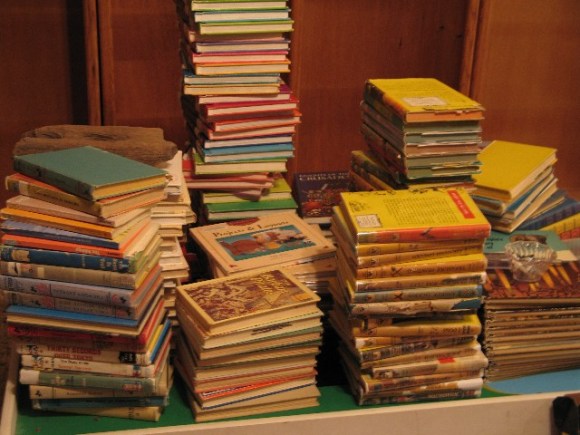 Of course, all of those books had to go somewhere!  We emptied ALL of the book cases in the school room.  ALL OF THEM!  There were books stacked in and on every open surface.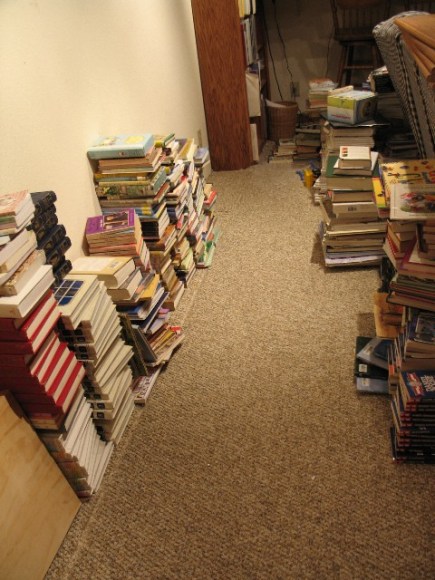 They were even stacked where the new bookcases would be set up.  There were books everywhere!!!!  I drew the line at stacking them on the couch, though.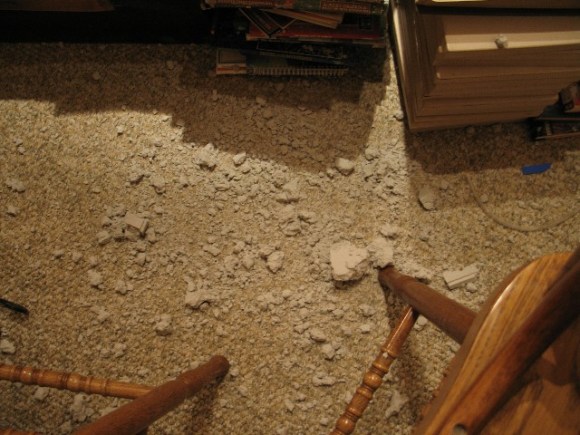 There was only one big "whoopsie" and it was at my own hands.  One of the best Christmas gifts we have ever bought was buying a batch of indoor sand
for William a few years ago.  This stuff is amazing!!  And he still enjoys playing with it.  Frequently!  And the grandbabies have begun enjoying it, too.  I've kept the open container of it, which includes an assortment of small dump trucks and earth movers, on top of the book cases.  While preparing to move the old book case,  I dumped the whole thing  of  sand upside down.
On the floor.  On the books.  On the old book cases.  It was everywhere!  Well, it being such beloved stuff, I dutifully dumped piles of it off of the books and then used my dustpan to scoop as much of it up off the carpet as I could.  I recovered most of it.
Like I said earlier, we didn't get rid of any book cases, but all of the old ones, save one, were moved.  And a couple were repurposed.  These two bookcases in my boys' room were from my mother-in-love's house.  I want the boys to each take one of these with them when they set up their own homes.  For now, though, they've been moved to our little storage barn, and Dani will be able to move some of her hope chest overflow to these shelves out there.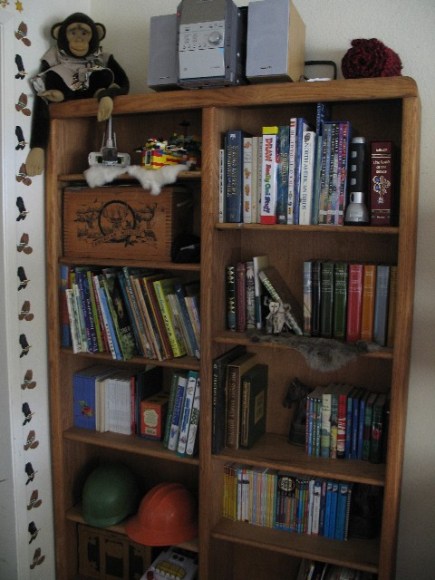 We brought one of the old double wide bookcases from the schoolroom into the boys' room to take their place.  This is a bit taller than the two that were there.  Aaron did a nice job of putting their things back on the shelves neatly.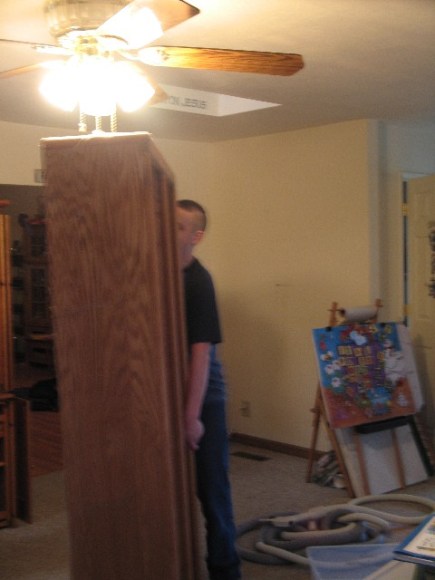 Aaron was a champ at helping me move empty bookcases.  Actually, he was a champ a lot of the time.  Moving books, moving furniture, moving whatever.  The boy has some serious man muscles going these days!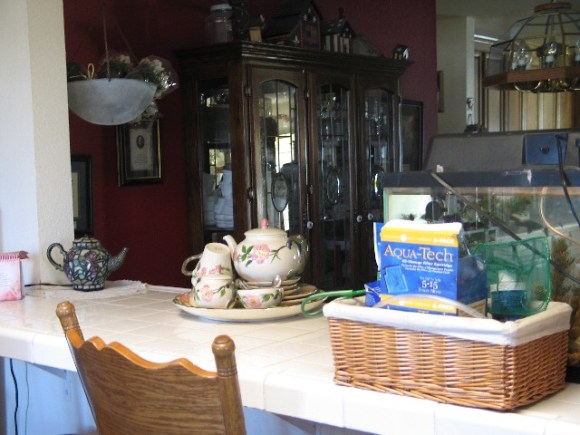 Ugh!  Things were quite a mess for about a week!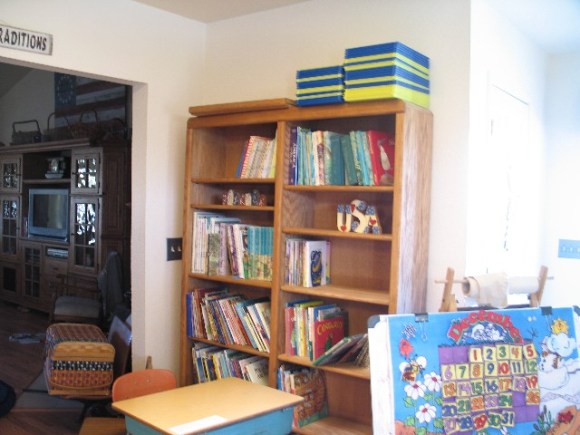 It was, however, worth every bit of the work!!  Here, where the short bookcase used to be with the aquarium, is one of our older, tall bookcases.  This houses all of our picture books.  The top shelves hold my sets of phonetic readers and our collection of pop-up books.  On top, are our dozens of beloved, and much-used, Lauri puzzles
.  And the best part?  Look at all the available space for MORE books!
This is the only one of the older bookcases that did not get moved.  We have kept our science, nature and geography books here, but now only the science and nature books remain.  The top shelves here hold Will's baskets of nature finds and that aforementioned container of indoor sand
!  The geography books have been moved to the new bookcases.  It's hard to tell, but as with the picture books, we have plenty of room now for more science and nature books.
The remainder of the old long wall of bookcases was relocated under the high window.  We couldn't get just one picture, so there are two – picture these side by side!  The far left bookcase holds our reference books, encyclopedias and such, as well as some Bible reference tools and our set of The Book of Life.  The very top, shallow shelf holds our few oversized volumes, and the next shelf our multi-volume
story collections.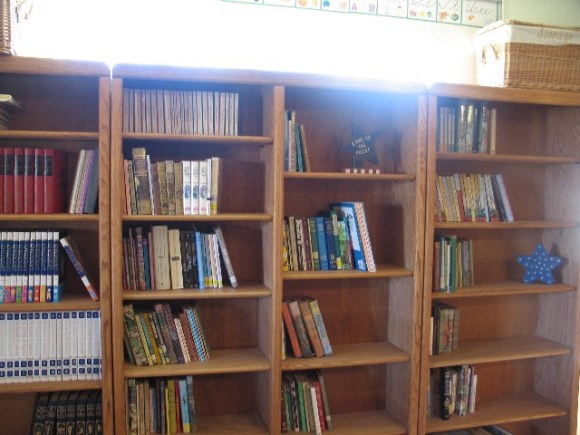 The remaining shelf space on the entire wall is our fiction collection.  I do shelve all of our fiction together.  I am blissfully aware of the oodles and oodles of available shelf space here!!!!  Truth be known, I have actually not added to the fiction area of our Heritage Library as much as I would have liked because of lack of shelf space.  I am so happy that this will no longer be a hindrance!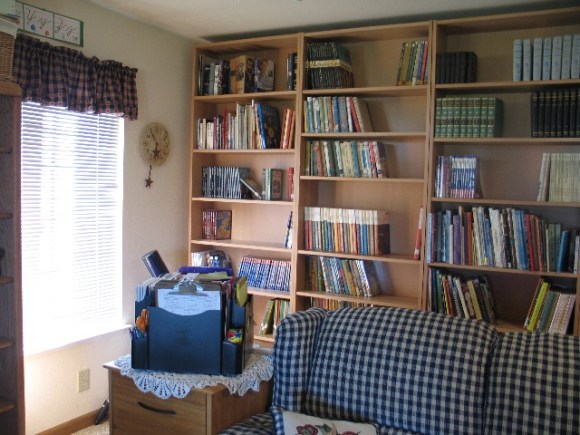 These are the new IKEA bookcases.  They are great!  We bought the extensions so they reach almost to the ceiling!  Biographies of all sorts are at the far left.  Followed by several sections of history………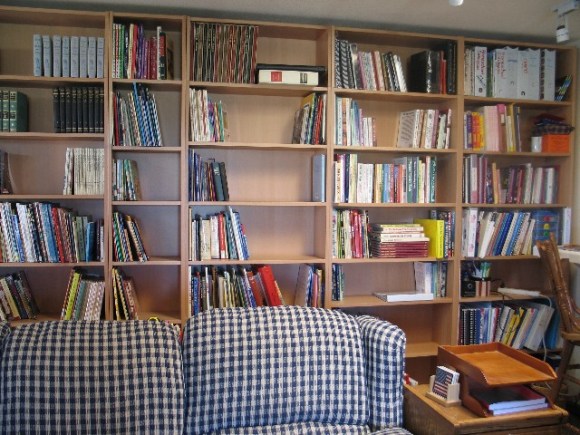 ……followed by more history, and then the remainder of our Heritage Library.  Sections on, holidays, fine art, music, poetry, living books on grammar and math, government, economics (including money management and finance), parenting, homeschooling, health & nutrition, homesteading/animal husbandry, how to books of all sorts, arts & crafts and curriculum.  Did I get it all?  I'm not sure.  I also had room for a few shelves of special interest to me – a section for books especially for moms and a section for my homemaking books.  And do you see it?  All that available, open shelf space?!?!?! 
One picture that I do not have to show you is our now, only 2/3 full lawyer's stacking bookcase in the living room.  I was able to bring many of our books that were crowded two deep in that bookcase out to the new shelves.  The stacking case in the living room now houses our books on marriage, as well as our books on religion and theology.  Perfect!
Copper and I are both very happy with the results.  The IKEA bookcases are sturdy beyond belief, and we are both impressed with the craftsmanship and design detail.  For example, the backs of the bookcases are notched out to fit over baseboards!  All of the predrilled holes for the assembly were right on, and the things went together quickly.  The shelves themselves are notched out to fit over the pegs that hold them, which makes them feel solid when I shelve books.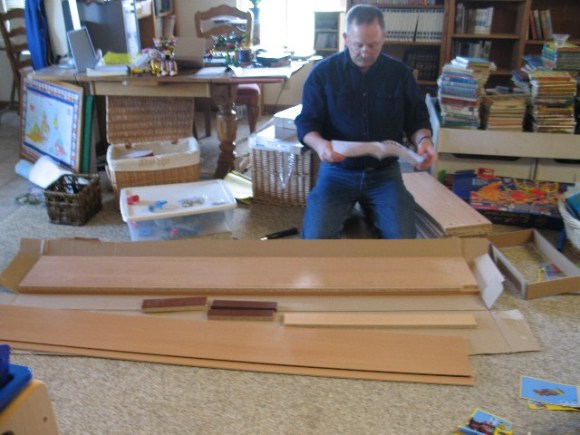 Add to all of that the fact that the variety of sizes and components enabled us to make this as close as possible to "built in" from pre-made products.  There was also a wide variety of finishes to choose from and my my my my, I have to tell you, the RED bookcases just almost came home with us!  Almost.  The price was incredible in comparison to the smaller bookcases we've been buying that are, we just discovered, made locally.  I'm all for buying locally when we can, but we built the entire new wall of bookcases, a good 14″ or so taller than the old cases, for the price of just two of the older, shorter cases.
I am so grateful to my husband for making the decision to go forward with this project!!  It has made all the difference in the world in our schoolroom and it will enable our Heritage Library to continue to grow for quite some time!
I still have a bit of fine tuning to take care of in our school room.  One example – I am not happy with the desk and computer on the table that the boys use.  I am happy that all of the computer programs (games, educational and school) are now housed in a small tower nearby.  However, I just do not care for the look of all of the computer components on top of the desk.  I also do not like that the monitor is to one side……….let me revise that.  I prefer the "look" of having the monitor off to the side, but it does make typing a bit more complicated.  I had intended that my son pull the monitor over directly in front of him when he is using the computer for typing and report writing, but he never does so.  I'm not sure yet what the solution is, but I'll let you know when I find it.   I actually love these challenges in homemaking!  Working through options, trying new things (even when they don't work), and then finally stumbling across the solution that really works are enjoyable!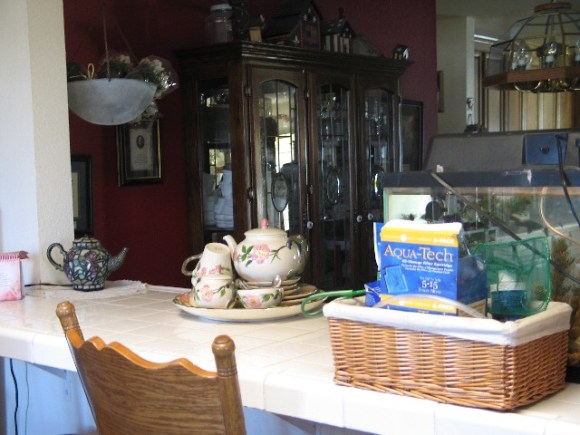 There are a few other such things that need some work.  Some of these have solutions already worked out that I just have not had the time to implement.   Others, like making the back side of the aquarium, now housed on the counter between the school room and dining room, as attractive as the front side, will require purchasing a new hood for the aquarium.  We need one that will offer a different placement for the filter and heater. (The picture shows the back, or schoolroom side.  I didn't get all the cords and mess in the picture.)  I'll be pricing these, and, possibly, purchasing a new one on Friday when we are in town for the mega shop.  We'll also require one of those "cord tamers
" and that will be all taken care of.  The fact of the matter is, we are all enjoying the fish more now that we can see them from more than one room at a time!
All of my children and my granchildren, all of them, have been sick this entire while.  Not everyone was sick the whole time, but somebody or other was always sick.  Corin's kids have had a couple of viruses, and she and her husband have both had at least one of them.  Will has been sick for about nine days now, and he's just now beginning to feel more himself.  Late afternoons and evenings are still rough, though with lots of coughing.  Try as we might to avoid it, he has had to use his asthma inhaler for several days through this recent bout.  Poor little guy.
Dani was helping at Lisa's home while baby Grace was born and for a few days after, came home healthy and well, and then came down with a cold within two hours of arriving home.  It was amazing!  We are both grateful that the Lord preserved her health until after she left Lisa's.  I'm sure that Lisa is happy for that, too!
She was to return this week to help for a couple of days, but I think her cold/virus germs need to stay home where they belong.  You should click on over to Dani's blog though, to see an adorable picture of her holding sweet, baby Grace!
My husband and I have plugged right along, sturdy, strong folk that we are….ahem, well, until Sunday morning when I woke up with a horribly sore throat.  I guess it was to be expected.  My husband ventured to church solo, leaving all of us "sickies" home to recover, and threatening to tell everyone what a devoted Patriots fan his wife was!  The problem is, I'm not sure how many folks know what a horrible TEASE that man can be! 
So, to all of you who pictured me at home, with my face painted in team colors, sitting on the couch waving my team banner…….I hate to tell you but that man of mine, wonderful as he is, told you a big fat fib!
He is so bad!  You just don't believe me, do you?  Not even after the story I just told you.  Well, let me try again.  A lovely lady, whom I've never met, visited our church yesterday.  When my husband was introduced to her, and upon hearing that she reads my blog, his comment was, "Oh, I'm so sorry."  harrrrumph!
He called from church and told me so himself.  What a guy, huh?
Jennifer, I hope I have the opportunity to meet you another day.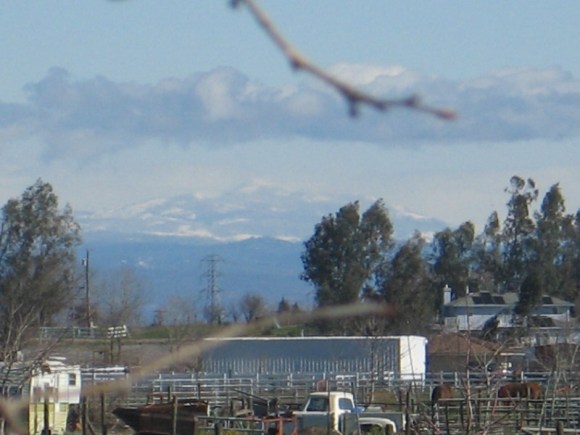 We have had a LOT of rain this month, and I am thankful for the Lord's abundance!  The day, or two, of sunshine we've had between storms has been wondrous.  The air is so clean, and we have been blessed with brilliant blue skies on those days.  The most recent storms have been colder than the norm, and the snow has fallen very low.  We have foothills just to our east, and a beautiful mountain chain just beyond that.  My favorite winter days are the ones that there is enough wind to blow the clouds beyond the mountains, allowing me to view the snow covered peaks from my school room windows.  What an amazing, beautiful view, formed by the hand of the Master.
The picture I just showed you was taken from one of my schoolroom windows.  Yes, I could have cropped it so that all you could see was the glorious, snow capped mountains in the distance.  However, that would not have been the real view, now would it?  What I will tell you is this……….When I look out my window I choose to see the clouds lingering over the snow capped mountains and crispness of the blue sky.  I honestly did not notice the abandoned truck or trailer.  I rarely do see them.  I do, often, admire all of the horses within my view, but not the other stuff.  It's there, of course, in full sight.  I, however, usually tend to let my eye, and therefore my mind and heart, dwell on the things that the Lord has made.  The clouds, the snow, the mountains, and even the horses.  Yes, it's a conscious choice, and I don't think it's at all Pollyannaish.  I think it's a choice to keep my heart focusing on Him.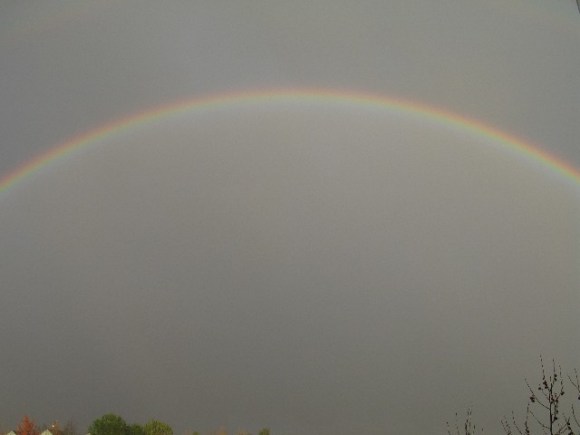 The Lord's creation is a wondrous thing.  Open your eyes, because you never know what you might see!  One day I looked out the schoolroom's sliding door, watching the sheep (I do that a lot), and I saw a rainbow in the distance. As I watched, it became ever more clear and distinct in the sky.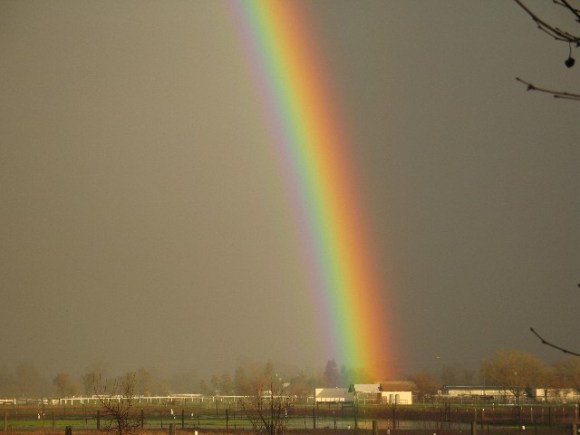 I stepped out on the porch, and …..well, my breath was taken away!  As I watched, the rainbow came into full brilliance and view.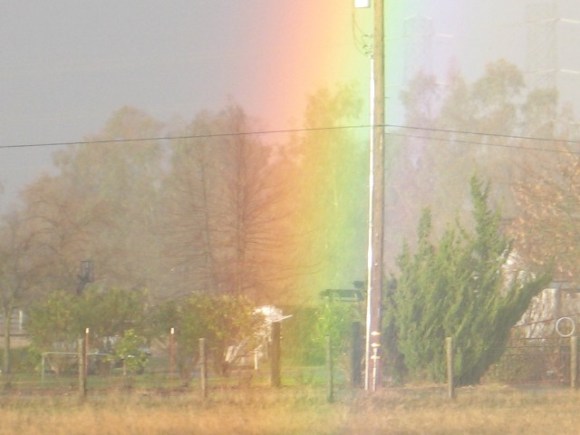 One end of that glorious rainbow, with the entire spectrum of its color brilliantly glowing, was in the pasture where we run our sheep.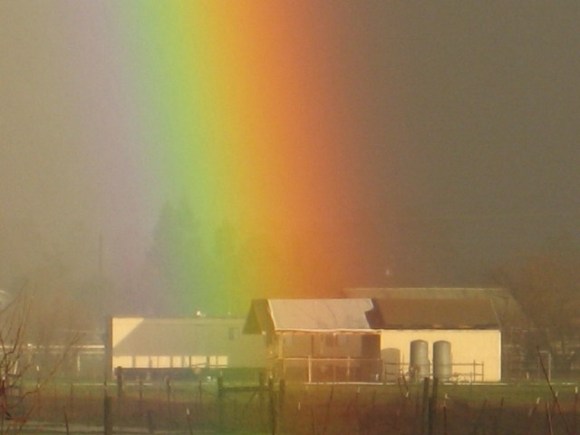 The other end came down a few pastures away, right over a small barn!  I finally gathered my wits and called in to my family  to come and see the glorious rainbow!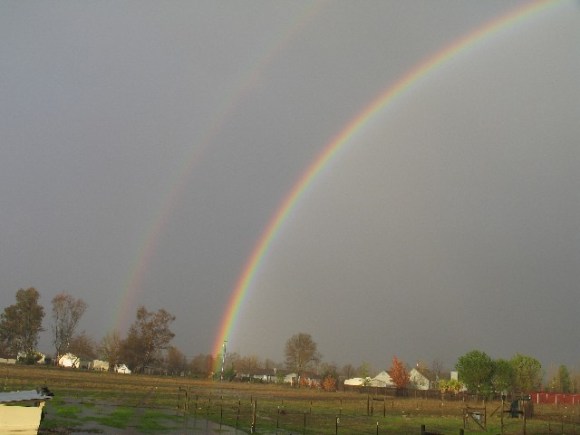 They sort of wandered out, not sure that viewing a rainbow was worth leaving what they were doing, but one by one they all joined me…..just as a second, equally vibrant, and completely full, rainbow appeared in the sky.  We could see the entire spectrum of colors in each.  We could see the end of each.  It was, my friends, breathtakingly beautiful.  My husband took some great pictures, but even these do not tell the full story of the beauty of God's amazing bows in the sky!  The rainbows lingered for several minutes, allowing us to marvel at their beauty.
My mind has, of course, been filled with thoughts and prayers for Heather.  She, and her children, have been an amazing testimony of faith and God's love through the loss of her husband and the children's father.  Eric's memorial service was certainly the most amazing service of that kind I have ever attended.  What an incredible man Eric was.  And is now in glory.  What an awesome God we worship and serve that allows us such assurance and peace even in times of grief.  Please, do continue in lifting Heather and the children up in the days and weeks to come.  If you are able, and the Lord so moves you, offering more tangible assistance is possible, too.  Information and links are available at our church's web site..
Beyond that, life in my home has continued much as it always does, and for that I am thankful.  We have taken today, Monday, off to recuperate a bit from illness.  Dani and I are still in the midst of the virus, but I am hopeful that tomorrow will see me well enough to, at least, preside over my boys and their homeschooling from the comfort of the schoolroom couch.  Each end does, afterall, have a built in recliner; and the middle section is not stationery either.   The back, middle cushion folds down like a tray with built in cup holders for a cup of tea and plenty of space for me to set other necessary items.  This big old heavy beast of a couch, which once belonged to my late mother-in-love, has been a huge blessing in my home.  It's just the thing for an under the weather homeschool mom!
God bless you as you look well to the ways of your household!
Proverbs 31:27