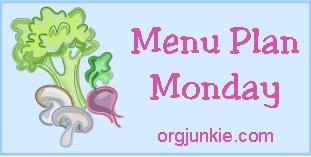 Oh, yes it is!  After three weeks of feeling crummy, it's great to be thinking about cooking and to be cooking again!  In fact, as I was working on this week's menu, I ran across so many yummy sounding recipes from my recipe box, or thought of things that just sounded good, that I have all of next week's dinners already planned, too!  That will certainly go a long ways toward simplifying the job of menu planning next Saturday!
I have one new dish to try this week – a cranberry glazed meatloaf.  I found the idea in an old, old cookbook, and I'm going to revamp it just a bit for my family this week.  The recipe is marked with an "*", and if it's good, I'll be sure to share it later that evening or the next day.  I have included links to a few other recipes that we'll be having this week as well.
In the coming weeks I'll have several new recipes to share.  I'm also ready to really start working on my freezer stash.  These last couple of months I've filled the freezer with muffins, cookie dough and the like, but I want to have some wonderful main dishes and sides in the freezer, too.  More on that in the next few weeks.  I haven't quite decided how I will work this into my already blessedly full days, but where there's a will, there's a way.
I'll be taking a quadruple batch of my Stroganoff Meatballs to church next Sunday.  Not only are these fairly inexpensive to make for a crowd, but they really don't take much longer to prepare or cook then just a single batch would.  I'll prep and bake them Saturday, cook the noodles, and then combine both in my big crockpot and put it in the fridge.  The dish will warm nicely Sunday morning at church in the crock pot on low for about three hours.
However, with developing a freezer stash in mind, in coming weeks, if I make a small batch of these meatballs for dinner one night, I will at least double the recipe, tripling it if I have plenty of ground beef in the freezer.  After baking the meatballs, but before adding the sour cream, I will remove the extra meatballs and sauce and package them for the freezer.  The freezer container will be labeled with directions to "thaw, heat in a 350° oven and then stir in 1/2 cup (or other appropriate amount) of sour cream and serve over rice or noodles".
Menu planning is a great way to budget both your money and your time.  In my home, having a plan in place for all three meals helps keep the grocery budget in check and a nice variety on the table, while saving me the time of planning these meals in the midst of a busy homeschooling day.  For dozens and dozens of menu plans, be sure to visit Laura's blog for this week's Menu Plan Monday.
WHAT COPPER'S WIFE (& DANI) WILL BE COOKING THIS WEEK:
MONDAY:
Breakfast:  Waffles
Lunch:  We're eating out.  We've a fun outing planned for today.
Dinner:  Slow cooked chili, Corn Muffins (the corn muffins are from the freezer stash)
TUESDAY:
Breakfast:  Sausage patties, fried eggs, toast
Lunch:  Left over chili (and/or PBJ sandwiches)
Dinner:  *Cranberry Meatloaf, Herb Roasted Potatoes, Green Salad
WEDNESDAY:
Breakfast:  Cold Cereal
Lunch:  Turkey sandwiches, chips
Dinner:  Taco Pizza, green salad
THURSDAY:
Breakfast:  Scottish Oatmeal
Lunch:  Homemade Tomato Soup, Crackers
Dinner:  Chinese Chicken Salads, Fruit Cup
FRIDAY:
Breakfast:  Pancakes
Lunch:  Turkey Sandwiches, Green Salad
Dinner:  We'll be at a birthday party
SATURDAY:
Breakfast:  Scrambled eggs & toast
Lunch:  Chef Dani's Choice
Dinner:  Tomato Soup (left over from Thursday), grilled cheese sandwiches
SUNDAY:
Breakfast:  Chocolate Swirl Coffee Cake
Lunch:  Fellowship Meal at church:  We'll take Stroganoff Meatballs & Noodles, a hot vegetable, chocolate chip coookies
Dinner:  Wild Dinner!  (My son's term for our Sunday evening faire – popcorn, left overs, every man for himself!)