Many of you prayed faithfully these last few months for my friend Lisa, and that the Lord would keep her sweet baby, Grace, safe in the womb until His time.  As I mentioned earlier, Grace was born earlier this week and she is a healthy, beautiful baby girl! I saw her for the first time today. It was such a sweet thing to finally meet that beautiful baby girl so long prayed for.
While Dani has been helping out at Lisa's house, she's picked up a couple of new recipes; and this one, in particular, has already become a favorite in our home. Lisa graciously said that I might share this recipe with you. She's like that. Gracious. Generous. It sounds a bit involved to make, but it really doesn't take too long and it's a fun, family sandwich supper.
You can easily double (or triple or quadruple) the ingredients to serve a large family or a crowd. If you have left overs, it reheats well for lunch the next day. Dani says that she's wrapped these up, before baking, for the freezer, too. What a great, make ahead, freezer meal!
LISA'S STUFFED LOAF
1 large loaf french bread
1 lb. ground beef
5 Tablespoons butter, divided
3 Tablespoons flour
1 teaspoon salt
1 1/2 cups milk
1/2 teaspoon worcestershire sauce
1 egg
2 cups grated cheddar cheese
garlic salt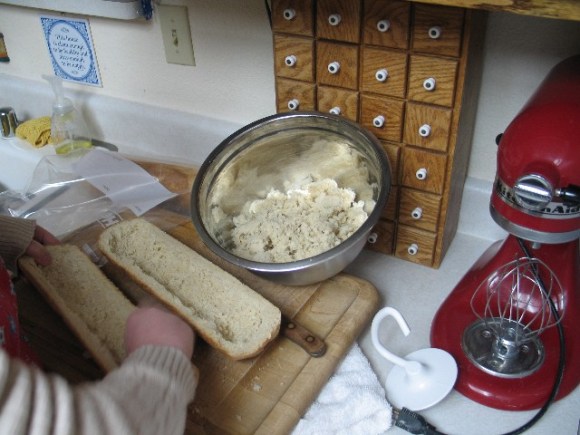 Cut the loaf of french bread, lengthwise, almost in half.  Leave a small "hinge" of crust on one side.  (Dani cut this loaf all the way through. No big deal. Open the bread up and pull out the insides in bite sized pieces. Set aside.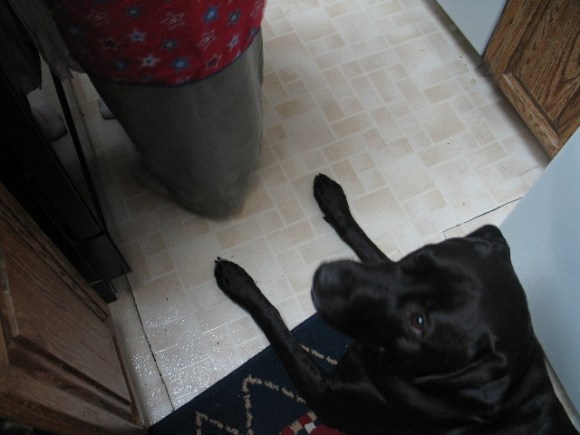 While you are working, be sure to keep your four legged, kitchen floor cleaning system close at hand.  You don't want any stray pieces of bread lying about the floor.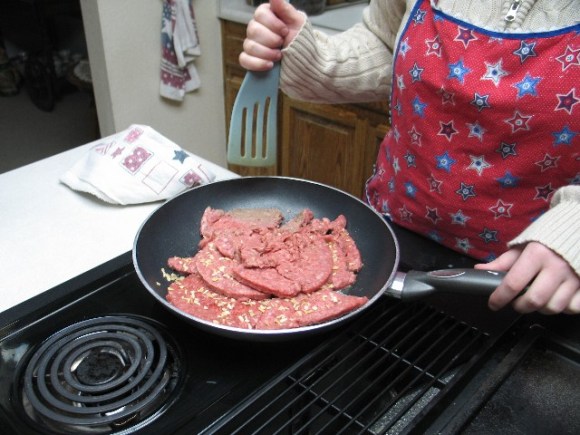 Brown the ground beef. Dani tossed some dried, minced onion in with this tonight. Fresh chopped onion, and a bit of minced garlic would be great, too.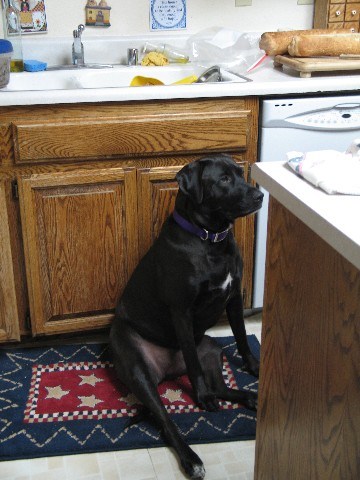 Again, having that four-legged floor cleaner close at hand is a good idea.  No greasy meat spills in our kitchen.  Nosirree!!!!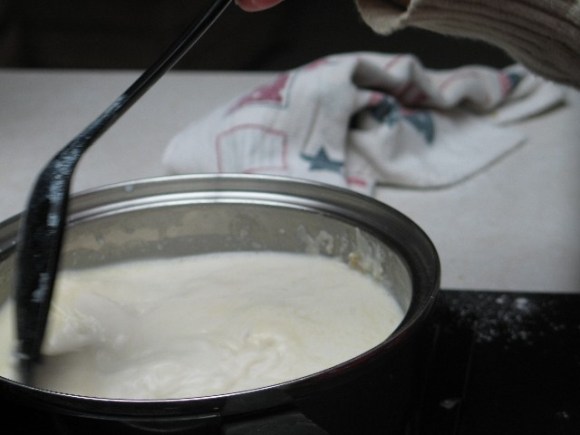 Make a simple white sauce as follows:  Melt 3 Tablespoons of butter in a sauce pan.  Stir in flour to make a roux.  Add salt and milk and stir until thickened.  Remove from heat and stir in worcestershire sauce and egg.  Add the browned, ground beef and grated cheddar and mix it up well.  Add the pieces of bread you set aside to the beef mixture and combine.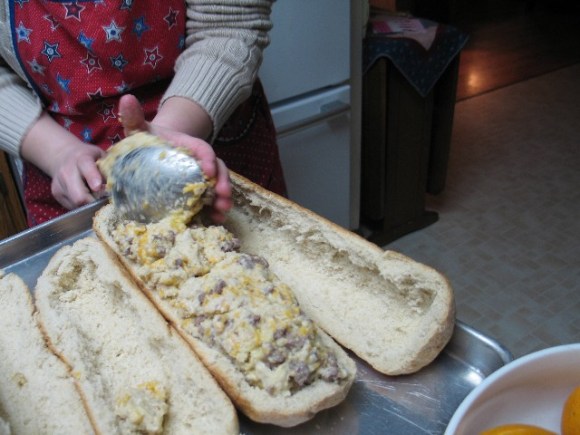 Begin stuffing the meat/bread mixture back into the hollowed out french bread loaf.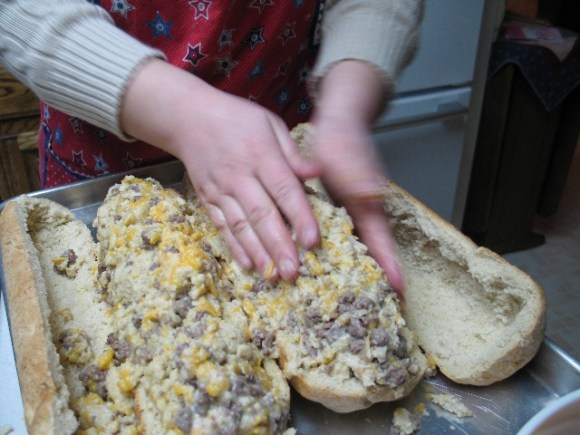 Get your hands right in there and really pile it on! You want to get every bit of that yummy mixture in there.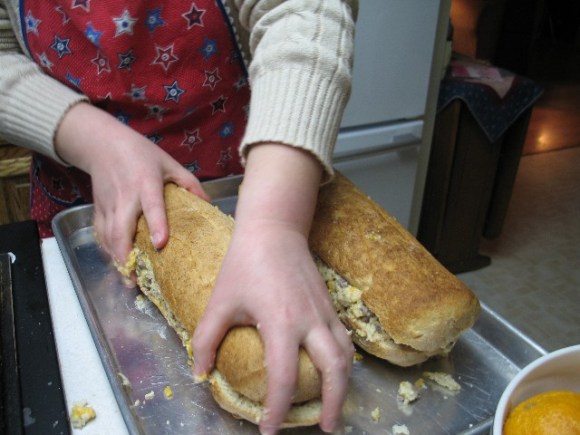 Fold the bread back together and press it down a bit to seal it. (If your bread tears at the hinge, it's no big deal.)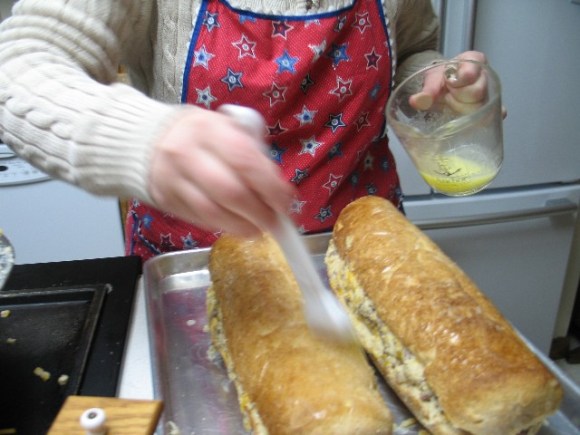 Melt 2 Tablespoons butter and brush the top of the loaf. Sprinkle the top with garlic salt. Liberally.
Place on cookie sheet. Bake at 350° for 20 – 30 minutes, or until heated through.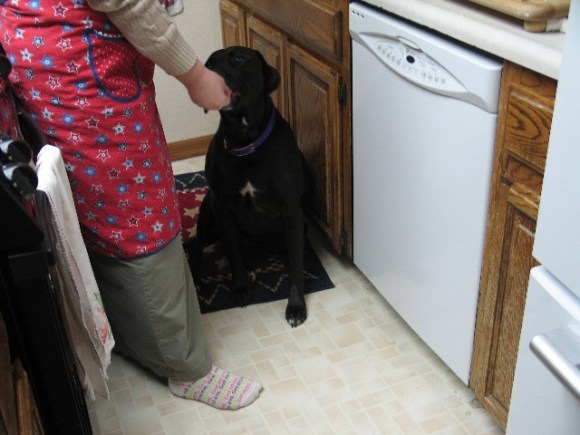 At this point in time, as you're cleaning up a bit as the loaves bake, be sure to scrape those last little tid bits from the bowl and offer them to that faithful, four legged companion. You will remember to wash your hands after this step.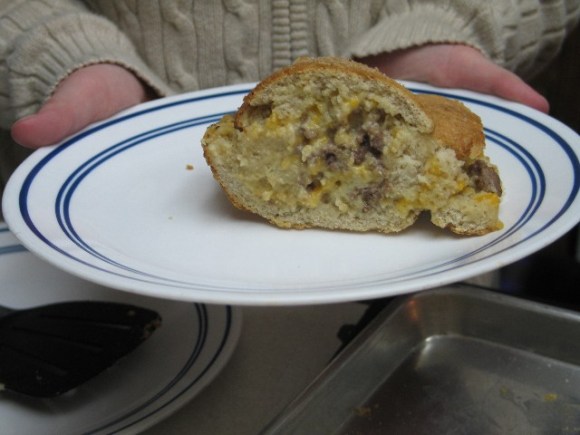 Using a serrated bread knife, slice into 1 1/2″ – 2″ slices and serve.