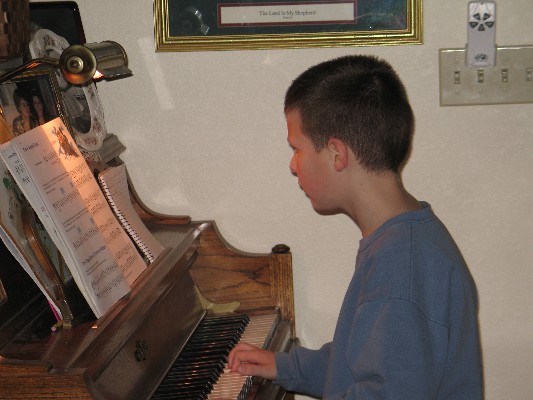 This morning I realized I had a dilemma on my hands.  My children are all, for the most part, healthy and well.  A bit of residual coughing, but everyone seems to be feeling fine otherwise.  We should be buckling down and hitting the books.  We should be working hard at catching up on all of the "stuff" that didn't get done for the last few weeks while we were sick.  We should stay home and take care of business.
On the other hand, though I'm not quite ready for it, the spring-like weather remains.  The sun is shining in cloudless blue skies.  The afternoon highs are in the upper 60's   We've all been house bound, either by illness or weather, since New Year's Day.  Oh, we've been outside, of course.  In fact, there was one day in the height of our illness, a Sunday no less, that I actually had two children in chairs in the front yard, covered with blankerts, sitting in the sun, crying.  They were miserable, but I knew that the fresh air and sunshine would do them good, and it did!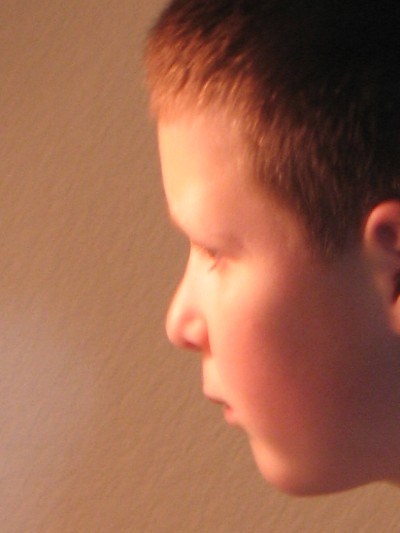 Our home is cozy and comfortable, but the sunshine and God's glorious outdoors beckoned.  As I looked at this dilemma this morning, it didn't take me long to decide that though the day couldn't be a complete play day, it didn't have to be a day that we stayed home and did what we "should" either.  This face, so intent on practicing piano this morning.  The new piece he'd been given was difficult, and the morning had already been pretty rough.
The decision was easy to make.  Especially in light of the fact that William was bursting with Williamness this morning, and sticking with the "shoulds" for the day would have made all of us miserable.  Please don't get me wrong.  William needs an orderly routine and discipline in his life.  However, the Lord has just led me to understand that there are days worth fighting for that routine and order, and there are days to just cast it aside.  Today was a day to cast it aside.  All the couch cushions were off the couch and assembled into a fort.  Can you see him peeking out?  He's trying to decide if Mom is going to be okay with his fort building.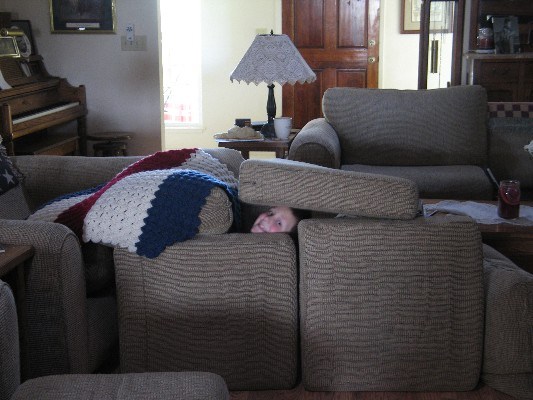 Apparently, the fact that I had the camera and was taking his picture assured him that things were gonna be okay today afterall.  Good call, Buddy!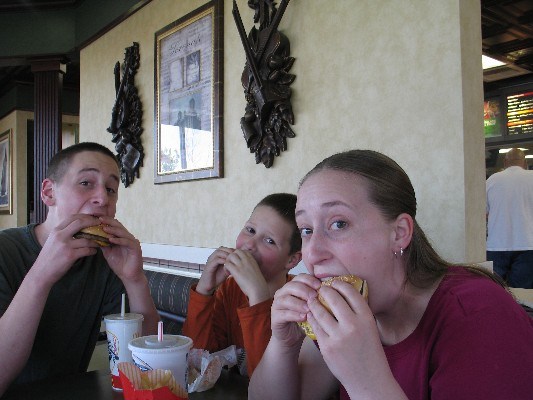 I have several little projects in the works, and we can always use a few things from the grocery, so we  combined several stops in one trip to town.  At lunch time, of course, because a trip to McDonald's for burgers was definitely in order.  Will wanted two double cheese burgers.  Not wanting any waste we agreed that I'd order him one and we could buy another if he was still hungry.  He was still hungry.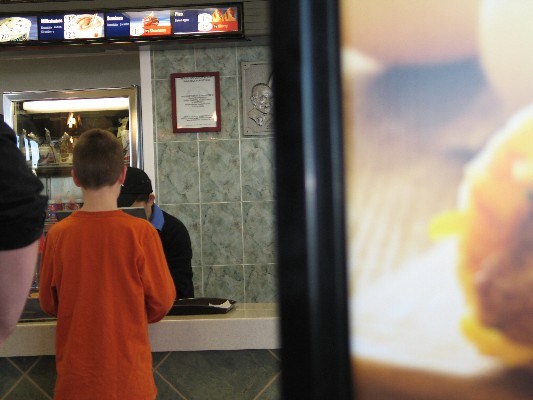 We were sitting where I had a bird's eye view of the registers, so I gave my little guy some cash, told him what to order, told him the lady would give him some coins back and sent him to get in line.  He was so excited.  This particular McDonald's does not have a playground and is frequented during the day mostly by adults.  He was so doggone cute standing in that line to order between two big men!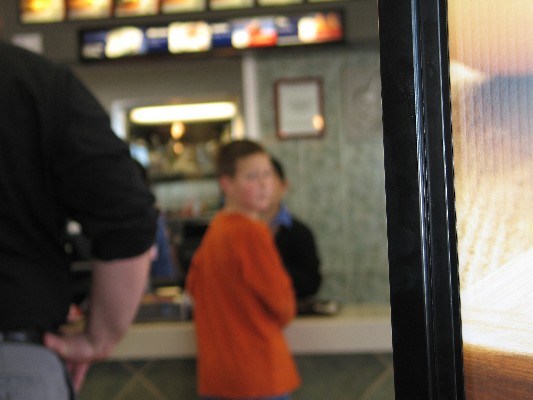 I thought I had given him all the information he needed, but this look let me know that I'd sent him out into the world completely unprepared!!!  "For here or to go?"  That question completely stymied the boy!  Dani and I both called out, "for here, Bud, tell her for here".  The cashier was great, she waited and let him tell her.  My big boy got his number and waited for his burger and then wolfed it down with delight.  After giving me the change, of course.  I loved watching him and knowing how excited and cool he thought it was that he got to order on his own.
I had two projects in mind to price out and, perhaps, purchase materials for.  I've been saving the money allocated for "gardening" for a few paychecks now, and I was hoping I had enough.   My husband puts in a large garden every year, but by the time the ground is dry enough to work and get the garden in, it's too late to do any planting of cool weather crops like lettuce, onions, and peas.
We used to keep a raised bed garden when we lived in the city, using the Square Foot gardening method.  It occurred to me that we could put in one or two raised beds here, closer to the house than the big garden, where we could keep a smaller "kitchen" garden.  The raised beds will be workable much earlier in the season than the big garden, and will enable us to enjoy those earlier crops, as well as extend the growing season well into the fall for others.
We priced out the lumber for it today, and I bought enough to build one 8′ x 4′ x 8″ raised bed, along with some brackets and screws to put it together.  Aaron was a huge help in selecting nice boards to use and helping me find the right sort of screws as well.  I'm certain that Aaron will be able to build this for me in the next few days.  I'll be sure to take pictures.
The other project I had in mind was to have some potted kitchen herbs that I would place around the new raised bed garden.  I have in mind large pots, with mature herb plants, placed here and there near the raised bed garden.  I know from experience that herbs can be invasive, so keeping them in pots seems like a good solution.
However, herb plants start out looking like this.  They come in 3″ pots.  These would be lost in a huge pot.  And they'd look pretty silly, too.  Fortunately I had Dani along to remind me of that fact as I was contemplating which pots to buy in advance of buying the herbs.  We decided that just one large pot, bought now, could hold all of our herbs for a bit until they begin to grow and fill in.  As that happens, we will just transplant them.  In the meantime, though, they won't look so lost.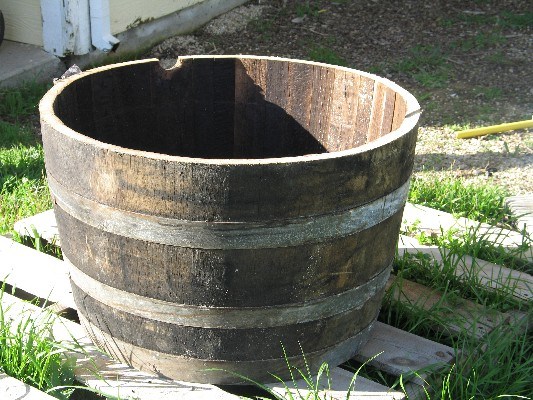 We chose a large plastic pot and were quite happy with it, until we turned the corner and saw a whole pallet of these.  Oh, my goodness!!!  We searched high and low for a price, but couldn't find one.  The sweet gal at the garden check out brought her portable bar code scanner over and scanned one for us.  $19.98.  Steep?  Maybe, but the silly plastic pot, which was not nearly as large, was going to cost $12.98.  We bought the wine barrel.  I'm so thrilled with it!  Now, I'm hoping, that as my herbs grow and we need to divide them into fewer per container, that I'll be able to pick up another one or two of these.  I think they will look just lovely with my kitchen herbs in them!
We made a quick trip to the store for a few things for next week's menu (which I cannot wait for!), and a quick stop by the nursery for some top quality herbs.  Harrumph!  It was just a bit too early for them to have their full selection available, so I made it home with only a beautiful Italian Parsley, Cilantro and Oregano.  I'll have to stop in another time for Basil and Thyme.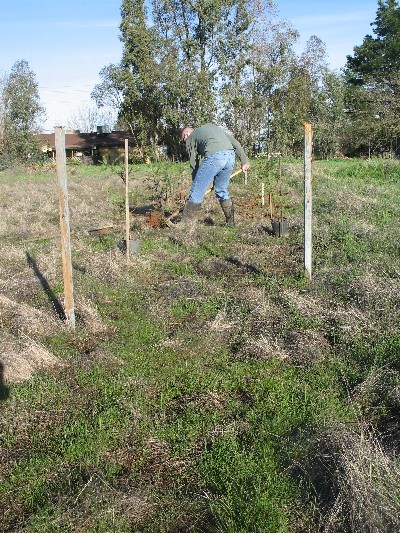 We made it home in time for Aaron to finish his tree planting job for one of our neighbors.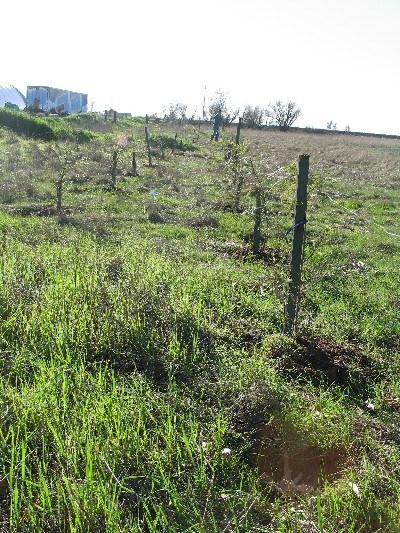 He has now planted 30 small redwood trees for her along her property line.  Her long time neighbor, and truly all around good guy, has begun what amounts to a bit of junk yard on his property.  She enjoys sitting out on her lovely garden patio, and gazing out her back windows and the view has become quite ugly with all the stuff.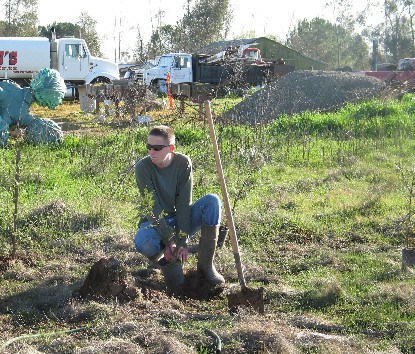 This gives you a better idea of what she's dealing with.  This man lives across the road from us, and he's just a wonderful man.  It's his property, so it's really no one's business what he does, but she is hoping her trees grow quickly to screen the view.  She has a few more plants for Aaron to put in for her over the weekend.  She's paying him $2/tree, which he is quite happy with.
Oh, I didn't play all day.  All of the daily items were taken care of, and I did do some laundry.  There's always laundry.  But you know what?  Having laundry to do means that I have a family, an active one at that, who are here in my home and that is something that makes me smile.
Speaking of laundry, Amy asked awhile back how I keep my hand knit, cotton dish cloths smelling fresh and sweet.  Here are a few things to try.  Be sure that you always rinse all food particles out of the cloth.  If you are done with the dishcloth, be sure to wring it out as dry as you can by hand, and hang it where it can dry in the air.  If it's dirty and ready for the wash, be sure to let it dry completely before putting into the hamper, or wherever it is that your dish cloths await their turn in the washer.  For example, my dirty towels are kept in wicker baskets in my laundry room until I have enough for a full load in the washer.  I drape the damp dish cloths over the edge of the basket until they are dry, and then toss them in with the other towels.  I wash the dish cloths with our bath towels in hot water with a cold water rinse, and I add white vinegar in the fabric softener dispenser.  I've not had any problems with sour or musty smelling dishcloths doing things this way.
I stayed up way too late this evening, but I finished the mother/daughter aprons for Corin and Little Miss Feisty.  I'm so pleased that I will have them ready for them when they come to visit tomorrow.  They looked so lovely as I pressed them after sewing on the buttons to finish them.  Pictures tomorrow, I promise!
Our taco pizza tonight used up the second half of the pound of sausage that we started with last night's meat loaf.  Oh, how I have missed cooking for my family!!  It's been so great to be back in the kitchen and not only preparing food, but actually enjoying it afterwards!  It's funny, the things you take for granted when you are healthy.  Dani and I are both eagerly searching out recipes and are anxious to try some new things.  Next week's menu is already complete, and I'll post it late Sunday evening; but Dani has already found a new-to-us recipe that I told her she could make the following week.  What a delight to be back in the kitchen, creating healthy and delicious food for my family.  What fun to have an adult daughter to share that pleasure with!
We had a wacky Wednesday.  Not the norm, of course, but a good, productive day nonetheless.  I'm excited at the prospect of my new kitchen garden, and of having, very soon I hope, fresh herbs to use in my kitchen as well.  It was nice to spend the day in town, browsing through an outdoor garden center and a nursery, and coming home with the supplies we need to start these projects.  I can't wait!
God bless you as you look well to the ways of your household!
Proverbs 31:27