It has been far, far too many Thursdays since Corin and my grandbabies have been here for a Thursday Library Day at Grandma's.  Holidays.  Transportation problems.  Illness.  Lots of illness.  These have all kept us from having our Thursday afternoons.  Oh, how I've missed them!
The morning was busy, but we all pulled together and managed to not only get all of our daily and Thursday work done, but my boys chipped in and helped me catch up on the Tuesday and Wednesday chores that were missed earlier this week.  Not only were all of my treasures here with me today, but my housework was caught up, too!  Yee haw!
Corin and her children arrived just as we were finishing up lunch.  I busied myself with finishing up the lunch dishes, and Dani put the finishing touches on our goody for the day (more on that to follow), as the boys greeted the little ones as they came in through the door.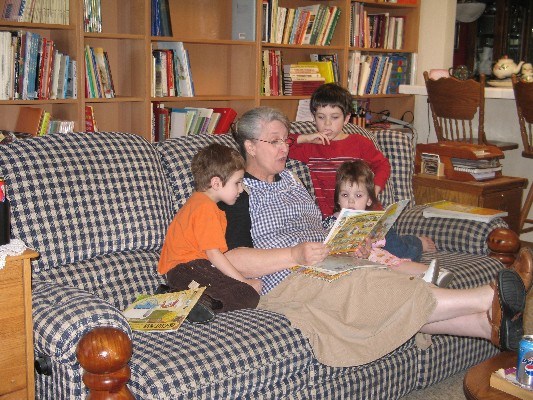 By and by, the four year old reminded me that the reason they were there was for me to read them some books, at which time he simply pulled a handful off the picture book shelf and handed them to me!  There were five picture books, and we settled in to read together.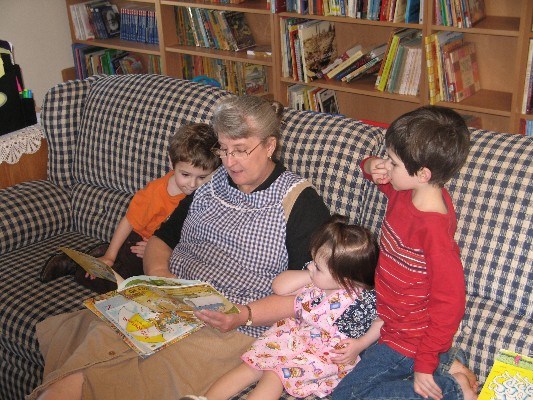 It just so happens that he chose a couple of my very favorites in the mix, along with a couple of others that I also take great joy in.  (I'll try to do a quick post tomorrow on the books we read aloud today.  I don't always do this, but there were some worthy of mention.)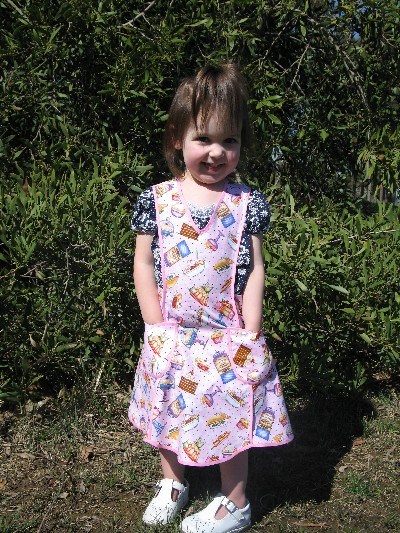 I tied my two year old granddaughter's apron on her, and she was deeeelighted with it!  And she looked incredibly cute, too!  What a little sweetie pie!  Corin was busy feeding the baby her lunch, so Dani took Little Miss Feisty outside for a few pictures in her new apron.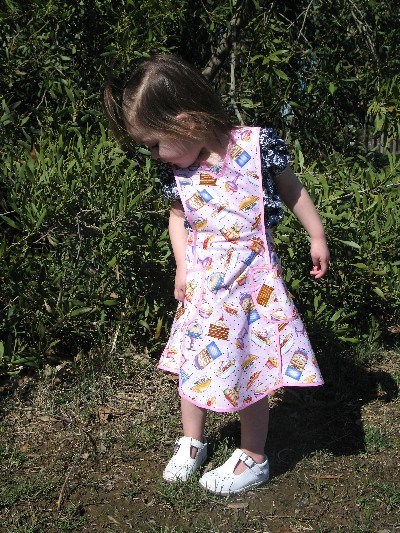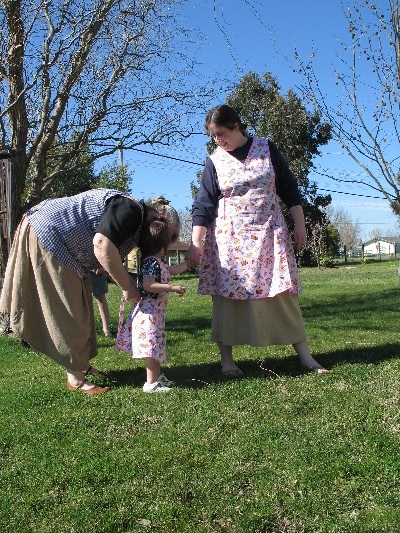 Later on, we arranged for a mother/daughter photo shoot.  Apron bows were tied just so and the girls, treasures both of 'em, posed for Dani's camera.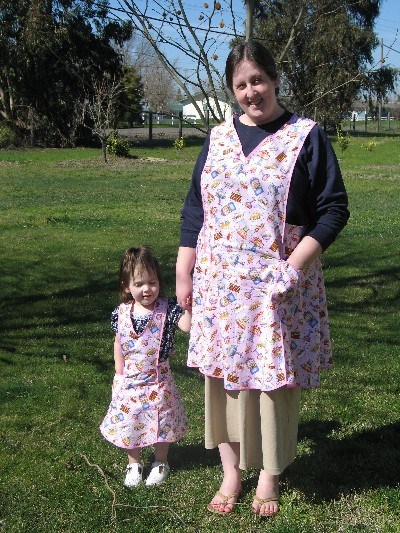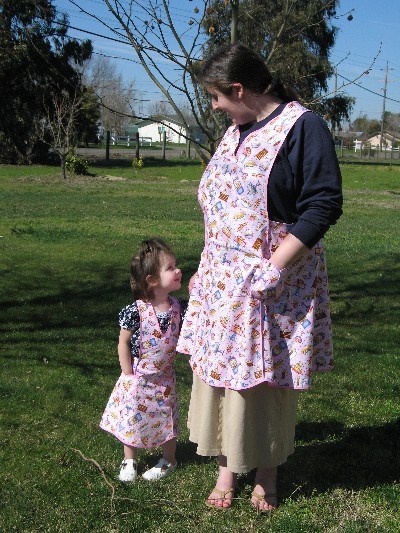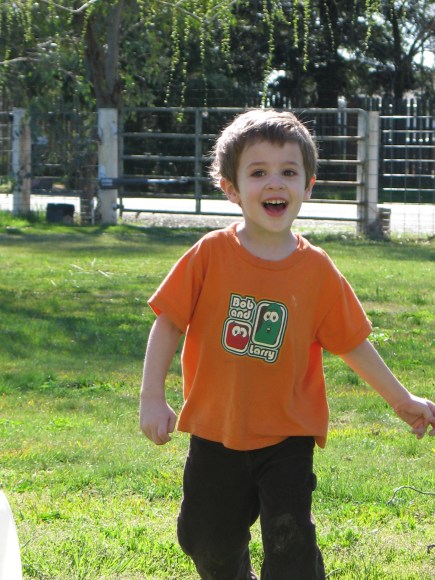 The afternoon was full of sunshine, outside play, and lots of laughter.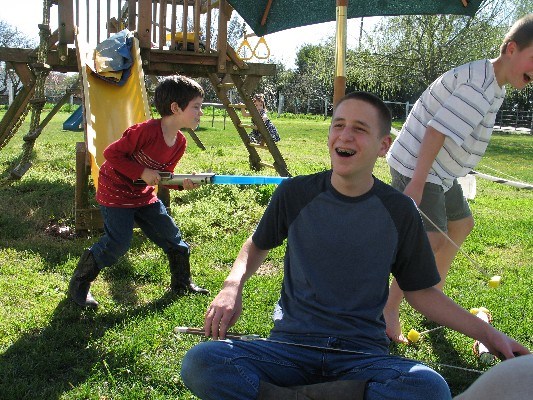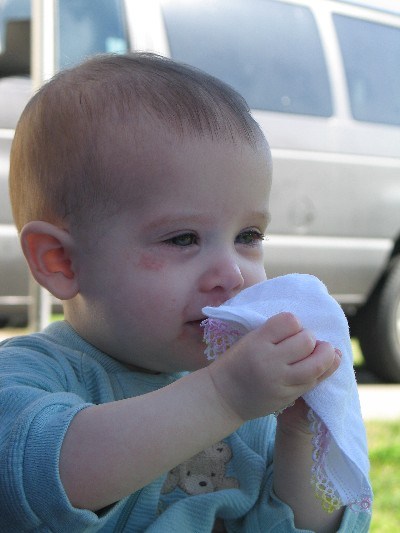 My little Pixie Girl had a bit of a runny nose.  Okay, okay, she'd been crying and was a big mess!  I went into the house and brought out one of my linen hankies with tatted edging for her to wipe her wee little nose on.  She played with that hankie all afternoon!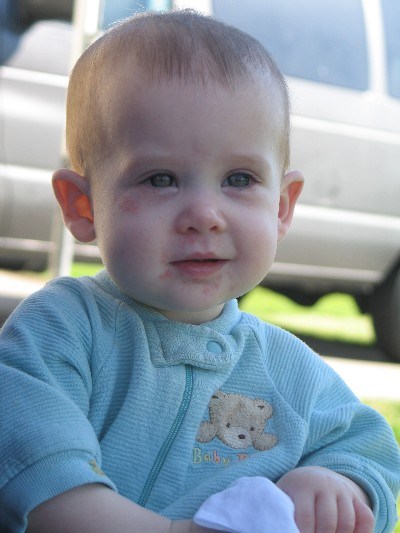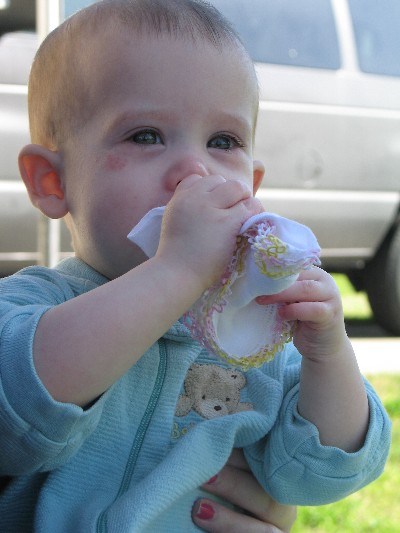 Mmmmmm, Grandma used her Lavender Linen Spray when she ironed this hankie!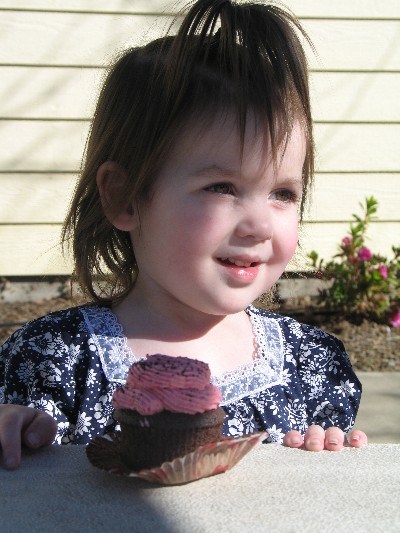 Dani brought out the goody she had made for us to enjoy.  Chocolate cupcakes frosted with her very own Raspberry Buttercream Frosting, with just a light sprinkling of black sugar on the tops.  Can I just tell you now how good these were?  Does this not look scrumptious?
And taste?  Oh, my my my my………….these little taste testers tell it all, don't they?   The taste of the flavor of the raspberries was incredible, yet not overpowering.  And you know Dani, she's such a sweety pie, that she's sharing her original recipe for Raspberry Buttercream Frosting on her blog.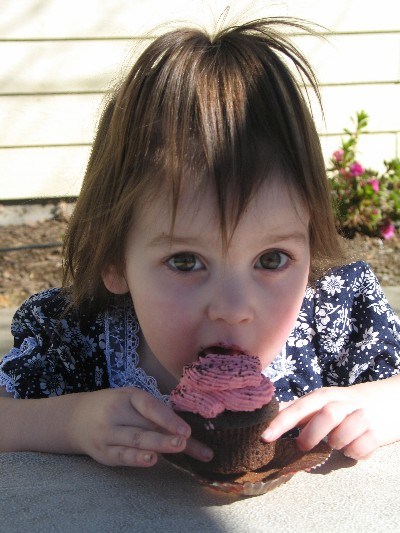 Well, the day ended much too soon.  It always does.  My son-in-law needed to be picked up from work, and it was, afterall, after 4:00.  We cleaned up the yard, I hugged and kissed the treasures that were leaving, and the treasures that were staying helped haul stuff back into the house.  With Corin and Miss Feisty's aprons done, I spent an hour or so before fixing dinner to work on Dani's.  Hers is of the same great fabric, but is made from our old, standby "Nora" apron pattern.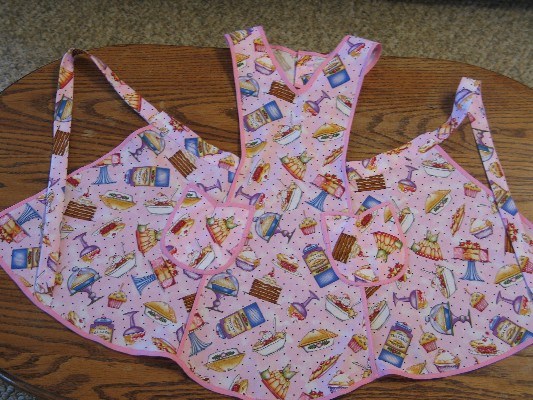 The mother/daughter aprons were made from Simplicity #4692, view A.  I've made this apron once before, stitching one up in a cute retro print for Dani.  The apron itself is absolutely beautiful.  The style, with the princess lines and scalloped hemline, is very feminine.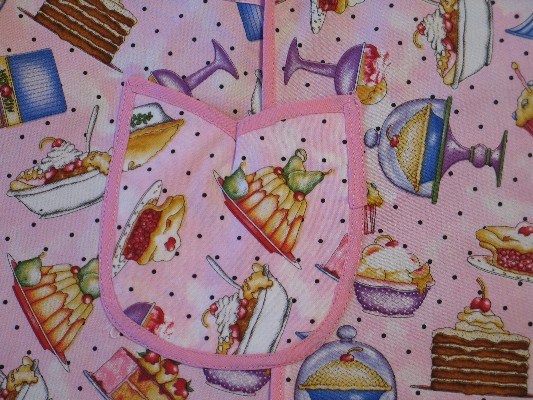 The detailing, like the little tuck that accentuates the pockets,
and the nicely finished waistband, make it a lovely finished garment.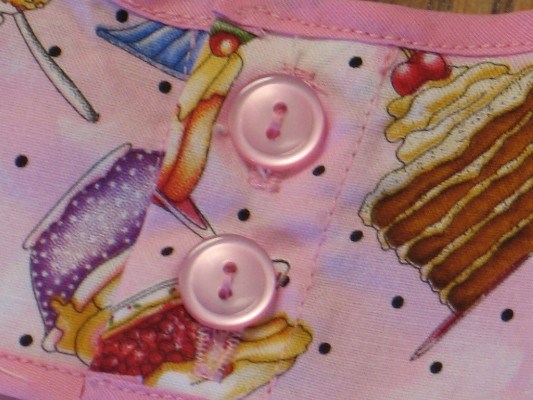 However, the pattern calls for using Velcro to fasten the neckband.  Ugh!  Velcro!  Velcro has its uses, but fastening the neckline of an apron just doesn't seem to be a good use.  I have, instead, finished mine with buttons, and I thinks this is a far better, and much nicer, alternative.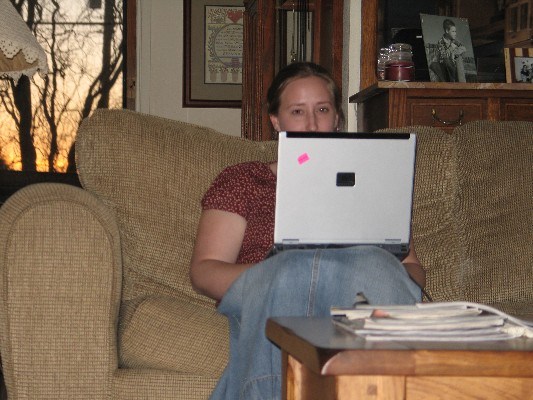 Oh, we had an incredibly wonderful day!  The weather was lovely, and today's high was about 71°.  The front grass was still wet and muddy, but the children didn't mind. Well, the four year old minded, but we were able to talk him out of minding too much.  Dani has a lovely recap of the day, told in her own wonderful style, that you might enjoy (and don't forget the wonderful Raspberry Buttercream Frosting recipe!).  You can see the glorious sunset we had in the background, through our open front door!
God bless you as you look well to the ways of your household!
Proverbs 31:27