This takes just a bit of time to put together, but it is very tasty and is a nice variation on meat loaf. Nothing exotic here, just everyday ingredients from your pantry and fridge. The sauce forms a beautiful, tasty glaze on the outside of the roll. This main dish will serve 8 – 10. For our family that's enough for dinner one night and lunch the next day! Enjoy!
BBQ HAMBURGER ROLL UP
2 lbs. ground beef
1 teaspoon seasoned salt
1/2 teaspoon garlic pepper (or plain black pepper)
1 egg
1/2 cup bread crumbs
1/2 cup smoke-flavor BBQ Sauce
1/2 cup catsup
2 cups peeled and grated carrots, lightly packed (about 6 small – medium sized carrots)
1 cup bread crumbs
1/2 cup dried parsley flakes
1 teaspoon salt
3 eggs, lightly beaten
1/2 cup very hot water
1/2 cup milk
1/4 cup flour
Mix ground beef, seasoned salt, garlic pepper, egg and 1/2 cup bread crumbs together lightly.  Press meat into a 12″ x 14″ rectangle on a piece of waxed paper.  Mix BBQ sauce and catsup together.  Brush about 1/4 of this mixture over the meat.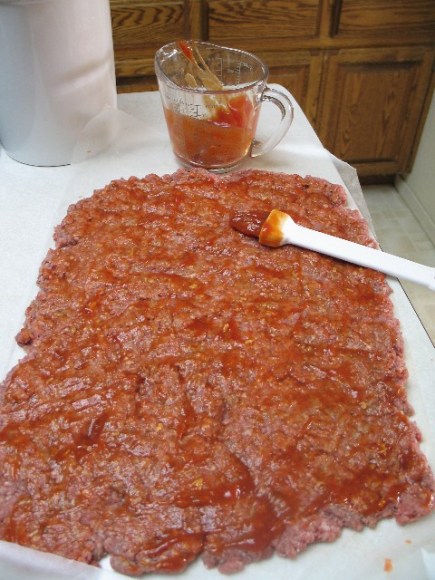 Combine carrots, bread crumbs, parsley, salt and eggs in a bowl.  Spread this mixture evenly over the meat.
Working carefully, roll up jelly roll fashion, taking care to repair any tears in the meat as you go.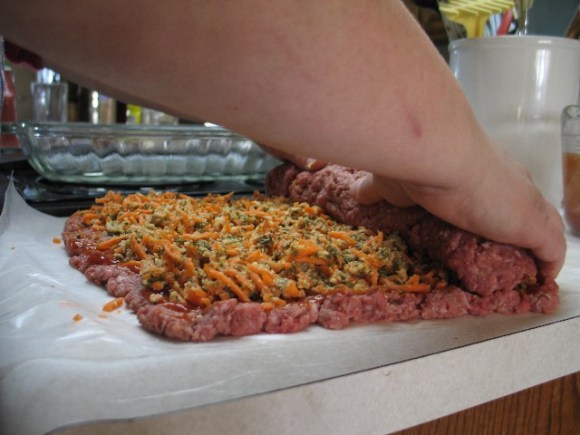 Keep rolling…….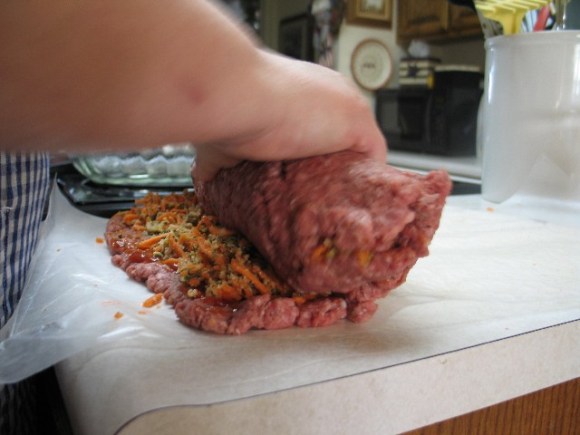 Place the roll in a lightly greased, shallow baking pan with the seam side down.  Brush top, sides and ends of roll with the BBQ sauce mixture.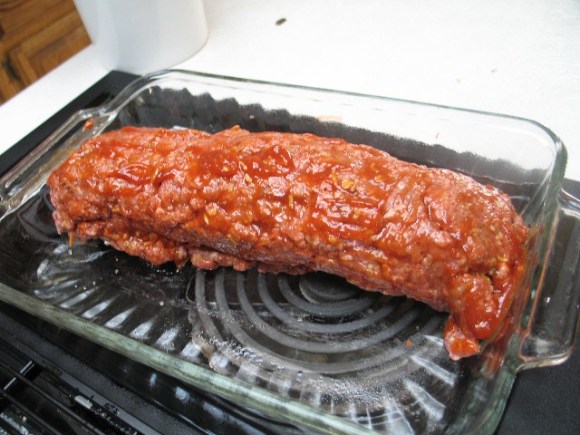 Bake at 350° for 1 hour and 10 minutes, basting the roll with the BBQ sauce mixture three more times during the baking. Remove from pan and keep warm.
Pour the very hot water into the baking pan and use a spoon or spatula to loosen the baked on pan drippings.  Begin heating the drippings.  While they heat, stir the flour into the milk, blending well, and slowly pour into the drippings, stirring constantly to avoid lumps.  Cook and stir until mixture thickens into a gravy.  Add salt and pepper, if necessary.
Slice the meat roll into pieces about 1″ thick, and drizzle with the gravy.  (Letting the meat roll stand while you make the gravy is essential, as it lets the meat set up a bit before slicing.)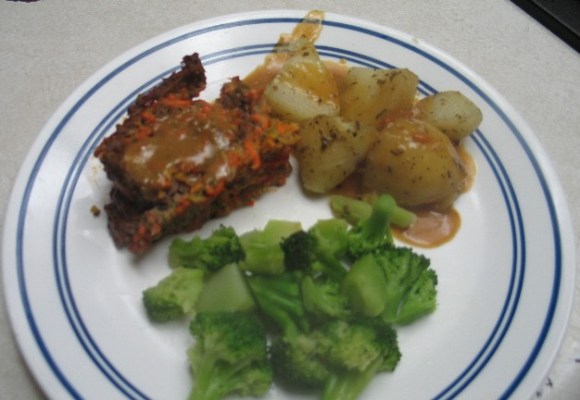 Now, don't panic if your roll tears a bit during baking. It just might! It will still taste just as good even if it's not quite as pretty as you'd like it to be.