Where to even begin?  I know, we'll do it like this: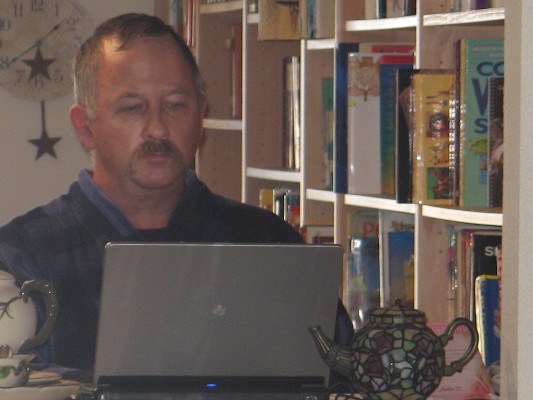 This one is sick.  He feels awful and he's been running a steady fever of about 100.4 for three days now.  Mr. Steady, that's my man!!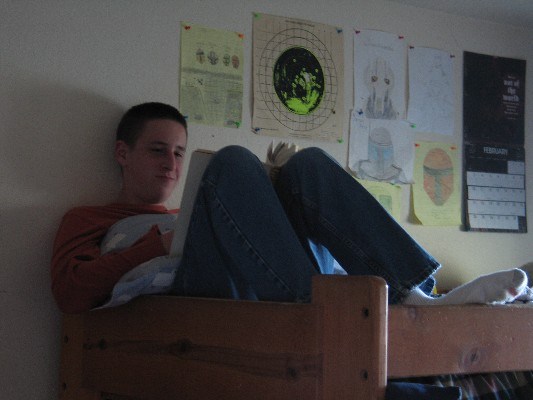 This one feels pretty good.  But who can blame the kid for hanging out on the top bunk of the bedroom to do his school work?  In fact, as soon as the day's school work was behind him, he high tailed it out of here to work at the neighbor's house planting trees.
This one had me worried just before lunch time.  She said she was okay, but that she felt tired.  Uh-oh………………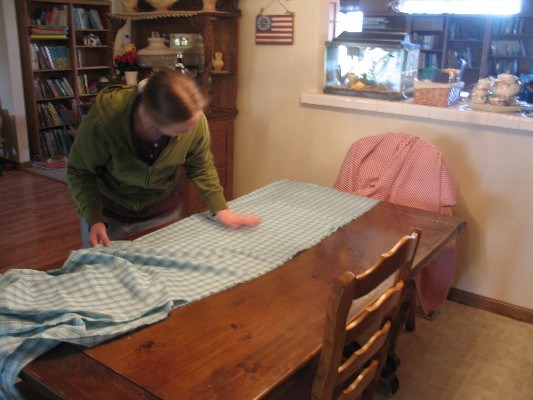 but by mid-afternoon she was up and about and feeling her normal self.  In fact, she got busy on her next sewing project (and her first attempt at doing some minor pattern alteration).  I wish this picture showed how pretty this fabric is…it's a beautiful turquoise blue and orange plaid.
Which bring us to this one.  The face says it all, don't you think?  He has started what, for him, is round three.  He's running a temp of about 102.5.  He feels horrible.  He looks horrible.  I was looking for ailments like sore throat, head ache, upset tummy, that sort of thing, so I asked him, "What feels bad?"  His answer was, "All of me."   Oh, baby!!!!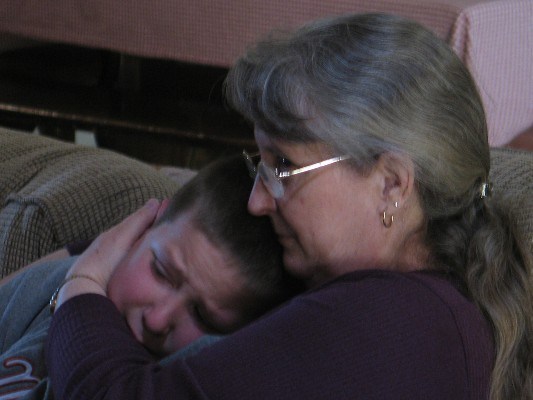 Early this afternoon the realization that it was Wednesday, and that we would once again miss our Thursday afernoon with Corin and the grandbabies brought about a round of sad, hot tears.  My poor guy!  Between Corin's kids being sick, and our being sick, we've missed weeks of our Thursday library days now.  Uncle Will, only three years older than my oldest grandson, loves their visits.  Well, we all do, but they are especially dear to him.  His heart was broken at the realization that we'd miss yet another.  I guess spending last Thursday with them at the hospital wasn't the same thing.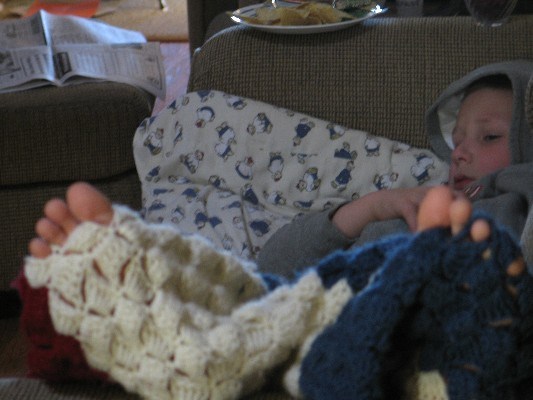 But that boy that can break my heart, can make me laugh, too!  Check out those toes!!!!!!  Yes, that's one of the throws that I just got all washed up that he has his toes poking through!!  Cracks me up!  That's also his untouched lunch on the arm of the loveseat.  And yes, I know, he's not to be all bundled up with a fever.  He's not…he just had that throw over his bare feet….with the toes exposed.
As for me, I think I'm doing better.  The cough, of course, lingers, but my asthma is bothering me less everyday.  Monday night, though, I had a fairly bad episode.  That's when Charles Dickens tried to kill me.  All of my sickies were in bed.  Dani and I were up, reading quietly, before we headed to bed.  She was finishing up Mornings on Horseback
and I was stretched out on the couch reading The Pickwick Papers
.  Do you know this book?  It is absolutely laugh out loud funny.  This is NOT a book to take with you while you are waiting in the doctor's office.  You will laugh right out loud.  You won't be able to help yourself.
So, there I was.  Reading.  I read through an especially funny part and I laughed.  Out loud.  Dani smiled and asked what had just happened.  I started to try to tell her…..but the laughing made me cough.  And the more I coughed, the more I laughed.  Then I coughed more.  Then the asthma kicked in.  Oh, boy!  heeheehe, I'm still laughing about that part of the book, though.  Which makes me cough, which……..heeheehee
A lovely couple from church came out yesterday and brought us a wonderful Chicken Enchilada Casserole, green salad and a superb lemon cake.  Oh, my, what a treat.  We are blessed to be part of such a wonderful, caring church.  We enjoyed the casserole for dinner last night, and most of us had some reheated for lunch.  With so many under the weather, I believe there is enough for another lunch.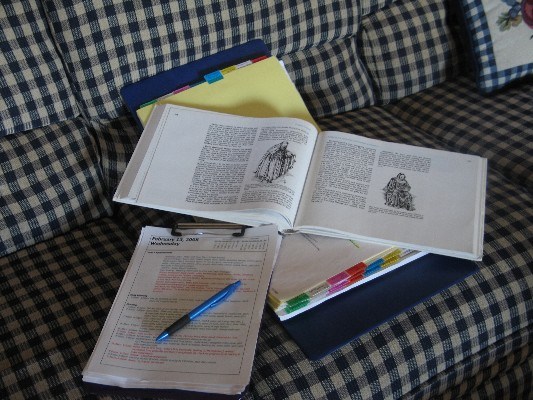 I was up to keeping up with most of the daily stuff today.  Three loads of laundry were washed, dried, folded and put away.  I puttered about and got the kitchen cleaned up nicely after lunch, and I worked a bit on some supplementary reading for Aaron's history course for the coming months.
Dani cleaned out the schoolroom closet for me one day last week.  We brought several of the puzzles out and put them on the bookshelves, and we also turned an available lidded basket into a toy box for the younger grandkids.  (The olders, boys, just play with Will's toys.)  In cleaning the closet she emptied out a couple of Sterilite tubs
.  I use these for housing my boys' sets of toys.  They're perfect!  The stack well.  They are clear so you can see what's inside.  They're sturdy.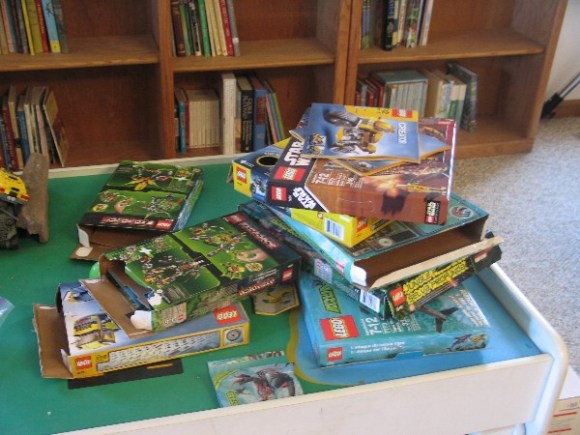 Will received several sets of Legos for Christmas and his birthday, and they've not had a real home.   They've been left in the schoolroom on the train table, fairly neatly,  but they needed to be put away.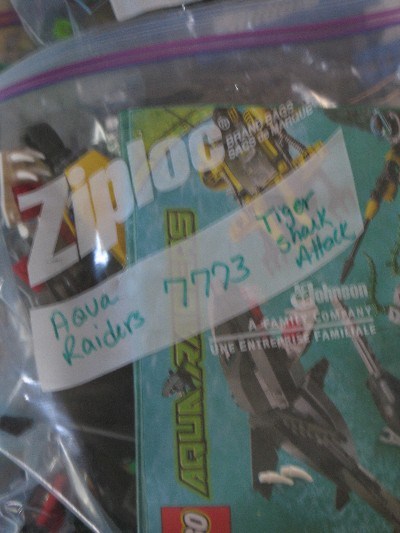 He is very particular, that little OCD boy of mine, about having his sets all put away with their pieces all in one place, and about having the instructions included.  I've found the best solution is to use large Ziplock bags to house each individual set.  I can write the name or number of the set on the bag.  The instructions fit in the bags, too.
If we're careful to press all of the extra air out of the bags before sealing them, we can place several sets in each Sterilite tub and then they stack nicely in the closet.  With the newly emptied tub from the schoolroom closet, I worked on doing just that today for him, poor, sick, little boy.  My husband helped me bag up all of the sets, and we were sure to scour the boxes for those last, little bitty pieces, that make the difference between a complete set and a not complete set.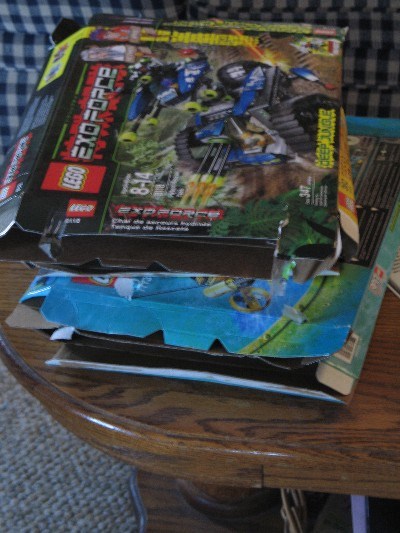 We tore down and flattened the boxes and they are all now deposited in the recycling bin.
Oh, not all of the dusting and such is caught up.  My bed has not been made for days because someone keeps crawling back into it!  I've been careful, though, to pull back the covers in between times so that the bed can air out, and I smooth the bottom sheet and fluff the pillows a bit.  Most days I've opened up the bedroom windows, too, but we have a blustery, cold north wind today so the house is closed up.
We are concentrating on getting better.  With Will's new fever I think we have yet another virus that has worked its way into our home.  Everyone is drinking plenty of fluids and taking it easy and praying that those that are now well will stay that way.  I am, quite truthfully, happy to have my family all here, sick though they are.  I can feel fevered brows, and kiss hot little heads.  I'm happy to check in on Aaron and Dani, who are going about their normal activities, and see that they are well.
Dinner tonight will be turkey bacon and German Pancake.  I'm hoping that having a yummy favorite breakfast-for-dinner will help some of my sick ones to feel better.
God bless you as you look well to the ways of your household!
Proverbs 31:27