Not potatoes.  Not pertaters.  Not even 'taters.  To my dad, they were puhtaytuz (puh TAY tuz).  He hailed from Hidalgo, Illinois.  Perhaps that pronunciation came from there.  Perhaps it came from the fact that, born in 1907, he attended school only through the 6th grade and then began working to help support the family.  The eldest son of 13 or so kids (he didn't remember exactly how many were born), his father was away from home more than he was there when my dad was growing up.  My dad's name was Fred.  Not Frederick, or Fredrick, just Fred.  No middle name, either….just Fred.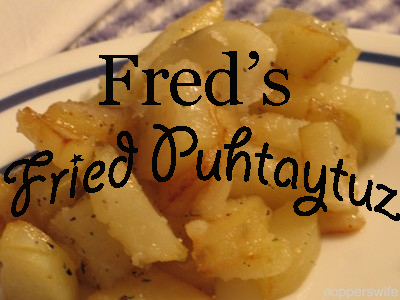 My parents both worked all of my childhood.  Dad at various jobs, ending with a couple of decades in business for himself painting houses; and my mom worked as a meat wrapper, before the days of automated meat wrapping machinery.  Mom's days off were split, one mid-week and the other on Sunday.   Those were the days when businesses were closed on Sunday.  I wonder, how many of you remember that being the "law" of the land?  Mom's job kept her at work until 6:00 p.m., but Dad's jobs usually had earlier hours.  Sunday Mom always cooked a big dinner – a roast or chicken and all the trimmings.
On her one day off during the week, Mom usually made something in the pressure cooker – chicken and dumplings, beef and homemade noodles, corned beef and cabbage, even tongue.  Oh stop it!  Have you tried tongue?  It's very similar in taste to corned beef, just tougher.  In all honesty, I've never been able to bring myself to buy it at the store.  It looks like exactly what it is – a big old nasty cow tongue!  Mom always started cooking it while I was at school, so I never saw it uncooked and/or in the package.  Ignorance, truly, is bliss in cases like beef tongue.
The other nights, the nights my mom worked until 6:00, Dad fixed dinner.  Now, you might think that given all of those years and years of dinnertime experience that he would have become quite a chef.  Not so.  Since Mom wrapped meat, she was frequently able to pull the marked down steaks out of the counter before the store opened in the morning, put them into the big coolers where the beef hung, purchase them after work and then stock our freezer at home.  Porterhouse steaks.  T-Bones.  Top Sirloin.  Steak, you see, became the staple of our diet.
Dad would broil steaks for the three of us, prepare a simple salad with iceberg lettuce cut into bite-sized cubes, and make a big skillet full of fried potatoes.  The only variation was the type of steak being cooked and the addition of tomatoes to the salad in the summer.  This was our dinner three nights each week, with a dinner out on Fridays and take out chicken brought home the other night.
Dad fried the potatoes the same way every night.  It started with a dollop of bacon grease out of the pitcher mom kept in the fridge, and ended with a generous sprinkling of table salt. When I make fried potatoes for my family, I always think of my dad.  Though fried potatoes will never qualify as a completely "healthy" dish, I do make them in a bit more healthy fashion than my dad.  Just a bit.  My children, and husband, love them.  Even though I've changed the fat that they cook in and the seasonings, I still prep and cut the potatoes just like Dad did.  I can't imagine doing it any other way.
Copperswife's Fried Potatoes (in memory of Fred's Fried Puhtaytuz)
 One medium sized potato for each person you'll be serving, plus, perhaps, one for the pot.  You know about the "one for the pot" rule with potatoes, right?  In any potato dish, use one medium potato per person; but add one extra for every four or five people.  For my family of five, I always use six medium size potatoes.  If there will be ten people for dinner, then I will prepare twelve potatoes.
Potatoes (see rule above for how many)
Canola Oil
Garlic Salt
Onion Salt
Black Pepper
Peel potatoes.  I peel mine fairly clean, but a bit of skin here and there won't hurt anything.  Yes, yes, I know that leaving the peels on would be healthier, but I like to do them like Dad did, so the peels come off.
However, I do not toss the peels into the garbage.  They are added to the compost bucket (along with the day's coffee grounds, tea bags, egg shells, vegetable peels and scraps, etc.).  The compost bowl may not be my favorite thing in the kitchen, but I LOVE the beautiful, rich, wonderful compost that it will become in less than a year, so it stays.  Okay, the picture is gross, but the end result is wonderful!!!
 Add a generous amount of Canola oil, about 1/4″ or so, to a skillet and turn heat to medium-high.  When I use my electric skillet, I set the thermostat to 350°.  My favorite way to fry potatoes is in a cast iron skillet, but the electric skillet is a close second.
While the oil heats, cut the potatoes in half length-wise.  Cut each half in half lengthwise again.
 Hold the two long quarters together and slice.  My slices are 1/4″ or so thick.  They are not all of equal thickness.  You want to have some thinner and some thicker, as it gives a wonderful textural variety to the finished dish.  Trust me.
 Carefully slide the sliced potatoes into the hot oil.  It will splatter, so be careful.  You are remembering to wear an apron when you cook, aren't you?
 With a spatula, stir the potato slices around a bit until they are evenly distributed in the oil.  Let the potatoes cook over medium-high heat, stirring from time to time to keep them cooking evenly and to keep them from sticking to your pan.  As you stir the potatoes, be sure to turn them over once in awhile, too
.Once the potatoes begin to brown (about ten minutes or so), turn down the heat to medium, cover the pan and continue cooking.
You will want to be sure to stir and turn them once in a while.  Continue cooking until they are done (about another ten minutes).  The thin slices will be very soft, and the thicker slices tender.
Sprinkle the potatoes generously with garlic salt, onion salt and several turns from your black pepper mill.  Stir to distribute seasonings evenly, drain off grease and serve.
 My husband likes to eat them with ketchup, but I prefer them just as they are. These are a great side dish to all-American meals like meat loaf, hamburgers and, of course, steaks!