And it's not really "MooBockOink".  In reality, you must make the noise of a cow, a chicken and a pig, in that order, and in rapid succession.  Got it?  Corin's kids got it.  We had tons of totally allowable snorting at last night's dinner table because, you know, they all had to say "MooBockOink" a bunch of times, with the emphasis on the pig snort at the end.  What a hoot!
My girls came up with the name for this dish a loooooooong time ago in the way that only children can.  I have no recollection of where this recipe came from, but it might have been one of my mom's.  Maybe.  A better name, perhaps, would be Rolled Chicken Breasts. Each chicken breast is layered with two slices of dried beef and a slice of bacon, then rolled. The rolled chicken breasts are then cooked in a creamy onion-mushroom sauce, and topped with almonds.  This is a wonderful company dish, though it can be a bit pricey for a crowd.  I've served it for a small get together of couples by serving a first course of green salad and then preparing each plate with a nice serving of my own rice dish, topped with a Rolled Chicken Breast, and a bit of sauce spooned over this, with a side of a brightly colored vegetable (such as steamed broccoli), and a dinner roll.  I've prepared this dish for a crowd (by tripling the recipe) and served it buffet style.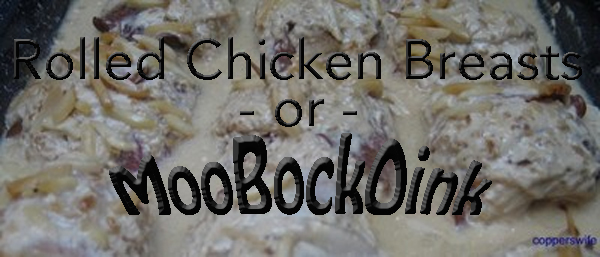 The best part of all is that this dish cooks very slowly in the oven, which means that you can either make it in the afternoon and then spend the rest of your day preparing for your guests (or reading a book), or you can prepare it Saturday evening, pop it into the oven as you head out the door for church Sunday morning, and bring guests home for an incredible Sunday supper.
So, without further ado, I give you the recipe for MooBockOink!
MooBockOink – or – Rolled Chicken Breasts
10 boneless skinless chicken breasts
1 jar dried beef slices
10 strips of bacon, uncooked
1 envelope dry onion soup mix
1 can cream of mushroom soup
1 cup sour cream
1/2 cup cooking Sherry (optional, but adds nice flavor)
1/2 – 1 cup sliced or slivered almonds
Place 2 slices of the dried beef on top of each chicken breast.
Lay a strip of bacon over all.
Roll the chicken breast so that the slices of beef and bacon are on the outside.  Secure with a toothpick.
Place the rolled breasts in a 9 x 13 baking pan.
 I had to use a 10×15 pan for the ten pieces last night.   They were big pieces!
In a bowl, combine the dried onion soup mix, the cream of mushroom soup, sour cream and the cooking sherry .  Whisk to combine.  Pour over the rolled breasts.
 Sprinkle the sliced (or slivered) almonds over the top.  Cover with foil and bake at 250° for four hours.
Serve over rice, and spoon the sauce over all.  My Chicken Rice recipe works very well with this dish.