I have a small cookbook.  There are only a couple of dozen recipes in it, but they were all written out by my mom.  I'm sure her intention was to fill this little recipe book with all of her wonderful recipes, some of which she was famous for; but she never finished the task.  I love having the ones included, though, and I love seeing my mom's handwriting on all of the pages.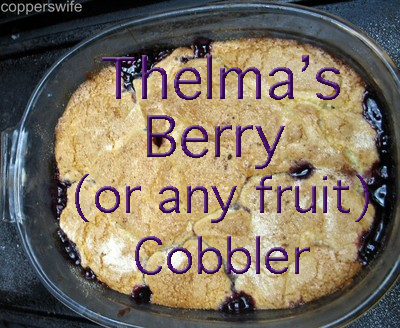 This cobbler recipe is one she started making after my husband and I were married.  I'm not sure where she found it, or if it might have been one she had from her own mother.  I'll never know, now, of course.
I love having a yummy, basic cobbler recipe that can be used for almost any fresh fruit, and that can easily be adapted to use with frozen fruits.  We enjoyed a blackberry cobbler last night, but I've used this with apricots and peaches, too.  Yum!
Thelma's Berry (Or Any Fruit) Cobbler
(Just as written out by my mom, with my notes in parenthesis…like this)
Mix together in a medium saucepan:
1/4 cup sugar
1/4 cup brown sugar
1 Tablespoon cornstarch
Stir in:
1/2 cup water
Cook and stir until thickened.
Add:
1 Tablespoon lemon juice
3 cups fresh fruit* (berries go in whole, but apricots would be halved and peaches, apples and pears would be sliced)
Stir to combine.  Put into a buttered, two-quart baking dish. (Butter it really well!)
Mix together in mixer bowl:
1 cup flour (all purpose, or whole wheat pastry flour  We prefer the texture given by the whole wheat pastry flour.)
1/2 cup sugar
1 1/2 teaspoons baking powder
1/2 teaspoon salt
Add:
1/2 cup milk
1/4 cup butter, softened
Beat well (with mixer).  (Mixture will be very thick.)
Spoon over fruit mixture.  (Don't spread it evenly, you want places for the fruit to bubble through.)
 Sprinkle with 2 Tablespoons sugar and 1/4 teaspoon nutmeg. (Some cinnamon might be nice, too, but I like it with just the sugar and nutmeg)
 Bake at 375° for 40 to 45 minutes.  (Make this up and put it in the oven just as you sit down to dinner, and enjoy the aroma while it bakes.. This is super good served while it is still warm.)
*If using frozen fruit, add more cornstarch and bake longer.  (I have to giggle, that sounds just like my mom!)