The bread machine is one of my most faithful servants.  Next to my washing machine, I think my bread machine is my favorite appliance.  Oh, don't get me wrong, I certainly do enjoy the dishwasher, but I don't mind hand washing dishes either.  The clothes dryer gets a lot of use in these damp, foggy months, but it puts its feet up and rests when I can use my clothes line.  All things considered, I'd really hate to lose my bread machine!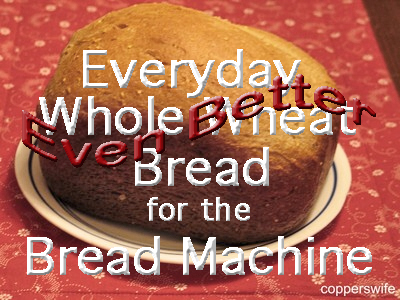 Knowing how to make bread without a machine is, of course, a wonderful skill to have.  We do know how to make our bread by hand, and we have some recipes that simply must be made that way.  My days, like yours, are blessedly full.  The Lord gives my hands much to be busy about each and every day.  He also, through His grace and bountiful provision, sends many things my way that make that work easier.  I will tell you honestly, if I did not have my bread machine during this season of my life, my family would not be enjoying homemade bread.  However, since I have the machine, we are able to make at least one loaf of homemade bread each and every day.         
My favorite bread machine trick is to watch the time so that I can pull the paddle out of the bread just before the final rise.  This lets us avoid having the big, gaping hole that the paddle leaves behind when the bread is allowed to bake with the paddle still in the machine.
We have a nice variety of recipes for our bread machine, and I'll share those that are my own with you from time to time.  However, many of our favorite bread machine recipes come from a wonderful series of bread machine cookbooks
 by Donna German.  I highly recommend the series.
The following recipe is the bread we make most often.  The recipe is posted on the side of my fridge, adjacent to my baking center, for easy reference, though I have the recipe memorized.  I've shared a similar recipe in the past, but I have since experimented a bit with the recipe and added the seeds.  I much prefer this bread.  It has a wonderful texture, slices nicely and freezes well.  It's great for sandwiches, toast, or just spread with butter.  William loves to eat the heel all by itself.  The bread is made with whole wheat flour, wheat germ and a yummy blend of three healthy seeds.  It's sweetened with honey.  I'm convinced that it is the single egg that makes this recipe so wonderful.  Give it a try, and let me know what you think.
Copperswife's Even Better Everyday Whole Wheat Bread For the Bread Machine Recipe
1 cup warm water
1 Tablespoon millet
3 Tablespoons olive oil
3 Tablespoons honey
1 egg
1 teaspoon sea salt*    (* table salt is fine)
3 Tablespoons wheat germ
1 1/2 Tablespoons sesame seeds
1 Tablespoon toasted golden flax seed
3 cups whole wheat flour
1 1/2 teaspoons yeast
Add the ingredients to the bread machine pan in the order given.  Set machine for the whole wheat setting.  This recipe makes a 1.5 pound loaf of bread.