The 4th of July is right around the corner, just one month away.  I spent a few minutes today pulling our favorite Independence Day books from the shelf in anticipation of our pre-holiday reading.  Here are our favorites:


The Fourth of July Story
, by Alice Dalgliesh.  We read this one at least once every year.  A bit more than a picture book, but a terrific read aloud for those about 5 or so and up.  Marie Nonnast's illustrations are charming and fitting with the time period.  The author does a fine job of giving a brief history of how the thirteen colonies began and how and why our nation declared its independence from England.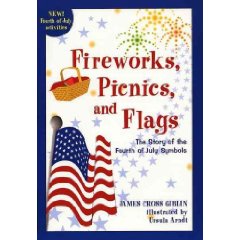 Fireworks, Picnics, and Flags: The Story of the Fourth of July Symbols
, by James Cross Giblin is a fun book!  The author begins with a brief introduction to the history of Independence Day, and to the holiday itself, before examining some of the symbols that we correlate with the 4th of July.  Our flag, fireworks, picnics, music and songs, Uncle Sam and several other symbols and traditions of the day are each given their own chapter to tell their story.    A fine read aloud, a chapter at a time, to younger children, or perfect independent reading for about ages 9 and up. This edition
includes several fun 4th of July activities, too!
I absolutely love Sam Fink's remarkable Declaration Of Independence
.  With only a couple of introductory pages beforehand, Sam Fink gives us the entire Declaration of Independence, inscribed in short phrases which are lavishly, though whimsically, illustrated.  I want my children to know that they can count on history when it is learned from source documents.  This volume gives even your younger children exposure to a source document in a form that they will enjoy.  Suitable for all ages!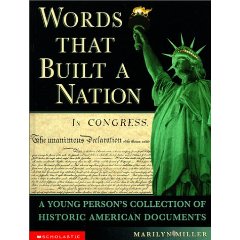 While we're mentioning source documents, I'd like to mention Words That Built a Nation: A Young Person's Collection of Historic American Documents.
Though not truly a 4th of July book, this Scholastic publication includes the complete text to thirty-seven documents considered important to American history, including the Declaration of Independence.  Beginning with the Mayflower Compact and continuing through to Ronald Reagan's Farewell Address, Words that Built a Nation includes a lot of good information.  Please note:  I have not read all of the notes that accompany the source documents written by author Marilyn Miller.  We keep this book handy, though, for quick reference to important historical documents.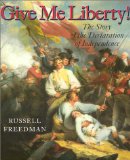 Russell Freedman's Give Me Liberty: The Story of the Declaration of Independence
is a terrific look at the history leading up to Independence Day, the writing of the Declaration of Independence and the impact of that document.  Written for middle grades, say about 5th and up, it's a terrific basic look at the Declaration of Independence suitable for older readers,  as well.



Summer will soon be here, and Independence Day fast on its heels.  This is the perfect time for you to learn more about the founding of our country yourself.  Pulitzer Prize winner David McCullough has become a favorite in my home for his brilliant biographies and historical books.  Pick up a copy of  1776
this summer and learn what you missed in high school or college!  Better yet, read it together with your high school age kids!

I hope you'll find some of these suggestions helpful as you watch for books for summer reading, pre-holiday 4th of July reading, or for building your own home Heritage Library.