I like Bundt cakes. They are pretty and decorative and need no fancy adornments. A drizzle of a simple glaze is all that's needed for most Bundt cakes to be company perfect.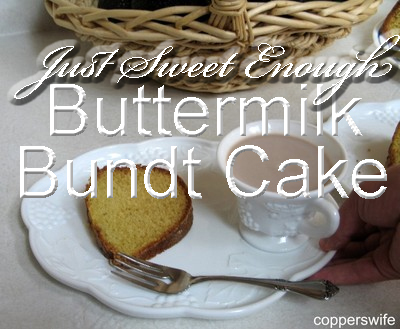 I've made this Bundt cake for years. It's not too sweet. In fact, it's just sweet enough to stand on its own legs for a yummy family snack cake or tea cake without any added glaze or icing. Sturdy. Not crumbly. Moist. This keeps well at room temperature, but cover it to keep it from drying out. Mine is nice and yellow because I use the eggs from our own free range hens.
If you must have this a bit fancier, you can top it with a lightly sweetened lemon or chocolate glaze. However, I like it best simply plated, unadorned, and left on the counter for any passing family member to help themselves to a slice.
(If you click on the links below, and then make a purchase, some of them may put a few pennies into my pocket. Of course, there is no additional cost to you. I am always grateful to those of you who choose to bless me this way. You can read about how I spend those pennies, and more about how I earn them, in my disclosure policy.)
Just Sweet Enough Buttermilk Bundt Cake
2 cups sugar
1 cup shortening (Yeah I know, but trust me, don't substitute)
4 eggs
4 Tablespoons Buttermilk Powder
**
1 cup water**
1/2 teaspoon baking soda
3 cups flour (all purpose or whole wheat pastry flour)
1 teaspoon vanilla

     Preheat oven to 350°.  Grease and flour a Bundt Cake Pan

In mixing bowl, cream together the sugar and shortening with electric mixer.  Add remaining ingredients and beat well.  Pour into prepared Bundt pan.  Bake at 350° for one hour.  Remove from pan and cool on wire rack.  Place cooled cake on a pretty plate.  

     **You may, of course, substitute one cup of fresh buttermilk for the buttermilk powder and water.  The Buttermilk Powder
 is a money saving staple in my home.