When one of our favorite markets advertised avocados for $.39/each last week, Dani and I knew we had to buy a bunch. We bought a dozen or so on our shopping day, and Copper went back on one of his days off and bought 18 more. We love avocados, and we love guacamole!
Dani processed the first bunch of avocados into Guacamole, smooshed it into freezer bags and we knew we'd found a way to have yummy guacamole through the winter months without breaking the bank account.   
 Making guacamole for the freezer is just as easy as making a fresh batch.  I started this afternoon with those 18 avocados my husband purchased last week.  They were all quite hard when he bought them, but today they were just about perfect. 


The first step is to peel and pit all of the avocados.  I almost always reach for my mom's old "butcher" knife.  Truth be told, I own several knives that are much better.  My mom worked in a butcher shop for decades and she bought me top quality knives through the butcher supply salesmen when I got married.  When she passed away I brought her old, old knife home and it's become my favorite.  I love the smooth feel of the handle, and the way the handle's edges have rounded from the handling of two generations of women.  The blade still holds its edge well  and it sharpens easily.
      Next, I grabbed my handy potato masher and got to work smooshing the avocados.  If you're having a bad day this part might be quite therapeutic.  I've had a great day, though, so the mashing was just good exercise.  I like to have a few, small chunks of avocado in my Guacamole so I didn't over labor the mashing.  It's a messy job, though.  Of course, Dani, who has been away for a week now, called just as I was in the midst of this process.  That's okay.  She talked to her Dad while I worked and I called her later.  I love cell phones and free long distance. 








        If you stumble across a great sale on avocados, feel free to use your own Guacamole recipe for the freezer.  We all like it a bit differently.  Some folks add lemon juice to their Guacamole to keep it from turning brown, but I never do.  It never lasts long enough around here to turn brown!!  For the freezer, though, you'll want to add a bit of Fruit Fresh
.  That's the secret ingredient that will allow you to make Freezer Guacamole now and enjoy it in December.  I added about a teaspoon per cup of Guacamole.  I didn't measure the mashed avocados.  I guessed that two of my avocados, which were medium-sized, would be about a cup.  Eighteen avocados = 9 teaspoons of Fruit Fresh
, plus one more for good measure.   I added garlic salt and fresh ground pepper to taste.




     I added a splash of salsa to the bowl.  I like salsa in my Guacamole.  If you don't like it that way, don't add it.  I think it gives it a nice kick and I like the bits of onion and peppers in my Guacamole.

      I generally prefer Guacamole without sour cream.  However, if you use sour cream in your Guacamole, do NOT add it before freezing.  Sour cream does not always freeze well.  If you prefer sour cream in the Guacamole, I'd suggest you make up your recipe but omit the sour cream.  You can add it after you thaw the avocado mixture and just before serving.  That should work nicely.

     Taste the Guacamole and adjust the seasonings.  Taste testing is my favorite part of making Guacamole. 





     Mark several freezer quality plastic bags with the name of your recipe and the date.  I used quart sized bags because that's the smallest I have.  Pints would have been better. 

    Be sure to use the freezer quality bags so that the Guacamole doesn't freezer burn.  You'll also want to be sure the bags seal well.  Filling the bags with the Guacamole can be a messy undertaking, and I do not own one of those fancy bag fillers that holds the bag open and protects the seal.  Instead, I just folded the top part of the bag over to keep the seal clean.  That saves the messy job of trying to wipe those little grooves and edges clean later. 

     Spoon the Guacamole into the bags.  Lay each bag flat and carefully begin pressing the air out of the bag.  I generally seal the bag leaving just an inch or so open to release the air.  The more air you can remove from the bag, the less freezer burn and ice crystals you will end up with. 



     The flat bags take up much less space in your freezer, too.  Scatter them about in the freezer, if you have the room, until they are frozen, and then stack them.  They'll freeze faster that way, and the bags won't stick together either. 

     Call your favorite fifteen year old into the kitchen and allow him to use his fingers to scrape up the last bits of Guacamole to enjoy!  Ignore his protests when he discovers that ALL of the Guacamole is headed for the freezer.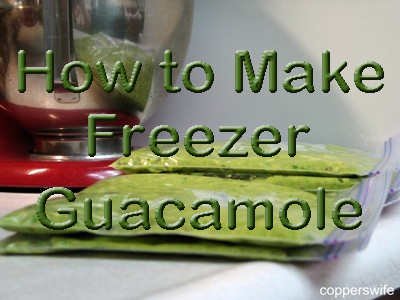 When you're ready to enjoy your Freezer Guacamole, thaw the bags in the fridge and use your hands to smoosh the bags from time to time to hasten the thawing and to remix anything that separates a bit in the defrosting process.  

     Today's yield was six bags of Freezer Guacamole.  Prep time, start to finish, including hand washing the bowl, cutting board and utensils I used, was about 30 – 40 minutes.