Chinese New Year, or Lunar New Year, is a fun celebration to observe with your kids.  I grew up in a city with a large Chinese population, and raised my daughters in an area filled with southeast Asian immigrants.  There was no ignoring Chinese New Year in our neighborhood!  Firecrackers exploded for days (and nights!) on end.  We frequently saw the crowds surrounding the lion and dragon dances as we drove through the local business district, and the sound of the drums always coaxed us to turn down the radio and roll down the car windows to listen.  Those were fun days!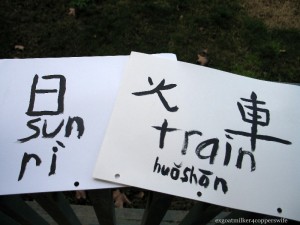 Chinese New Year is not a one day celebration; but rather, depending on the area, lasts from seven to fifteen days.  Homes are cleaned, new clothes bought or sewn, haircuts are given and special foods are prepared, all in preparation for welcoming in a time of new beginning.

The celebration is held in conjunction with the track of the new moon, so the date of the beginning of Chinese New Year changes from year to year.  This year, 2010, Chinese New Year officially begins on February 14.  You can find the dates for future years here.  (Because of the conflict with Valentine's Day, you might want to take a look at Chinese New Year on another day during its fifteen day run.)
Here are a few suggestions for you to use in your own family to celebrate Chinese New Year.

If you live in or near a large metropolitan area, check to see if your city (or any civic organizations) are hosting a parade or other observance of the Chinese New Year.  Add the date to your calendar and plan to attend.  (Be sure your children are prepared to hear lots of firecrackers!)
Check your local yellow pages for a large Asian market in your area.  Call and see if they will be hosting a dragon or lion dance in their store or parking lot.  They may be hosting both at different times during the New Year celebration.  They are very different performances!  Ask for dates and times, note them on your calendar and plan to attend.  Be sure to arrive early as large crowds typically gather.  (Again, there will be a lot of noise – drums, cymbals and, of course, firecrackers!)

Here's a video of the Lion Dance from Hong Kong in 2008.  The video begins with a minute or two of the fireworks over Victoria Harbor and then begins interspersing the dance.  This is, by far, the most athletic Lion Dance I've ever seen, including those I was privileged to see in San Francisco's China Town when I was a girl.  Fun!!


The very best book I've found to learn all about Chinese New Year is Happy New  Year! / Kung-Hsi Fa-Ts'ai! by Demi.  Though this book is out of print, it is worth searching out, and inexpensive, used copies are available. Happy New Year! / Kung-Hsi Fa-Ts'ai! is a very thorough look at every aspect of the Lunar New Year.  The reasons for everything, from cleaning the house, to the food that is prepared, the differences between and reasons for the Lion Dance and the Dragon Dance, etc., is given in brief, yet just-enough, detail.  Because this is a celebration with roots in Asian culture, explanations of the religious beliefs that accompany the festivities are also given.  Some families might want to skip these pages, but I've always felt that reading them with your children, so as to facilitate good, healthy discussion is the best in helping them understand religions other than their own and the great need for evangelism.  (Note: Demi has another title, Happy, Happy Chinese New Year!, which is a shortened version of the first title.  I've not seen this title, but most reviewers join me in recommending the first title.)

A gentler look at Chinese New Year, especially for the very young, is Grace Lin's Bringing in the New Year.  This sweet, colorful book follows a Chinese family as they prepare to greet the new year.  This is a very colorful book with a terrific fold-out at the end of the dancing dragon surrounded by children.  A brief, two-page further description of Chinese New Year follows for parents.  This books contains no religious commentary, but does mention "bad luck".
The Dragon Dance you might chance to see in your community would likely be a bit more amateur than this troupe from Singapore, but the dragon may be more fierce!  (Lit dragons at night time celebrations can be a lot of fun, but a bit overwhelming for some little ones.
The Lunar New Year celebrations of China and other Asian nations reflect their religious beliefs.  Various "heavenly beings" and "guardians" are a part of these traditions.  Guide your children to several key verses in God's Word which tell us, without doubt, that there is only one, true God.  Here are a few to get you started:  Exodus 8:10, Deuteronomy 6:4, 1 Samuel 2:2, Jeremiah 14:22, and Mark 12:29.  I'm sure you know of many, many more!
You may wish to use this celebration as an opportunity to introduce, or further explore, the persecution that Chinese Christians endure for their faith.  Voice of the Martyrs has a unique

Kids of Courage site

where you can find information on China, as well as other countries where Christians are routinely persecuted.  Type the name of any country in the "search" box.  One example from China:


"Chinese police raided a Sunday school class of more than 30 children and took them to the police station in a large van. At the station, the children were taken into a room for questioning. A policeman began to threaten them. He told them they could not leave until they wrote, "I do not believe in Jesus" 100 times. Boldly, the children wrote: "I believe in Jesus today. I will believe in Jesus tomorrow. I will believe in Jesus forever."

The policemen did not know what to do. When the children's parents came to the station, the police said they could not take their children home unless the parents said they didn't believe in Jesus anymore. One widow said, "You will just have to keep them, because without Jesus, there would be no way for me to take care of them." The annoyed policeman then allowed her to take her children."
Go out for Chinese food, visit a Chinese bakery, or make your own Chinese food.  Fried rice is easy to prepare, and quite economical if you use left over vegetables and meats from the fridge.
During a recent geography study of China, my boys enjoyed trying their hand at Chinese writing using a paint brush and black watercolor paint.   (A couple of examples are at the top of this post.)  Long Is a Dragon: Chinese Writing for Children, by Peggy Goldstein, made this easy and fun.  Older children will be able to tackle this on their own, while younger ones will need your help.  This book is, currently, out of print, but good, used copies are available inexpensively at Amazon.  As it turns out, the hardback used books are less expensive than the paperbacks.  I'll always buy a good, used hardback, even over a new paperback, especially when it's cheaper!
Make Chinese scrolls.  You'll need plain white paper (off white would be great!) and popsicle sticks.  Simply trim the paper to the width of the popsicle sticks.  Glue a popsicle stick to each end of the paper and roll the paper around one stick until it meets the other.  We recently made scrolls from the Chinese writing we did using Long Is a Dragon.  (See the activity immediately above.)
Make some tea, pull up a comforter and gather on the couch to read the simple  tale of  Sam and the Lucky Money.  When Sam receives $4 of "lucky money" in the traditional, red envelopes of the New Year, he must decide how best to spend it.  Sam and his mom venture to town to shop for the New Year celebration and many treats and toys entice him.  However, after an encounter with a homeless man, Sam's choice becomes even more difficult.
Remember, the idea is to CELEBRATE and have fun learning with your kids!