This particular holiday features a special guest named Phil,  Punxsutawney Phil!  February 2 is Groundhog Day!  It's a cute little tradition, dating back centuries, that started with folks observing animals trying to determine when spring would arrive.  Tradition has it, if the groundhog can see his shadow on February 2, we will have six more weeks of winter.  If he does not see his shadow, then spring is on the way!
Here are some ideas for celebrating Groundhog Day, followed by reviews of the two books I've chosen for Groundhog Day reading this year.  Pick and choose the ideas that suit you best.  Have fun!  Celebrate!

Be sure to start your Groundhog Day celebration early in the morning by venturing outside to see if you can see your shadow.  (Poor old Punxsutawney Phil is pulled out of his warm bed at Gobbler's Knob at 7:25 a.m. )

Read Groundhog Day! , by Gail Gibbons.  The book will give you a brief, yet fairly thorough, overview of not only Groundhog Day, but of groundhogs, too. (See my complete review below.)


Here's the video from the 2009 Gobbler's Knob festivities.  I'm posting it for your convenience (and so that you don't need to see all the garbage on the side bars at You Tube).  However, in my opinion, the video really takes away some of the fun.  Judge for yourself.

Just for fun, mark your calendar appropriately, either for six more weeks of winter or for the early arrival of spring, and see how accurate your observation was.

If it's sunny out, teach your children to play shadow tag, and you play, too!

If six more weeks of winter is expected, fill your bird feeders with seed.  No bird feeders?  Try covering a pine cone or dried corn cob with peanut butter and then roll it in bird seed to hang from a tree branch.


If an early spring is predicted, purchase some early flower seeds and help your children to plant them in a pot.  Be sure to keep them watered and protected.

Read Genesis 1:14-19 together with your children.  What does the Bible tell us about the origins of the seasons?  It's fun to watch nature, but we need to mindful of God who created all things for His own glory.

Draw pictures of ground hogs on brown paper or  grocery sacks and cut them out to decorate your learning space, fridge or windows.  I like this one for its simplicity and cute realism, but you can find several others here.
Fix some hot chocolate and a yummy snack and then settle onto the couch and read Substitute Groundhog.   (A brief review can be found below.)

If your kids really show an interest in groundhogs, open up the encyclopedia or nature books and read more about this neat little critter.  Some good online resources can be found here and here.

Did you know that a groundhog and a woodchuck are one and the same animal?  Try your skill at this tongue twister, "How much wood would a woodchuck chuck if a woodchuck could chuck wood?"  Guess what?  Someone has actually gone to the trouble of answering that riddle!  You can find the real answer here, along with some additional lines to the famous tongue-twister.

Check your poetry anthologies for

The Jolly Woodchuck

by Marion Edey and Dorothy Grider.   (

Favorite Poems Old and New

is my favorite poetry anthology for all ages, but for the younger set especially.)  Have your students copy

The Jolly Woodchuck

's twelve lines neatly onto handwriting paper or into their copywork books.  Try memorizing this fun little poem.
Want more?  Enchanted Learning has gobs of Groundhog Day activity sheets – word searches, dot-to-dot, matching, spelling, alphabetizing, and lots more, along with a couple of cute crafty ideas.  Find all of that here.
Just for fun, rent Groundhog Day to enjoy with your husband in the evening!
For those who like/need to journal their children's educational experiences, the following subjects were covered in the ideas above:  Bible, literature, poetry, calendaring skills (math), penmanship, science/nature,  P.E., and art.   There may be more if you use any of the activity sheets from Enchanted Learning linked above.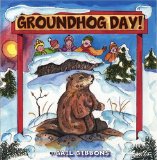 My favorite book for this special day is Gail Gibbons' book,  Groundhog Day!
Filled  with the author's lovely, colorful illustrations, Groundhog Day! is a super little nonfiction book, terrific for all ages as a read aloud, and for independent readers, too.  The book begins with how the practice of observing animals to determine when spring would arrive began, then moves on to tell the history of today's American tradition of Groundhog Day and the celebration in Punxsutawney, PA.  The book concludes with a wonderful look at groundhogs – where and how they live, what they eat, how they care for their young, etc.  Excellent!!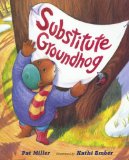 A fun storybook for the younger crowd (I'd say ages ten and under, but I'm never surprised when the older kids listen in from a distance) is Substitute Groundhog
, by Pat Miller, illustrated by Kathi Ember.  Poor groundhog!  The day before his big day, he wakes up sick.  Doctor Owl orders him to bed for two full days, but groundhog is worried about who will fill his shoes on February 2.  He posts an ad for a substitute and several of his animal friends apply for the job.  Most are, quite obviously, not suitable for the job.  They are too big, or too sleepy or lack keen enough eyesight for the job.  After groundhog interviews several candidates, an out-of-town visitor shows up who is perfect for the job and saves the day.  When his task is over, he takes the ailing groundhog home with him to where it is already spring……in warm Texas!  Yep, the hero of this story is the armadillo!  This is such a fun book!
If you'd like your very own, brand new copy of Gail Gibbons' fabulous book,
Groundhog Day!
, leave a comment on this post.  I'll choose one name at 9:00 p.m. (PST) on Wednesday, January 20, 2010.
Sorry, the above drawing is now closed!

Let me know if you plan to try any of these ideas for Groundhog Day.  Remember – have fun!  Celebrate!