Copper worked an overtime shift today. We are so thankful to God for providing so much overtime for us in the last few weeks. We are in a season of home repairs, unfinished home projects and tractor breakdowns. The overtime is a huge blessing that is providing us with not only the extra cash we need, but a bit for a few little extras, too. I'm thankful for my hard working husband and his commitment to providing for his family.
Dani and I traveled up the highway a bit to pick up a few more supplies for her project, and Aaron and I headed out again later to pick up animal feed. One on one time in the car with my older kids is such a great time for hearing what's on their hearts and minds. It's a great time to just laugh and be silly, too. We did both today.
I used the rest of the afternoon to finish up a long neglected sewing/quilting project. I started a runner for my table many, many moons ago. I set it aside when frustration over its not turning out quite as planned set in, and it was buried in a basket of other projects in the sewing nook.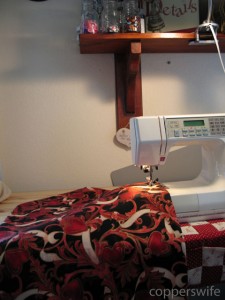 The runner resurfaced when Dani and I cleaned and organized the Sewing Nook last week. You know what? It wasn't nearly as bad as I'd remembered it! All the stitching was completed on the runner, and it had been turned. It took just a couple of minutes to stitch closed the small opening that was left after turning it.
I'm not a quilter. My friend, Bren, is a wonderful quilter and she has been encouraging me in my desire to quilt for years. She's patient, too. Everyone should have a patient, encouraging friend when tackling a new skill.
I used the edge of the bobbin cover on my machine as a guide to stitch all the way around the runner. Then I simply folded it in half, carefully matching the points, marked the center, and stitched across. I refolded with the points to that center stitching, marked the center of the new fold and stitched again. I repeated this process on each side of the runner a few more times, ending up with a stitched line across the runner every 9-7/8″.  If I had it to do over again, I would have done the cross stitching just a bit differently, but I don't think anyone will notice what I think is a flaw.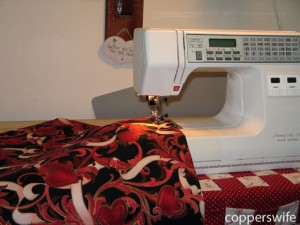 It took me about an hour and a half to finish, between folding and recycling loads of laundry. The runner was finished just as my last load of laundry came out of the washer. The timing was perfect!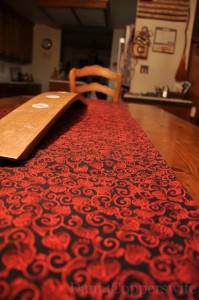 Washed, dried and on the table. Thank you for not noticing what is obviously a Valentine print on one side and a much-too-dark-for-Spring print on the other side. I'm not late getting the runner finished, I'm just way ahead of the game for next year!
Are there any forgotten, half-done projects lingering around your home? Pull them out, finish them up and enjoy the fruit of your hard work!