My husband worked 45 hours of overtime in the last two weeks, taking only Sundays off. We were glad to have him home today, even though most of the day was spent mowing.
The mower was in the shop for a couple of weeks, but we're glad it's back. The spring rains have kept the grass growing and our front grass, orchard and vineyard were all in desperate need of mowing.
While my husband mowed, and after all of our daily chores were done, Dani and I tackled our little sewing nook. I forgot to take a "before" shot, but I will tell you, quite honestly, it was a huge mess.
I stacked all of the stuff that had been dumped in the sewing nook onto the kids' play table in the school room. It just moved the mess for awhile, but it gave me the room to sort things out and put them away.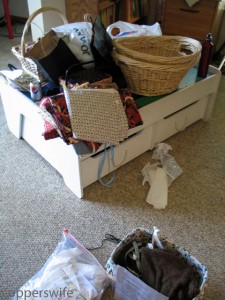 With all of the mess out of the nook, Dani was able to get in there and dust, clean and straighten up the shelves. Our efforts paid of with one shelf completely cleared. Dani has some projects in the works, and I wanted to give her some shelf space of her own in our little sewing area.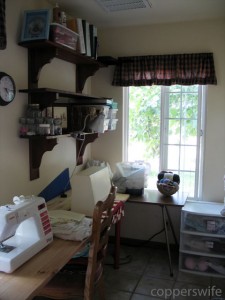 It's still not quite perfect, but we made good progress. I'm inspired to finish up a couple of projects of my own.
I love the fact that Dani and I were able to not only reclaim our sewing nook with just a couple of hours work, but that we're also going to be able to start sewing again!
Do you have an area that you can reclaim with just a bit of extra effort? Any sewing and/or craft projects in the works?