Do you have a junk drawer in your kitchen? Me, too.
I love this quote from Simple Country Wisdom
,
"Every kitchen needs a junk drawer, but it doesn't have to be junky. Use expandable dividers to organize and separate items. What's the point of having a really good stash of junk if you can't find what you want when you need it?"
This is exactly what I did when I worked through my Less Than Perfect Kitchen a few years ago.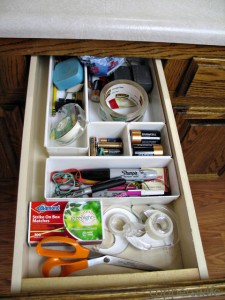 Things still get just pitched into the drawer, but weeding out the things that don't belong, and reorganizing the things that do, is a snap with dividers in place.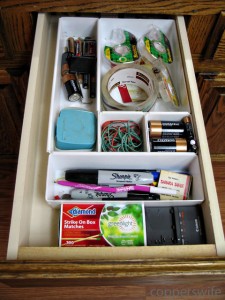 Yes, I know there's not that much difference between the "before" and "after" pictures above. That's just the point! The few dollars I spent for the dividers four years ago, have saved me hours of dejunking time.
In other news, I spent the entire day in town today with Dani. We had a fabulous time, and it was so incredible to watch as God blessed her efforts and plans in tangible, and even dramatic, ways. His love for us continually amazes and awes me.