One of my goals this year was to broaden the scope of my reading. To that end, I decided to read at least three titles from The New York Times Bestseller's Nonfiction List, and at least three history/biography books, in addition to my other reading categories this year. As it turns out, the second book I read from my history/biography category, was, and still is, on The NY Times non-fiction best seller's list.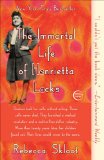 The Immortal Life of Henrietta Lacks, by Rebecca Skloot, is a fascinating look at the woman whose cells are responsible for many advances in modern medicine in the last several decades. Medical students, laboratory researchers and pharmaceutical companies have all used the "He-La" cells, but rarely did anyone know anything about the woman whose terminal cancer was their origin. Rebecca Skloot wanted to know more.
Over the course of several years, Ms. Skloot researched the life of Henrietta Lacks, meeting the woman's family, and spending countless hours with Mrs. Lacks' daughter, Deborah. The story of the He-La cells pales in comparison to the fascinating story of the woman, whose very fast-moving, fast-growing, cervical cancer, claimed her life at a young age. Her two youngest children remembered nothing about her; but Deborah, her youngest daughter wanted to know more about her mother. Though distrustful of Ms. Skloot at the beginning, Deborah eventually began to trust the author, and the two of them, working together, rebuilt the story of  Mrs. Lacks' life.
The book is not filled with scientific terminology and is, in fact, relatively easy to read. The ethical questions raised by the book, however, were unsettling. Mrs Lacks' cells were harvested and used without her permission, in a hospital that treated poor, black people for free. Though great medical advances were made through the use of her cancer cells, and though individuals and corporations have benefited substantially from the use of her cells, her family was never compensated in any way. Moreover, only a handful of doctors and researchers even knew her by her correct name.
I found Mrs. Lacks story fascinating, though it was certainly not altogether a happy life. I'm still pondering the ethical questions raised by the book, and working through what I do, and don't, agree with on these difficult issues, as well as trying to look at those questions in the light of Scripture.
Though never graphic, the story does tell the true story of Mrs. Lacks and her family, and there are incidents of incest, venereal disease and mental illness in that story. Not for young readers.
Please remember, I do read broadly. Please use discretion before reading this, or any book, that is reviewed here or elsewhere. However, I do think that it is vital that you are reading. Your Bible, first, foremost and daily, but other books, too.
I recommend  The Immortal Life of Henrietta Lacks
for anyone interested in the medical ethics, or in the fascinating biography of this woman.
I read the the Kindle version.