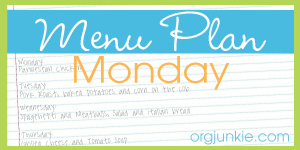 We have been on the go lately. It's not usual for us to be out and about and in town several days each week, but that's what the last couple of weeks have looked like. I'm happy to be home and pulling things back toward normalcy this week.
I've had quite a few questions about menu planning – encouragement, how to form the habit,  how to do it, etc. – and I've pondered how I'd answer those questions. I don't think I can answer every question completely and do it all in a single post. Instead, I'll be starting a Menu Planning Series later this week. I'm planning on a couple of Menu Planning posts a week until we work our way through the process.
One of the key things I will stress is that Menu Planning is a tool for you to use, not a wicked task master to rule your life. Lord willing, you'll come away from my series knowing whether or not menu planning is for you and with the tools you need to plan meals that meet the needs of your own family. If you have any particular questions you'd like to have answered regarding menu planning, let me know. You can post your questions below in the comments. You can email, too, by using the cute little envelope button in the sidebar.
It's important to know what your weekly schedule includes when making your menu plan for the week. We have our twice a month book/Bible study this Thursday evening, and Corin and my grandbabies will be visiting with us that same afternoon. Thursday's menu includes a goody to share with the grandbabies and a dessert to share with our church group. Dani will, more than likely, make these on Wednesday. Thursday's dinner is a quick-to-fix, easy to clean up,  no lingering odors meal.
This week also includes two recipes from the Spring section of SOS! The Six O'Clock Scramble to the Rescue: Earth-Friendly, Kid-Pleasing Dinners for Busy Families. This has quickly become one of my favorite cookbooks! In fact, my review of this cookbook will be posted very late Tuesday/very early Wednesday.
Sunday:
Breakfast: Poppy Seed Muffins
Lunch: Mexican Cornbread (for after church), and we'll take a big platter of Gingersnap Cookies to share
Dinner: Wild Dinner! (Our Sunday evening, every-man-for-himself, tradition.)
Monday:
Breakfast: Waffles
Lunch: Chef Dani's Choice
Dinner: Chicken Enchiladas, Spanish Rice, Green Salad
Tuesday:
Breakfast: Cereal
Lunch: Homemade Tomato Soup (We love Sue Gregg's easy, healthy recipe from her Soups & muffins: Nutritious and Delicious
cookbook.
Dinner: Taco Tuesday
Wednesday:
Breakfast: Fried Eggs & Toast
Lunch: Sandwiches, Chips
Dinner: Lemon Pepper Pork Chops, Broccoli (tossed in Olive Oil & Parmesan), Breadsticks (Recipes for the chops & broccoli found in SOS! The Six O'Clock Scramble to the Rescue
)
Thursday:
Breakfast: Old-fashioned Oatmeal, seasoned with Brown Sugar & Cinnamon
Lunch: Left-over Tomato Soup
Dinner: Mandarin Tuna Roll Ups & Salad (Recipes for these dishes are also in SOS! The Six O'Clock Scramble to the Rescue
)
Thursday Goodies: Grandma's Iced Tea Cookies for the grandbabies, Assorted Sweet Breads for the evening group
Friday:
Breakfast: Pancakes
Lunch: Grilled turkey & cheese on sourdough, chips
Dinner: Hamburger Patties with Mushroom Gravy, Garlic Mashed Potatoes, Mixed Vegetables
Saturday:
Breakfast: Cereal
Lunch: Chef Dani's choice
Dinner: Nachos (Our Saturday evening tradition)
Now, head on over to Laura's to see more Menu Plan Monday posts.
Anything new on the menu at your house this week?