An oft repeated phrase in my home is a variation on the theme of, "Put it on the list."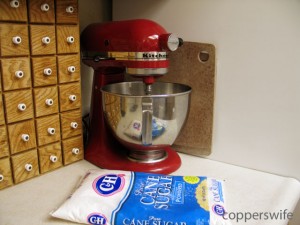 "Last powdered sugar, Mom.", followed by my saying, "Put it on the list."
Or, not quite as pleasantly, "We're out of….." insert any number of things that we might be out of, followed by my saying, "Who used the last one?" and "Why didn't you put it on the list?"
We have a system. Whoever brings in the last of something from our deep pantry storage is then obligated to put it on the grocery list. The system works great, even though my family is known to not that system it to its fullest.
"Keep a pantry inventory, too. When you use the next-to-last can or jar of something from the pantry, add it to your grocery list.", from Simple Country Wisdom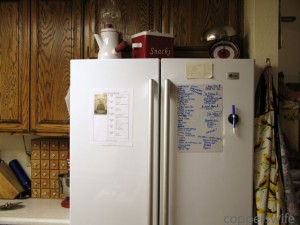 My system is simple. A magnetic dry erase board on the fridge, with a dry erase marker snapped into the eraser next to it, functions as our running grocery list. Every member of my family knows exactly what is expected, and they don't have to scurry around to find the tools necessary to use the system. Easy.
Do you have a system in place to keep your pantry and home well stocked with staples and necessities?