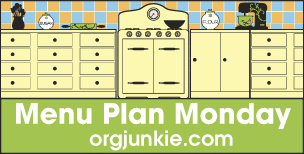 No fanfare. Nothing special to say this week. Simply put, here's our menu for the week.
Sunday:
Breakfast: Audrey's Coffee Cake
Lunch: Turkey and cheese sandwiches and chips after church. We'll take a huge platter of Dani's BIG chocolate chip cookies to share.
Dinner: Wild Dinner! (Our son's term for our Sunday evening, every-man-for-himself snack & left over feast.)
Monday:
Breakfast: Waffles
Lunch: Tostadas
Dinner: Salisbury Steak, Basmati Brown Rice, Green Salad
Tuesday:
Breakfast: Cereal
Lunch: Guys on their own (Dani and I will be out most of the day. With my project now behind us, it's time to work on her project.)
Dinner: Taco Tuesday
Wednesday:
Breakfast: Scrambled Egg Omelets, Toast
Lunch: Meat Sandwiches, Chips
Dinner: Rotisserie Chicken, Golden Mashed Potatoes, Green Salad (Golden Mashed Potatoes from Sue Gregg's
Main Dish cookbook) We love our our Rotisserie, which was gifted to us, second-hand. I'm looking forward to experimenting with it in the coming weeks.
Thursday:
Breakfast: Rolled 5-Grain (a cooked cereal, similar to oatmeal)
Lunch: Taco Salad
Dinner: Cheesy Bacon Burger Meatloaf, Fajita Fries, Green Beans (I'm still cooking through this meatloaf cookbook from Gooseberry Patch.
It's not available for free any longer, but it's still a steal at just $0.89.  If you've joined me in cooking through the meatloaf cookbook, or if you want to, please post your results on my facebook discussion board. I'm keeping track of our favorites and not-so-favorites there, too.)
Thursday Goodie: Grandma's Tea Cookies
Friday:
Breakfast: Pancakes
Lunch: Left over meatloaf or ? (Boys on their own as we're in town for the Fortnightly Marketing Peregrination.)
Dinner: Sub Sandwich from the grocery store deli.
Saturday:
Breakfast: Cereal
Lunch: Chef Dani's Choice
Dinner: Nachos! (Our Saturday night tradition)
Be sure to check out Laura's Menu Plan Monday for more menu planning inspiration.
What's on the menu at your house this week? Trying anything new?