I finished four books during the month of May. My reading goal for the year is to read at least three books in each of thirteen different categories. To date, I've read twenty-two books toward my goal of thirty-nine.
Here are the books I read and a brief review of each.
I reviewed The Immortal Life of Henrietta Lacks
a few weeks ago. You can read my review here.
Gary Thomas has become a favorite of mine. His books on marriage and family relationships are outstanding. There's absolutely no psychobabble in his writing, just good, meaty, biblical counsel. Sacred Marriage: What If God Designed Marriage to Make Us Holy More Than to Make Us Happy
lived up to its title. Happy marriages are, indeed, a good thing, but what if God's intention was to use marriage to make us holy instead of happy? The primary relationship isn't between you and your spouse, it's between you and God. If your marriage is happy, this book will be a good read. If your marriage is unhappy, you will benefit greatly from reading this book.
Love him or hate him, Dave Ramsey's financial message is a popular one. You'll find Copper and I definitely in the "like him a lot" category! Financial Peace Revisited
came as part of a DVD course we purchased from Mr. Ramsey. Dave's advice has caused us to make some big financial changes in our home, and they've all been good changes.
I won my copy of Country Living Simple Country Wisdom: 501 Old-Fashioned Ideas to Simplify Your Life
in a drawing hosted by Manuela quite some time ago. I've shared a few quotes with you from the book as I read it. Published by Country Living Magazine, the book features dozens of beautiful pictures and, as the title implies, hundreds of bits of "country wisdom". I don't know that there was anything unique, or really new, in this book, but it was a delightful read, and I enjoyed the way the various tips for making our homes prettier, more comfortable and homey were presented.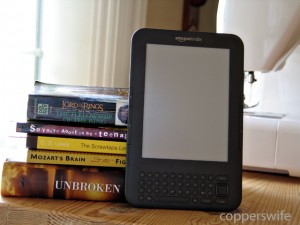 June is already off to a good start in the reading department. I've been wanting to get to some of the books in my current stack for quite awhile.
Have you read any good books lately?