"Most of all, someone has taken the trouble to make things nice – to fluff up the pillows, fill a vase with flowers, put down freshly laundered throw rugs, or set a pot of potpourri to simmer. These little grace notes of sight and scent do more to make a home feel gracious and expansive than all the expensive furniture in the world.",
from Simple Country Wisdom: 501 Old-Fashioned Ideas to Simplify Your Life
and entered today into my Commonplace Book.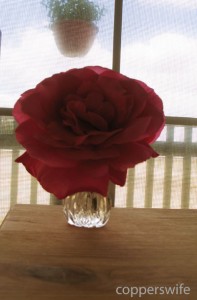 I'm taking some time today to add those sweet little grace notes to my own home. Roses from the front yard, scented candles burning here and there, and freshly laundered afghans over the backs of the couches and chairs. It's a rather cool day, but I have a few windows opened to let in the rain-sweetened fresh air.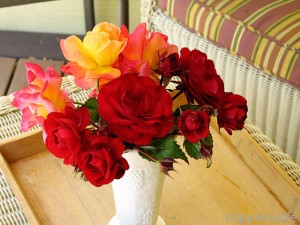 I'm thankful that the Lord allows small, simple tasks to offer such big, pleasurable returns!
What small thing can you do in your own home today to make living there more gracious?