I now understand quilters and their "studios" or "quilting rooms". I've sewn for a long time, but when you sew, you cut out your pattern pieces and then you sew them together. Not exactly the case with quilting.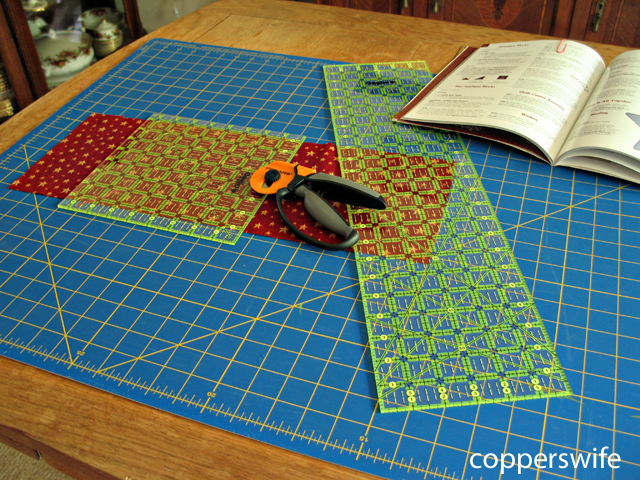 I cut the first two fabrics for my first pieced quilt project on Thursday. I worked at the table in my dining room because we would need the kitchen table for dinner before I was done. All fifty-two little triangles then migrated to my sewing nook where I promptly stitched two out of the first five together wrong. Doh!
The two mistakes were ripped out and the rest of the triangles are now pinned together correctly, ready to be stitched together in assembly line fashion. (The color of the flowers are showing more pink than red in this picture. Rats.)
The problem, if it is a problem, is that my cutting mat, rulers, etc. are all still on my dining room table, waiting to cut the third fabric for my table topper, then the fourth, etc. If I put it all away after using it, it's sort of a hassle to drag it out when I need to cut again. If I leave it out, it bugs me. Thus, my new understanding for the gals who have their studios.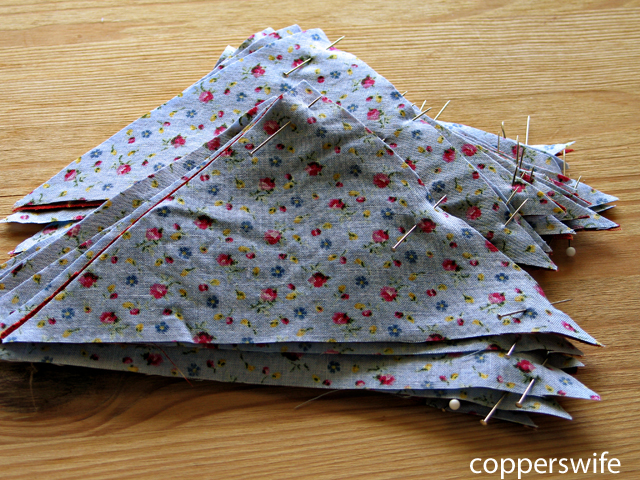 My solution, at least for the next few days, is to leave my cutting things neatly on the table in the dining room. It's not a mess if it's a project in the works, right?
I think I could love this quilting thing way too much!
I planned to have a menu planning post for you last night, but it didn't happen. Instead, I am writing a post walking you through the steps I'm using to write my own menu plan for the coming week. I hope you'll find that helpful. Watch for it early Monday morning.