When my mother-in-love passed away, Copper's brother read a moving tribute to her at the funeral service. In that beautiful ode to his mother, everyone remembered with him that we could always count on Lola "just like chicken on Sunday". Copper and his brother grew up knowing that chicken would be served for dinner on Sunday and homemade sub sandwiches would be on the menu Friday after grocery shopping.
I don't know if Lola's menu planning strategy went beyond that, but I do know that menu planning can be a wonderful way to build memories in your home. For years my family enjoyed a large lunch out with friends on Sunday afternoons after church. We didn't require a big meal after retuning home, so we made big bowls of popcorn to munch on throughout the evening. These days we know that Copper will make waffles on Monday morning. Nachos happen Saturday night, Tacos on Tuesday, Dani will make a yummy treat on Thursday, and Sunday nights now are "Wild Dinner" (my youngest son, William, came up with that term for our Sunday evening every-man-for-himself left over and snack fest when he was younger). You can count on it!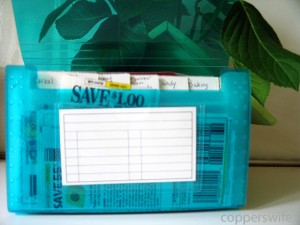 I've found menu planning to be budget friendly, time saving and stress reducing. I save money by buying things, for the most part, when they are on sale. My menu plan includes all of the perishable items in my refrigerator so less food goes to waste. Quick, easy to prepare or crock pot meals are planned for especially busy days so we aren't tempted to buy pizza or head to McDonald's. The time I might spend standing in front of my refrigerator or freezer before meal time trying to figure out what to have for dinner is available to spend in other ways, and I'm able to get meals on the table on time without the stress of last minute decision making.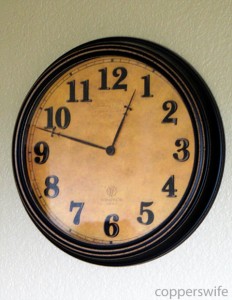 I plan all three of our daily meals and I post the menu plan on the fridge. Everyone can see what we'll be having, and it makes it simple for the cook to check the list for any advance prep work that can be done, meat that needs to defrost, etc. It helps the picky eaters know ahead of time that dinner won't be their favorite so that they can remember (or be gently reminded) to bring their best attitude to the table anyway. My boys were taught to say, "Mmmmm, this looks delicious", to the cook even if they weren't totally convinced.
Menu planning is a great tool. As with all tools, you need some time to learn to use it properly and to best advantage. You'll need to work with it a bit to find the best way to use menu planning to fit the needs of your family and household. One size does not fit all!
Menu planning is your servant, not your task master. Menu planning is not meant to be just one more thing added to an already overloaded homemaker's "to do" list. Some gals do just fine preparing meals and feeding their family without a written plan, and that's great! In that case, there's no need to plan ahead.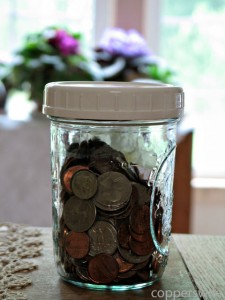 However, for those who know that they do better with a plan, or for those who want to learn more, this series is for you. Over the next few weeks, Lord willing, I'll be writing two menu planning posts each week. We'll look at the various methods of menu planning, strategies for different seasons of the year and for different seasons of life, how long to plan, how much to plan, and finding the time to plan. Be sure to let me know if you have any particular questions or concerns, and I'll try to answer those, too.
I'll do my best in this series to help you use menu planning as a way to look well to the ways of your own household.
(Click here for the complete Menu Planning Series.)