It seems that there are as many ways to menu plan as there are women planning meals. To insure menu planning success, though,  it's vital that you find a method that works for you. One size menu planning does not fit all families!
Most of us will start with a method that appeals to us and then we'll customize it to better fit our needs. That's perfect! You want a plan that not only works for you, but that is easy for you to work. If it makes sense to you, and works in your home, it's a good fit.
Below is a list of several different menu planning methods. This list isn't exhaustive, but it covers the most widely used methods of menu planning. Most other methods are customized versions of one of these, or a combination of two or more. Read through the list and start thinking about which methods may, or may not, work for you.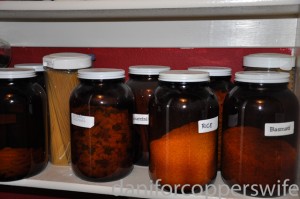 DEEP PANTRY/DEEP FREEZER PLAN – As the name implies, this method relies on your keeping a deep pantry and a well stocked freezer. Meals are planned based on the food that you have on hand. Main dishes are planned from the meat in the freezer or the beans in the pantry. Side dishes are filled in from what is available in the pantry (rice, pasta, canned fruits and vegetables, etc.) or the freezer (frozen vegetables, frozen fruits, frozen breads and rolls, etc.). There may even be some freezer meals available! (More on that in another post.) Fresh produce and dairy products are purchased as needed, or desired, too. The pantry and freezer are restocked by shopping sales, or in the case of some rural families, when butchering and harvest season occurs.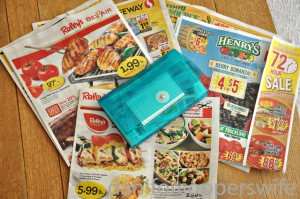 SALE SHOPPER/COUPON CLIPPER PLAN – Gals who use this plan are savvy shoppers. They carefully peruse the grocery store, drug store, and big box store sales ads every week. They clip coupons and try to match their coupons with deeply discounted sale prices. It is possible to be a "from scratch" cook with this method, but it's simpler if your family enjoys some prepackaged foods.
REPEATING WEEKLY (OR MONTHLY) PLAN – This is a great plan for super busy moms and/or for families who enjoy having the same foods on a repeating basis. The idea is something like this:
Monday – Chicken
Tuesday – Pasta
Wednesday – Beef
Thursday – Casserole
Friday – Fish
Saturday – Pizza
Sunday – BBQ/Grill
The basic meat, or main dish, is semi-planned, you just need to fill in with a specific dish. Other gals take the time to plan out complete menus for an entire month, noting main dishes, sides, etc., and then repeat that menu every month.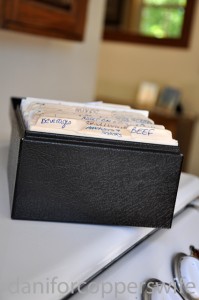 FAMILY FAVORITES PLAN – All families have their favorite meals. I know that your family is no exception. The Family Favorites menu planner knows what her family likes and aims to please. She'll design her menu plan chiefly on the dishes that her family likes best. Quite frequently, this will mean making a list of all of the family's favorite main dishes, matching them up with sides dishes and/or salads that the family likes, and then rotating  through those dishes on a regular basis. If you can come up with fourteen of these combinations, you have two weeks worth of menus already planned!
CHINESE RESTAURANT MENU PLAN – No, this doesn't mean Chinese Take Out every night! When I was kid, the local Chinese restaurant's menu was made up in columns. To order dinner, you chose one item from Column A, one item from Column B, and a final item from Column C. To menu plan with this method, you will make lists of:
A – Main Dishes
B – Side Dishes/Salads
C-Pasta/Rolls or Bread/Starches.
The number of dishes you have in each column is up to you, but you'll want to have enough for at least one week. You will also need to be sure that all of the ingredients for all of the listed dishes are in your home. As you think about dinner, you simply choose one item from Column A, one from Column B and one from Column C and then prepare your meal.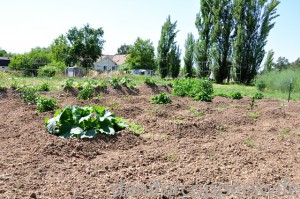 FARMER'S MARKET/LOCALLY GROWN – Many families these days are very concerned about buying local as often as possible. They shop the farmer's markets for produce and eggs (and sometimes meat, fish and dairy) that are grown in their own area. They buy directly from the farmer, or participate in a CSA program. Some might think that this would be prohibitively expensive; but in many areas, shopping this way can be just as frugal as shopping the sales. Sometimes these families are blessed to be able to raise some, or all, of their own food.
SEASONAL PLAN – Winter is soups and stews, summer is main dish salads and grilling. That's the idea behind the seasonal plan. Seasonal menu planners plan their menus around seasonal favorites, concentrating on warming, filling foods in the cold weather months and lighter fair when the weather is hot.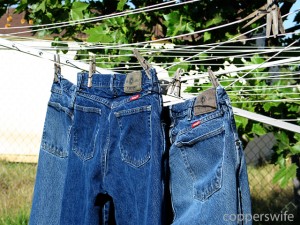 FLYING BY THE SEAT OF YOUR PANTS – These gals rock! They know how to pull together a menu plan in most any circumstance. Maybe they're short of funds at the end of the month and need to make do with what's already in the house. (My mom and dad once lived an entire week in the early 1940's with what Mom could put together with flour, milk, and eggs.)  Maybe they've been blessed with a great quantity of a particular item that needs to be used up before it spoils. (I knew a gal who was given boxes and boxes of freshly harvested corn on the cob. She froze all she could, but they made meals of steamed corn on the cob, corn porridge and casseroles based on corn, for more than a week, too.) One commenter on this post, is currently living in a situation where she must shop for her meals a day at a time, so she plans her evening meal while she's in the market. (Sounds a bit like "the good old days" to me!)
My favorite example of "flying by the seat of your pants" is my friend, Dana. Dana once got to the store without her shopping list and without a lot of time to go back and retrieve it. Instead of panicking, she picked up a copy of Everyday Food, thumbed to the weekly menu plan, and shopped for the week. Probably not the way you'd want to go every week, but what a wise gal to just forge ahead and have an adventure with the week's menu in the process!
In reading through those descriptions, you may have already thought of a unique method of your own. Good for you! Some of you may have realized that you'll need a hybrid of two or more of those methods to best meet the needs of your own home, family and budget.
My own approach, because I know you'll ask, is a deep pantry-family favorites-seasonal-sale shopper-farmer's market hybrid, with a wee bit of flying by the seat of my pants thrown in for good measure! I keep a fairly deep pantry and a sometimes well stocked freezer, which are restocked, for the most part, from shopping the sales.  (Dani is our resident sales ad scout and coupon clipper, steering us to the best deals for the items we use.) I frequently incorporate family favorites into the menu plan, and we tend to enjoy eating somewhat seasonally.  We have a small garden this year, along with our orchard, berry patches and vineyard for produce, but we also shop a local farmer's market grocer, too.
My husband has been working hours and hours and hours of overtime in the last few weeks. Love that man! Quite often, that has left many of my planned menus unprepared as I fix something simpler for just the kids and I, carrying the planned meal over to the following week. He's also come home early from some of those overtime shifts, catching me unprepared, so knowing how to "fly by the seat of my pants" has come in handy as I quickly put together something for all of us.
Time for homework!
First, think about which of these methods (one or more) best fit your family. Pray for wisdom as you proceed in choosing what is best for your family.
Next, begin making a list of main dishes. Write down whatever comes to mind, concentrating as much as possible on foods you know that your family, or the majority of your family, enjoys. If you think you only want to plan main dishes, just concentrate on those. If you want to plan full meals, be sure to write down side dishes, salads, etc., too.
Go through your recipe box or binder. Flip through your favorite cookbooks. Ask your family for ideas. If you enjoy cooking new dishes, add a few of the recipes you've clipped from a magazine or printed from the Internet to the list, too.
Extra credit (for those of you who want to plan breakfasts and/or lunches), make lists of lunch and breakfast dishes, too. Use the same ideas that you used for your dinner lists.
Next Up: Putting Pencil To Paper – Writing Your Menu Plan
Click here for the complete Menu Planning Series