I don't want to make menu planning complicated. Once you get the hang of it, it really is easy and you'll be able to write up your plans in short order. For those just starting out, though, I want to be thorough.
There are a lot of different ways to menu plan, but you need to take some time to think about your family, your home and your lifestyle first.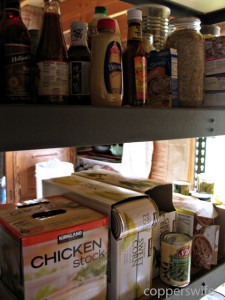 The method you choose will be based on several factors. For example,
How often do you get paid?
How often do you want to shop?
Do you keep a deeply stocked pantry and/or freezer, or is space limited?
Do you work outside the home? Full time? Part time?
Do outside activities (church, sports, homeschool co-op, choir, music/dance lessons, etc.) happen throughout the week?
How many cooks are in the house?
Do you shop the sales, or buy just what you need?
Do you clip just a few coupons a month or are you ready to be featured on "Extreme Couponing"?
Are you concerned with eating only what is available seasonally and/or what is only grown in your area?
Do you cook strictly from scratch, enjoy prepackaged foods, or a little of of both?
Are there any dietary restrictions that you need to consider? (Allergies, medical conditions, etc.)
That list was certainly not exhaustive, but it does give you an idea of some of the things you should consider when it comes to menu planning. As I said in the introductory post, menu planning is not a one size fits all deal.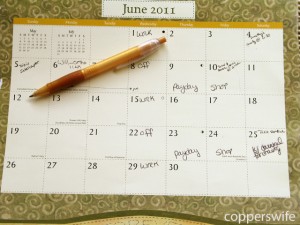 You'll need to consider what period of time you want your plan to cover.  Do you want to plan for a week at a time? Two weeks? A month? Do you want to plan menus for dinner only, or do you want to include breakfast and lunch? Do you want to plan snacks and desserts, too?
I like to plan all three meals. When I don't, we eat cereal way too often. Not only is that expensive, it's also boring and not the most nutritious way to start every single day. If I don't plan lunches, we tend to eat too many snack-type foods. By planning all three of our daily meals in advance, I can tell at a glance if the plan has too many carbohydrates, for example, and if there are enough fruits and vegetables. If not, I can adjust the menu for that day before finalizing my menu plan.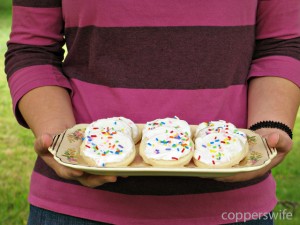 I also like to plan the desserts that I know we'll need during the week – a dessert to share at church on Sunday, a treat to have when Corin and her kids are here on Thursday afternoons, and a dessert to serve when our twice a month Discipleship Group meets in our home. Planning for the desserts we know we'll need guarantees that we'll remember to make them and that we'll have everything on hand that the recipe requires. Because I keep a fairly deep pantry, we usually have plenty of baking ingredients on hand, so we can always make an extra goody (or two or three) during the week as well.
In my home, I menu plan for two weeks at a time. My husband is paid every two weeks, and Dani and I head to town and do the shopping once every two weeks. We're silly and refer to this as our Fortnightly Marketing Peregrination! I keep a fairly deep pantry, and a somewhat well-stocked freezer, and I plan my main dishes from what I know I already have on hand.  We restock the pantry and freezer when things go on sale.
However, when I lived in town, I planned and shopped once a week, using the weekly sales ads to make my menu plan. That method worked very well for me for several years, and it's a great plan to consider.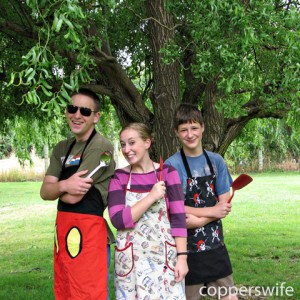 Copper makes our Monday morning waffles and, when he's home, likes to make our Tuesday night Tacos. Dani cooks dinner Monday and Saturday, and all of our lunches. When more than one person is doing the cooking, it's nice to consult them about what they'd like to make. When my girls were younger, I tried to allow them plenty of practice in planning the meals they'd prepare.
These days I like to ask Dani for a list of the things she'd like to make for the next couple of weeks or so, and then I can plan my meals around hers. If she's planned grilled burgers and fries one night, I won't want to make my Hamburger Patties with Mushroom Gravy the same week.
So here's your homework! Read over my list above. Which of the things listed will you need to take into consideration when you plan your menus? Are there any other things that are unique to your own family that need to be considered?
Next time, I'll give you a list a Menu Planning Methods and a brief description of how each works.
(Click here for the complete Menu Planning Series.)