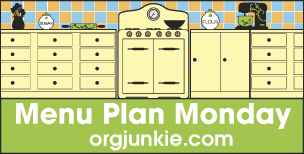 I've been so busy working on the Menu Planning Series, I left planning my own menu for the week until the very last minute! I was away at my weekly planning time at Starbuck's on Saturday afternoon and realized I had only a few meals planned. I sent Dani a quick email for a couple of luncheon ideas (English Muffin Melts, yum!). I had a few meal ideas jotted down in my Menu Planning folder on One Note, too, which I was able to plug into the plan for this week. It only took about 20 minutes to pull it all together.
I've really appreciated all of the questions and comments you've sent my way about menu planning. I'm hoping to answer your questions as the series continues. This week we'll take a look at several different menu planning methods, and then we'll get to work putting those ideas on paper (or computer screen) for a menu plan for your family.
We're in a very busy season – Dani is away, off and on, for a few days this week, and she's busy preparing items for her Etsy shop. Copper is busy with preparations for the church plant we're a part of, and the boys are still hard at work on the year's homeschool work. Me? I'm in the middle of all of that, plus laundry, homemaking, cooking and enjoying life! It's a full schedule, but it's all good. I'm blessed!
Here's our menu. Be sure to visit this week's Menu Plan Monday for oodles of menu plans and tons of inspiration!
Sunday:
Breakfast: Apple Muffins
Lunch: Sandwiches & Chips, and a big platter of Peanut Butter Cookies Dipped in Chocolate to share
Dinner: Wild Dinner (Every man, woman and child for himself)
Monday:
Breakfast: Waffles
Lunch: Loaded Baked Potatoes
Dinner: German Pancake with homemade Buttermilk Syrup, Link Sausages
Tuesday:
Breakfast: Cereal
Lunch: English Muffin Melts (turkey, baby spinach leaves, cheese – melted under the broiler)
Dinner: Taco Tuesday
Wednesday:
Breakfast: Fried Eggs & Muffins
Lunch: Grilled Cheese Sandwiches, Green Salad
Dinner: Meatloaf Shepherd's Pie (from the Gooseberry Patch Meatloaf Cookbook
), Mixed Veggies
Thursday:
Breakfast: Rolled 5 Grain (a hot, cooked cereal)
Lunch: Mac & Cheese, Fruit
Dinner: Hot Dogs, Fajita Fries, Cucumber Slices with Ranch Dip
Friday:
Breakfast: Pancakes
Lunch: Boys on their own while Dani and I are in town
Dinner:  A Sub Sandwich from the grocery store deli
Saturday:
Breakfast: Cereal
Lunch: Chef Dani's Choice
Dinner: Nachos
What's on the menu at your house this week?