I love days like today! We're all home, we're all working, but not necessarily together; and at the end of the day, I can look back and see that a great deal was accomplished. Copper will return to work tomorrow, after a week long vacation, and it will seem kind of strange without him here during the day.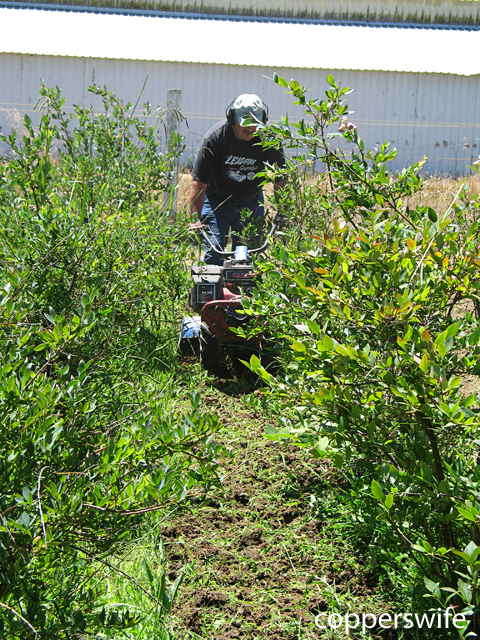 Copper worked hard on running the tiller through the blueberries and blackberries to till the weeds under, and then he did the same thing in the Asparagus bed. The weather was cool and breezy and made the summer task easier than it would normally be in the searing heat. He trimmed up some bushes along our front walk way, too.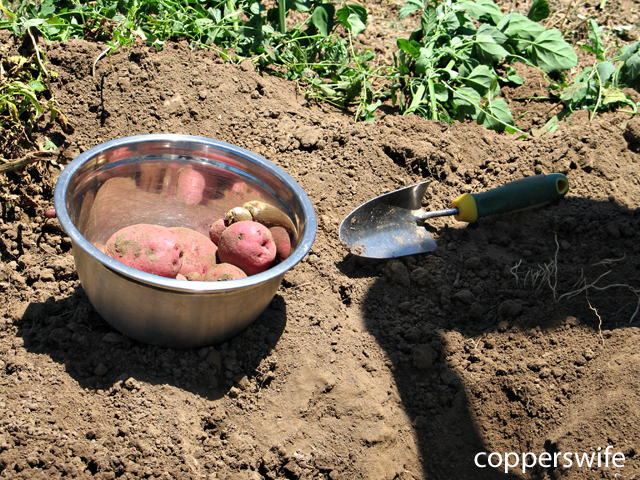 Dani and Will dug the first of her potatoes. They were planted late, and we weren't sure how they would do, but she brought in a good sized bowl of pretty, red potatoes. She's going to leave the California White potatoes in the ground for another week or so. There is nothing like the taste of a homegrown potato!
Her garden is beautiful and doing well. She'll soon be harvesting all sorts of wonderful things. For now, we're just trying to keep up with the zucchini.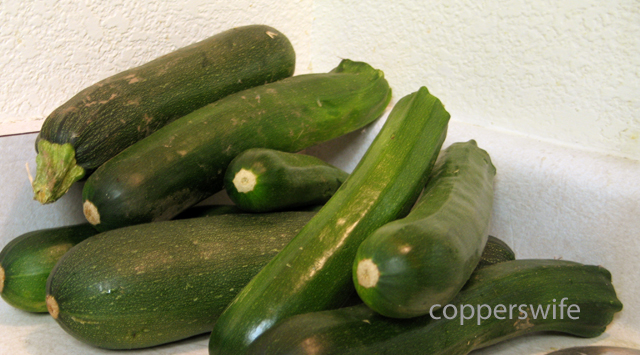 I made Zucchini Muffins to go with our Tomato Soup for lunch. Since the food processor was already out, I grated the small pile of remaining zucchini on the counter and bagged it up for the freezer. It's that time of year when the freezer begins to fill with all sorts of good things. Today's freezer count was about 4 quarts of grated zucchini and 2 1/2 quarts of fresh blueberries.
Dani spent some time making a couple of new items for her Etsy shop, and I worked a bit on my table topper. The machine quilting is fun, but it's time consuming. I'm grateful to my friend, Bren, for encouraging me and for putting up with my sending her about a million emails with questions. I'd love to find an hour and a half, or so, and I think I'd have the quilting done. Not sure when, or if, that will happen, so I'll keep working on it a few minutes at a time.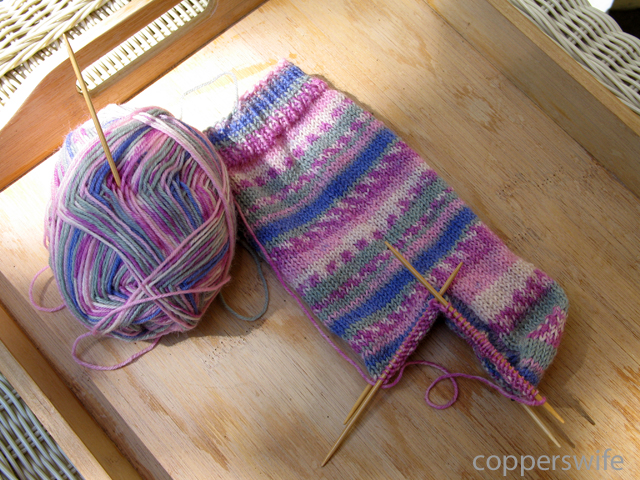 I've got a pair of socks on my needles, and I enjoy working on those in the evenings. I love patterned sock yarn! It's so much fun watching the pattern appear as I knit. This is a very basic sock pattern that's available for free at Lion Brand, and the yarn is inexpensive Jo-Ann's yarn bought on sale. A few of you have mentioned on the facebook page that you'd love to learn to knit or to try knitting socks. I say, "Go for it!". Knitting is relaxing, and most projects are portable and easy to take along with you to knit in the car, in the waiting room, or while watching a movie at home.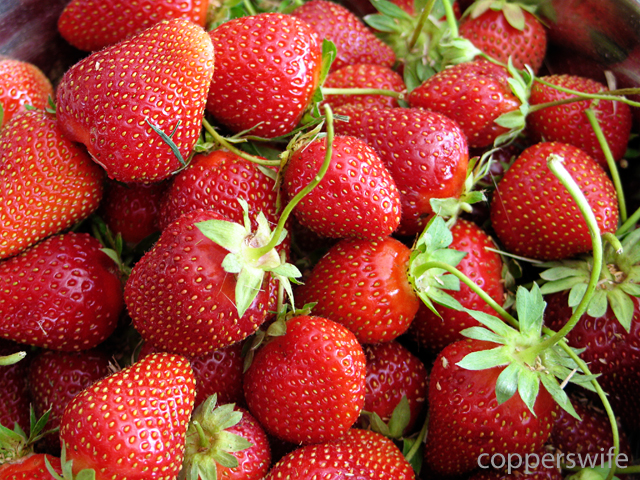 Late in the afternoon, I made Cream Cheese Pound Cake using the run vanilla that Dani made last winter. It's the best vanilla to use in this sort of cake! My boys picked a medium sized bowl of strawberries today and rather than prepping them for the freezer, I sliced them and served them with the cake. I also whipped some fresh cream with a spoonful of cocoa powder and then lightly sweetened it to top the cake and strawberries. Oh, yes! It was incredibly good!
My husband's last day of vacation, well spent by all of us.