I love when the phone rings with one of my grandbabies calling. I love it even more when it's one of the boys, ages 9 and almost 8, calling for their Uncle William. Today the 9 year old called and he and Will played a private, on-line game together for awhile. With only three  and four years separating my oldest grandsons from my youngest son, the potential of their being true, life-long friends is high. I love that!
I love when I lose my tunnel vision and see things in a broader sense. The "shop" on our property was in pretty rough shape when we moved in thirteen years ago, and time has not helped its condition. I walk the pathway between that rusty, metal shop and our small, storage barn (which needs a coat of paint) several times a week as I head out to move water in the berry patches, or change the drip line irrigation in the vineyard. My tunnel vision focuses in on the condition of the buildings and the broken down garden bench in front of the barn .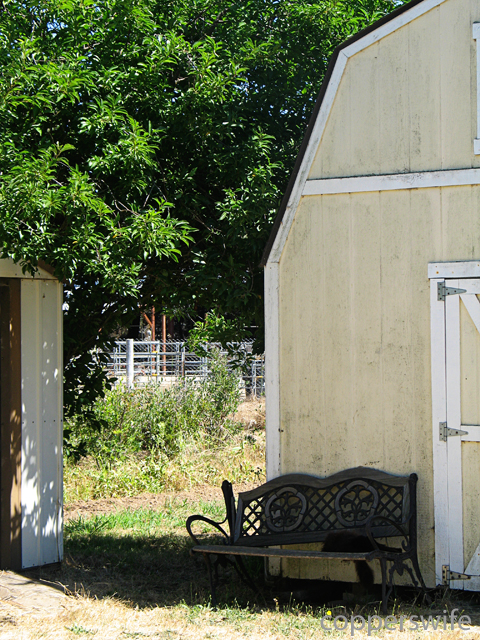 Today, though, I realized that the broken down bench is a favorite napping spot of our very old cat. She loves the thing, and I have to admit, she did look quite content sleeping there all afternoon. As I watched her, I realized how pretty the branches of the wild plum trees were that shade her bench and the path between the two buildings, and how much I really do appreciate that shade on hot, summer days. I love this view now!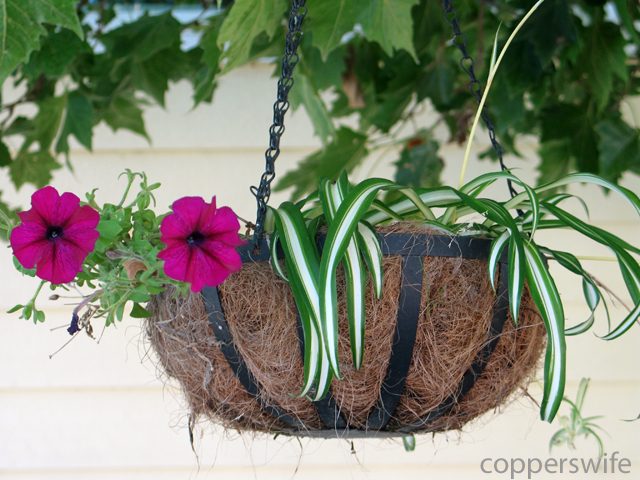 In a year where there is no extra money for buying flowers and new plants for the yard, I love it when a stray "volunteer" pops up in a pot. Once upon a time, I had Petunias cascading from this hanging planter. Last year, I planted a spider plant in the pot. This year, as the spider plant began filling in after dying back over the winter, one pretty petunia joined it. I didn't have the heart to pull it out this spring, and I'm glad now that I didn't. It's such a fun splash of color.
I love baking something special for my family! I even enjoy washing up afterward. This afternoon, while the cake baked, I hand washed all of the mixing bowls, measuring cups and spoons, spatulas, etc., and left them to dry on the counter on a flour sack towel. I sprayed and wiped all of my counters clean, sprayed and wiped my stove clean, and then dried and put away the things I'd washed. It was, really, just a matter of looking well to the ways of my household, but I loved every bit of it!
I loved enjoying the cake with my family in the evening! Here's the link for the recipe for the Chocolate Almond Cake.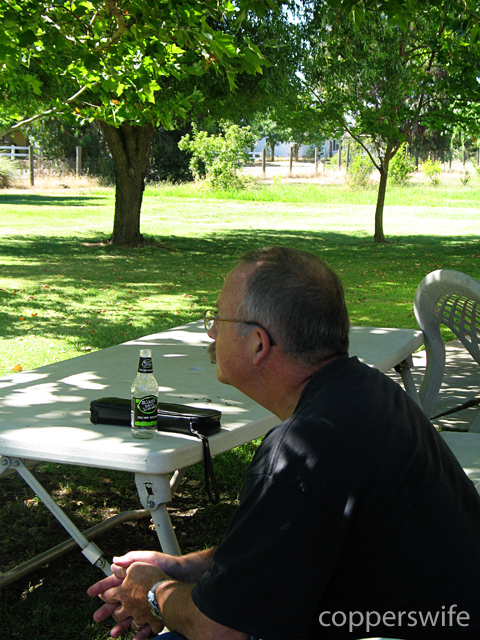 I love that my husband has now been home for three of his four scheduled days off for the week. I know he'd like to pick up an overtime shift, but I love that he's been home.
What little things did you love about today?