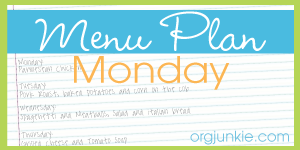 All of last week's new recipes were hits! I love it when that happens! I have two more new-to-us recipes on this week's menu plan. If they're as good as last week's, I'll be a happy camper.
SUNDAY
Breakfast: Blueberry Coffee Cake (One of Copper's favorites!)
Lunch: Potluck after church, We'll take Oven Roasted Chicken, Sliced Peaches, Dipped Gingersnaps (these cookies are definitely worth the effort!)
Dinner: Wild Dinner
MONDAY
Breakfast: Waffles
Lunch: Cheese Quesadillas, Sliced Cucumbers with Ranch Dip
Dinner: Pulled Pork Sandwiches, French Fries, Fruit Salad
TUESDAY
Breakfast: Cereal
Lunch: Chicken Burrito Bowls
Dinner: Steak Hi Hat (crockpot dish), Cheesy Ranch Potato Bake *new*, Green Salad
Dessert: Chocolate Almond Cake
WEDNESDAY
Breakfast: French Toast
Lunch: Meat Sandwiches, Chips
Dinner: Lemon Chicken Almondine, Basmati Brown Rice, Steamed Broccoli
THURSDAY
Breakfast: Rolled 5 Grain
Lunch: Double Decker Cheese Sandwiches, Carrot Sticks
Dinner: German Pancake with Homemade Buttermilk Syrup
Snack: Grandmother's Tea Cookies
FRIDAY
Breakfast: Bacon Pancakes *new*
Lunch: Boys on their own, Dani & I in town for the Fortnightly Marketing Peregrination
Dinner: Sub Sandwich from the grocery store deli
SATURDAY
Breakfast: Cereal
Lunch: Dani's Choice
Dinner: Nachos
Head on over to the Menu Plan Monday guest host this week for more menu planning inspiration.
Trying any new recipes at your house this week?