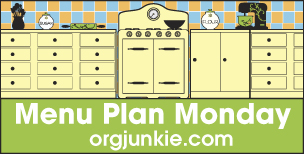 I love cooking, I really do. What I don't love is uninspired, same old thing all the time, cooking. I'm not a gourmet cook, by any stretch of the imagination, but that's okay because my family members aren't really gourmet eaters.
To get my creative juices flowing again, I pulled out half a dozen back issues of Taste of Home magazine. We have always enjoyed Taste of Home recipes. They're practical, family friendly (for the most part), and the recipes have all been thoroughly tested before publication. I pulled August/September issues so that the recipes would be perfect for the next couple of weeks as we make the transition from summer to fall, at least on the calendar!
I found a few old friends in those back issues, and I'm looking forward to trying some new recipes, too. Finding new recipes that my family will, hopefully, enjoy is just one way that I can look well to the ways of my household.
This week's dinner menu, as well as next week's, features mostly Taste of Home recipes. I've linked to all of the Taste of Home recipes for your convenience. Wednesday night's foil wrapped Hobo Dinners and the individual Tomato-Egg Salads are perfectly suited to a night that two of us will be out the door early for a class while the rest of us are home and can have dinner at our usual hour. Friday looks a little pancake heavy, at first glance, but Friday night's German Pancake is really an egg dish. It's a carry over from our breakfast menu last week. I wasn't able to make it then, but adding link sausages alongside the dish will make it a filling, hearty dinner for all of us.
SUNDAY:
     Dinner: Wild Dinner (our family term for Sunday evening's every-man-for-himself fest)
MONDAY:
     Breakfast: Waffles
     Lunch: Sandwiches, chips
     Dinner: Chicken Enchiladas with Green Sauce, Spanish Rice, Salad
TUESDAY:
     Breakfast: Cereal
     Lunch: left over enchiladas & rice
WEDNESDAY:
     Breakfast: French Toast
     Lunch: Homemade Tomato Soup, crackers
THURSDAY:
     Breakfast: Oatmeal
     Lunch: left over Tomato Soup, crackers
FRIDAY:
     Breakfast: Pancakes
     Lunch: Sandwiches, chips
SATURDAY:
     Breakfast: Cereal
     Lunch: chef's choice
     Dinner: Nachos
Do you love cooking for your family, but feel like you're in a rut? How about pulling out an old, favorite cookbook, or a few back issues of a favorite cooking magazine, to add some zip to your family's menu this week.