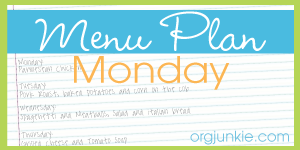 Summer is winding down. The days are getting shorter, but we're still feeling the summer heat. Hot weather through September, and even into October, is not unusual for us. The wine grape harvest is in full swing in central California, and the harvesting equipment and grape trucks are running up and down our country road at all hours of the day and night. We've lived in the country for thirteen years, but watching the grape harvesting equipment as it passes by our house has never lost its appeal. We love it!
This week's menu reflects the busy season we're in and the fact that summer often means "fun" food. We have a birthday to celebrate this week, and Dani and Aaron will be taking a class together one evening a week through the fall, so Wednesday dinners need to be fast, easy and early!
As always, be sure to click on over and visit our hostess, Laura, for this week's Menu Plan Monday.
SUNDAY:
Breakfast: Poppy Seed Muffins
Lunch Potluck at Church: Spanish Round Steak (from this cookbook), Rice, Green Salad, and Cinnamon Crackle Cookies
Dinner: Wild Dinner
MONDAY:
Breakfast: Waffles
Lunch: Salami Sandwiches & Chips
Dinner: Out to celebrate Dani's birthday
TUESDAY:
Breakfast: Cereal
Lunch: Quesadillas
Dinner:  Meat Loaf, Golden Mashed Potatoes, Green Beans
WEDNESDAY:
Breakfast: German Pancake with Homemade Buttermilk Syrup
Lunch: Salami & Cheese Sandwiches, chips
Dinner: Spaghetti, Green Salad, French Bread
THURSDAY:
Breakfast: Hot 7 Grain Cereal
Lunch: Mac & Cheese
Snack to share with the grandbabies – Melt in Your Mouth Cookies
Dinner: Hot Dogs, Oven Fries
FRIDAY:
Breakfast: Cinnamon Roll Pancakes
Lunch: Dani and I in town while we shop, boys on their own
Dinner: Grocery Store Deli Sandwich
SATURDAY:
Breakfast: Cereal
Lunch: Dani's Choice
Dinner: Nachos
Need help with menu planning? Be sure to check out my Menu Planning Series!